White Pine - Landfall at Sunset by Robert Carter
The third post in our series on the marvellous paintings by Robert Carter OAM, FASMA, FISMP of the sailing ship era and recently published in The Marine Paintings of Robert Carter reminds us of the sun setting on this wonderful period in our history.
Robert is one of Australia's leading marine artists and is also joint founder of the Australian Society of Marine Artists with Dean Claflin.1 You can read more about Bob's biographical information by clicking here.
In this publication Bob has presented his paintings in five parts and we will follow this same format. At the moment we are admiring and learning about the ships from Part One: Maritime Australia. White Pine - Landfall at Sunset pulls on our emotions as we can no longer go down to the sea again and see a tall ship passing by!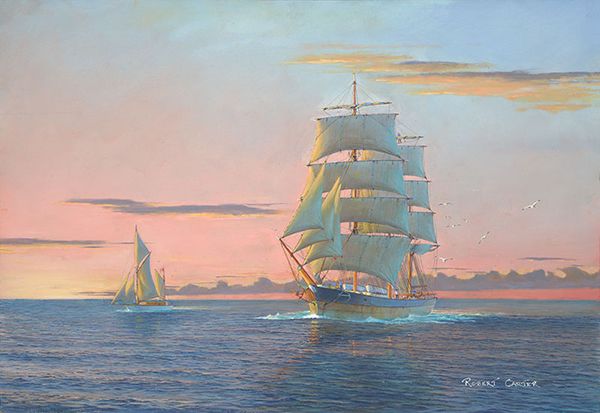 Robert Carter explains:
The barque White Pine makes landfall off the Grey River, New Zealand on her 76th crossing of the Tasman Sea and the end of her sailing career.
It was 1922. She was the last of a fleet of sailing ships that traded between Australia and New Zealand. She was a fast sailer and once made the crossing in 7 days. This iron hulled vessel was built in 1879 for the Natal trade with Great Britain. She was named Quathlamba after the mountain range in South Africa which was later renamed Drakensberg. Auckland shipowner J.J. Craig bought her in 1899 and renamed her Hazel Craig after one of his daughters.
She usually carried white pine to Australia, returning with coal loaded at Newcastle. In 1917 Craig sold her to a Captain Proctor who named her after the timber she usually carried. This painting is named to describe the end of what would be her last commercial voyage. She had just completed a fast passage from Australia and with a fair wind and favourable tide was able to sail up the Grey River to her discharging berth in the fading light without the aid of a tug.
White Pine was bought by James Patterson & Co. a lighterage company in Melbourne for use as a coal hulk. In 1947 she was towed to sea and sunk off Barwon Heads.2
The paintings in Part One of Marine Paintings of Robert Carter refer to vessels that were employed in the Tasman Sea trade with New Zealand, together with those that were regular carriers for Australia's overseas exports of wool, grain and coal - in particular from the ports of Newcastle, New South Wales and Sydney (Port Jackson). The South Australian grain trade is covered in Part Three of the book.3
© Thank you to Robert Carter who kindly gave permission for the image of his work to be shared on AnArt4Life.
Please check out the Robert Carter Website.
And also the site for the Marine Artisits Australia.
The next glorious vessel in our Robert Carter Marine Series will appear in about a week.
Credits
1. Correspondence with Robert Carter
2. robertcarter.com.au
3. The Marine Paintings of Robert Carter OAM, FASMA, FISMP, Published in Australia by Robert Carter Maritime, Gosforth NSW, 2320, Australia, 2022