The Treasures of Lerwick, Shetland, Scotland: Part One
I have only spent 24 hours in Lerwick, the capital of the Shetland Islands, Scotland but what treasures were to be found! As we berthed in the port, a tall sailing ship heralded what was to be an amazing day of incredible features each one of historical significance. I will return to the sailing ships later.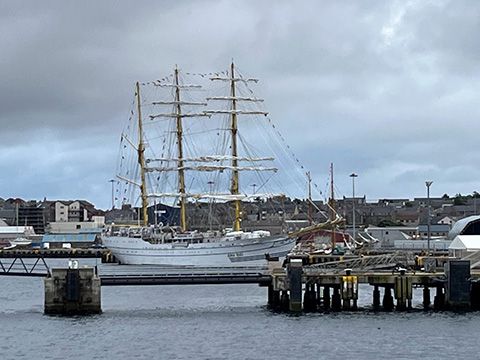 Lerwick in The Shetlands is on the island which is called The Mainland and is the main town and port of the Shetland archipelago, Scotland.1
Centred 123 miles (200 km) off the north coast of the Scottish mainland and on the east coast of the Shetland Mainland, Lerwick lies 211 miles (340 km) north-by-northeast of Aberdeen; 222 miles (357 km) west of the similarly sheltered port of Bergen in Norway; and 228 miles (367 km) south east of Tórshavn in the Faroe Islands.1
One of the UK's coastal weather stations is situated there, with the local climate having small seasonal variation due to the maritime influence. Being located further north than Saint Petersburg and the three mainland Nordic capitals, Lerwick's nights in the middle of summer only get dark twilight and winters have below six hours of complete daylight.1
But we were there in the middle of summer ...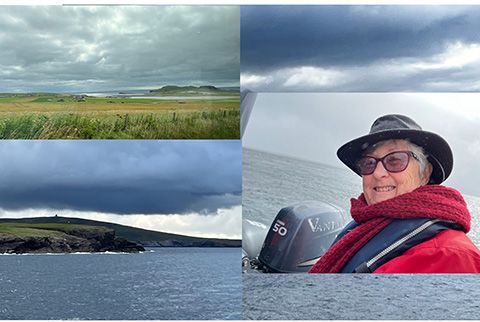 Lerwick has so much to see which is part of life in these very remote places from the fields of peat which made survival against the cruel weather possible...as it has been dug up and burnt for thousands of years and is still used by some communities...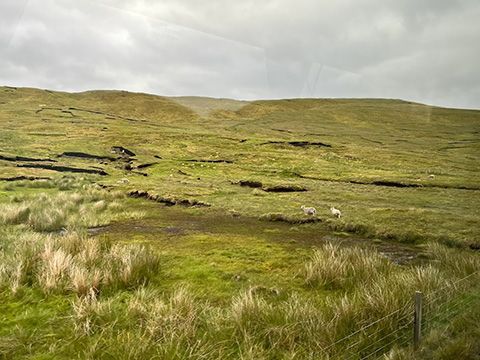 ... to the wildlife... lolling about on the glorious sandy beaches!!! Not too many people joining the seals for a swim on this day!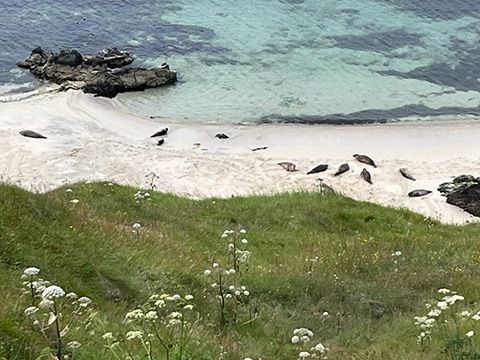 But the cloudy and rather cool day didn't concern us as we visited the amazing archaelogical site of Jarlshof which dates back through various time periods of settlement to before the Bronze Age. The site was uncovered by a violent storm in the winter of 1896/7, revealing an extraordinary settlement site embracing at least 5000 years of human history.2
Whilst there are the remains of late Neolithic houses still evident the first substantial structures to be seen belong to a Bronze Age village. And it was a very moving experience to "travel" back in time and be standing where a Bronze Age blacksmith once plied his trade.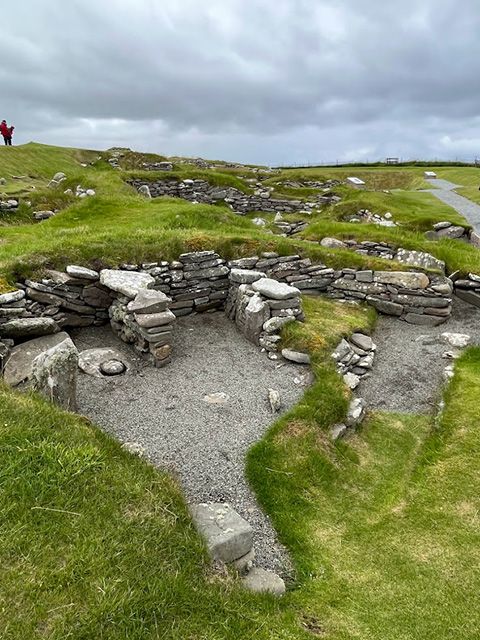 Moving forward in time from the Bronze Age which started around 3500BCE we move onto the Iron Age (about 2000 BCE) and on the Jarlshof site is a borch which is drystone hollow-walled structure found in Scotland.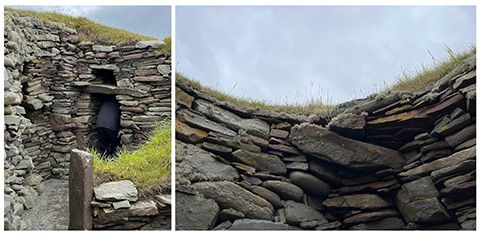 Also from the Iron Age are the reamins of wheelhouses. Sometimes referred to as "aisled roundhouses" their characteristic features include an outer wall within which a circle of stone piers (bearing a resemblance to the spokes of a wheel) form the basis for lintel arches supporting corbelled roofing with a hearth at the hub. About a third are double-walled.1
I wasn't able to get a good photo of the Wheelhouse at Jarlshof so to give you an idea of the structure of these buildings I have used an image from a nearby site at Old Scatness, Shetland.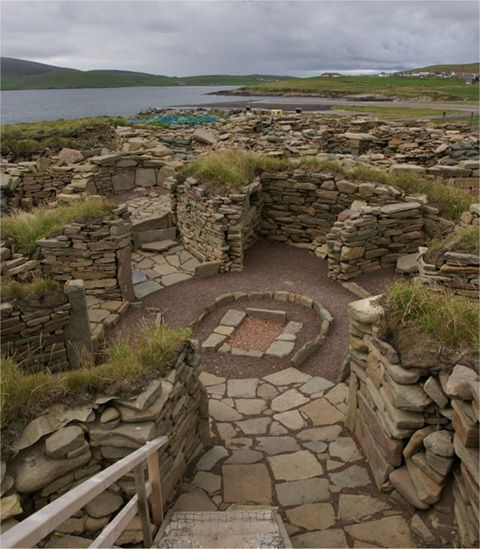 The dry-stone walling you see in these images was passed down through thousands of years and remains a real feature of these islands and indeed throughout much of the mainland of Scotland and England.
Artistically they are fascinating and on my return to Australia I am going to turn these images into a painting of some kind.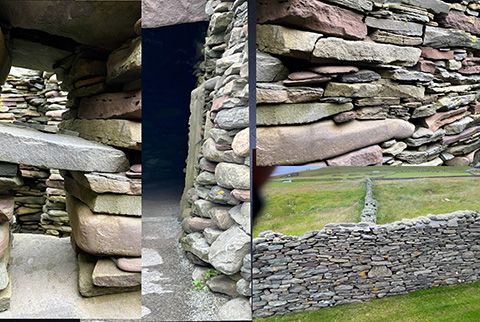 At Jarlshof, more recent buildings were also discovered including several Norse longhouses (an example of which we will see in a later post), a Medieval farmstead and a C16th laird's house as shown below. 2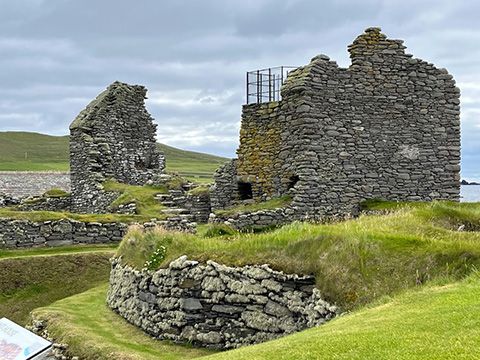 I don't want you thinking that this island, and others like it have been left behind as the world developed into fast flights and even faster communication. The airstrip on the Mainland of Shetland looked very well kept as I can attest to as the main road crosses it and the view below is not from a plane but a bus crosing this shared high/flyway!!
The beauty of Shetland which can be found in the stunning landscape, native life, historical ruins and the narratives of the people has inspired many artists - photographers, painters, jewellers.
I am definitely inspired to create a painting from the scene below so representative of this area.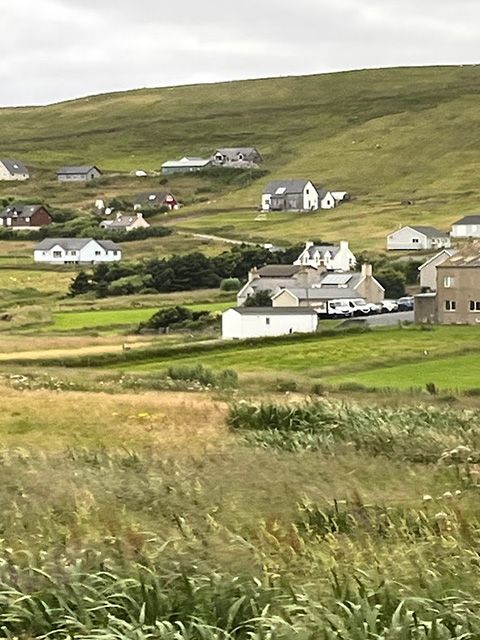 And I was also fortunately in meeting a local jeweller named Karlin Anderson who says: I'm inspired by the stories of the people I create pieces for, and by the rugged, beautiful landscape and culture of Shetland which I have always called home" — Karlin. Karlin's jewellery is very beautiful and I will be doing a post on it very soon but in the meantime please read this article from Karlin's blog on the Working Women of Shetland - in particular the lace makers.
Tomorrow - a little unexpected treat when several tall ships sailed down the harbour in Lerwick, Shetland to take part in the Tall Ships Race, 2023.
Credit
1. en.wikipedia.org
2. Notes provided by Noble Caledonia (https://www.noble-caledonia.co.uk/)