The remarkable life of Constance Spry in floristry – Part 2
Yesterday in Part 1 we learnt a little of the early life of Constance Spry in her initial careers in health, hygiene, district nursing and teaching, against the background of the hardships of World War I.
We continue her story..........
After eight years or so as a Headmistress, when Constance reached her early 40s she gave up teaching and opened a shop in 1929 in Pimlico, called Flower Decoration. She quickly became established, securing an ongoing contract for flowers with Granada Cinemas which increased her publicity. But it was her daring arrangements of hedgerow flowers, twigs and berries in the window of the royal perfumer Atkinsons of New Bond Street which literally stopped traffic. The unusual design launched her directly into the ranks of sought-after florists in high society.
She was a self taught innovator who rebelled against the opulence, perfection and restrictive rules of Victorian-era flower arranging. She defied convention by using simple, everyday items and gave them a modern day twist which survives to this day, some designs even bordering on ikebana (click here to learn about ikebana.)
Her innovation has forever changed the way we look at flowers as design elements, turning flower arranging into art in its own right. She revisited Dutch 17th-century artists and learnt to include branches, sticks, fruit and vegetables in unusual containers in her arrangements. 1 And her clients, both commoners and aristocrats alike, loved her flair and originality!
To further integrate flower arranging into interior design, she even produced her own Grecian vases in opaque black or white in an Art Deco style, made for her by the Fulham Pottery Company. 1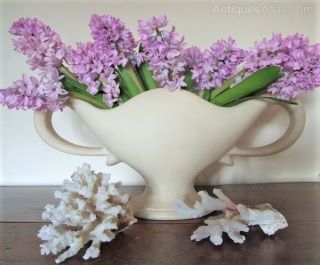 Her ongoing success led her into a rather bohemian lifestyle with theatrical and social luminaries. She was introduced to Hannah Gluckstein, an artist simply known as "Gluck", with whom she had a four year romantic liaison. Gluck painted a number of Constance's flower arrangements, so we have this record of some of her designs: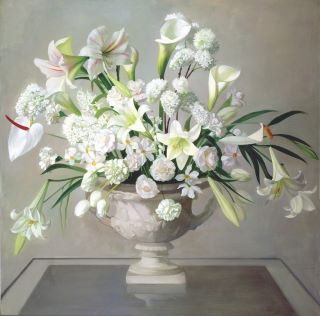 Constance was already employing seventy people by the time she opened a larger shop in South Audley Street in Mayfair in 1934. In the same year, she published her first book, Flower Decoration, and established the "Constance Spry Flower School" at her new premises. This shop only closed in 2008, and in 2012 the charity English Heritage marked Spry's famous and long tenure at 64 South Audley Street with one of its commemorative blue plaques. 2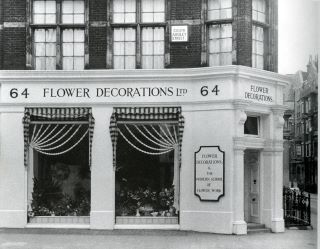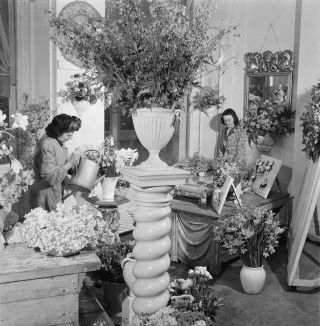 In 1936, "Flower Decoration" created the flower arrangements for the royal weddings of the Duke of Gloucester to Lady Alice Christabel Montagu-Douglas-Scott and also the wedding of Wallis Simpson to the Duke of Windsor in June 1937.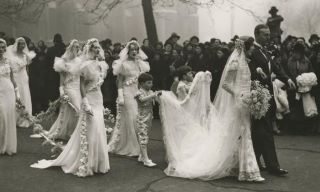 These high profile commissions made Constance a household name. When World War II began in 1939, Spry resumed her teaching career and lectured to women all over Britain, but her company continued to provide the flowers for society weddings, and ultimately for Princess Elizabeth's wedding in 1947. 1
In 1953, Spry was commissioned to arrange the flowers at Westminster Abbey and along the processional route from Buckingham Palace for Queen Elizabeth II's coronation. Constance and her friend Rosemary Hume had also opened a cookery school and such was it's success that she and Hume were asked to cater a lunch for foreign delegates for which they invented a new dish – called coronation chicken! 2
Constance was appointed OBE in the 1953 Coronation Honours for her outstanding contribution.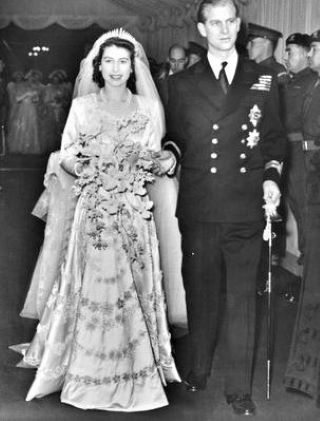 David Austin roses are well known throughout the world and are specially bred for their old world charm. (I have one myself, called Chaucer.) David's first rose, produced in 1961, was named after Constance Spry and is considered to be the foundation of his "English rose" series.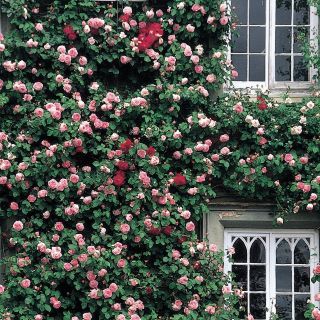 Constance went on to travel to spread her message and write more books, thirteen in total.
On 3 January 1960, aged 74, she slipped on the stairs at home carrying some flowers and died an hour later. Her last words were reportedly, "Someone else can arrange this"…………
Her legacy continues to this day. Her books remained in print for many years. Author Sue Shephard published a biography of her life in 2010 called The Surprising Life of Constance Spry. In 2013, a play based on her life, Storm In A Flower Vase, by Anton Burge, opened in London's West End, with Penny Downie in the lead role as Constance.
"Do whatever you please. Follow your own star: be original if you want to be and don't if you don't want to be. Just be natural and gay and light-hearted and pretty and simple and overflowing and general and baroque and bare and austere and stylized and wild and daring and conservative. And learn and learn and learn. Open your mind to every form of beauty."
—CONSTANCE SPRY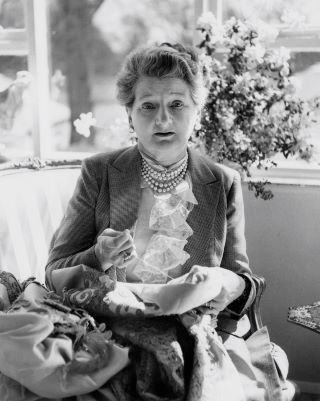 Footnotes
With thanks to
Flowermag.com
Wikipedia