The prolific painter, Pierre-Auguste Renoir - Part 1
Piere-Auguste Renoir was an extremely prolific painter, producing several thousand paintings, and even some sculptures, over his lifetime.
He went from being a struggling young artist, sometimes unable to buy paints, to a successful and recognised painter who, just before his death, was able to see one of his paintings hung in the Louvre as recognition of the Impressionist movement.
He painted myriads of landscapes, boating scenes, still lifes, nudes, families and children, and is best known for his detailed social scenes.
(All images are Courtesy of pierre-auguste-renoir.org, unless otherwise stated.)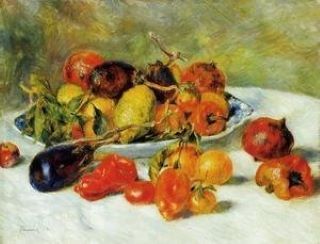 Renoir was born in Limoges, France, on 25th of February 1841. He showed great talent in singing as a child, but the expense of following this path was beyond the resources of his parents, and he left school at age 13 to start an apprenticeship in a porcelain factory. He enjoyed this work, decorating plates and dishes, but his wider talent was recognised and he entered Le Ecole des Beaux-Arts, a famous art school in Paris.
In 1862, Renoir became a student of Charles Gleyre. At Gleyre's studio, Renoir made friends with three other young artists: Frédéric Bazille, Claude Monet, and Alfred Sisley, who all became close friends for life. And through Monet, he met Camille Pissarro and Paul Cézanne.
In 1865 Renoir met 16 year old Lise Trehot and she became his model and also his mistress until she left him in 1872 and married soon after. She reportedly had both a son and daughter by Renoir, but only his daughter, Jeanne, survived early childhood. It is said that for many years Renoir did not acknowledge his daughter, but eventually he did. Doesn't Lise look so young and beautiful in these paintings?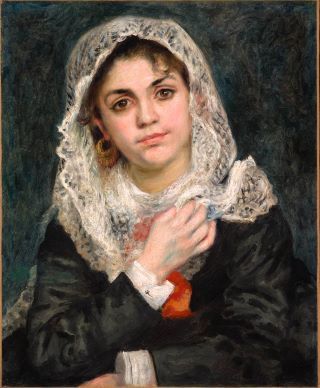 Renoir was drafted into the army to serve in the Franco-Prussian war against Germany in 1870, when he was 29. He was assigned to a cavalry unit in Bordeaux, and learned to ride and he looked after the horses for the Captain. He didn't see any front line action, but did contract recurring dysentery. The streets of Paris were chaotic and full of wounded after Napoleon III was deposed as emperor, so Renoir returned to his parent's home in Louveciennes, just outside Paris, to recover.
Renoir eventually came back to Paris and was reunited with his friends, who had all left Paris during the war. It was at this point that he and others, including Pissarro, Monet, Paul Cézanne and Edgar Degas, decided to break away from the traditional methods of The Salon, and form their own new group, The Anonymous Society of Painters, Sculptors and Engravers. They mounted their first exhibition in Paris in 1874, which later became known as the first Impressionist exhibition.
It was not a success, and Renoir had to find another means of supporting his career. He took commissions to paint portraits, and found a wealthy patron, named Georges Charpentier and his wife Marguérite. They took a great interest in him and he was invited, along with others involved in the arts, to many social evenings at their Paris home.
Renoir did not exhibit in the fourth or fifth Impressionist exhibitions, and instead resumed submitting his works to the Salon. His painting "Mme Charpentier and her children" (1878), (below right), which he submitted to the Salon of 1879, earned him great acclaim and success. He then became a sought-after, fashionable painter.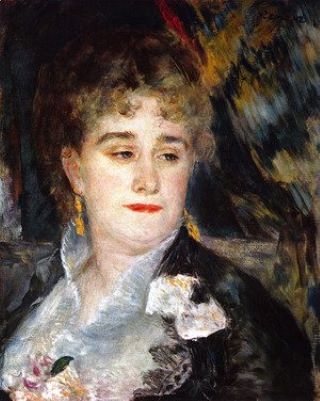 Success enabled Renoir to travel around Europe, from Algeria (where he contracted pneumonia which permanently affected his respiratory system); to Italy, (Rome, Florence, Venice, Pompeii); to Sicily, where he painted the portrait of the composer Wagner, at his home in Palermo; to Spain; to Guernsey, (one of the Channel Islands), as well as many holidays around France itself.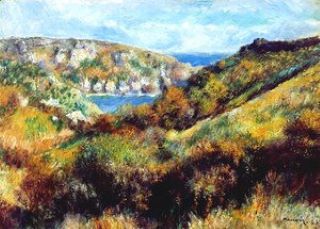 In 1890, he eventually married Aline Victorine Charigot, a dressmaker and artist who was 20 years younger than him. They had already had their first child, Pierre, in 1885, when Renoir was 44 years old, and they went on to have two more sons, Jean, in 1894, and Claude, in 1901. His family was a great source of joy and inspiration for a number of his paintings.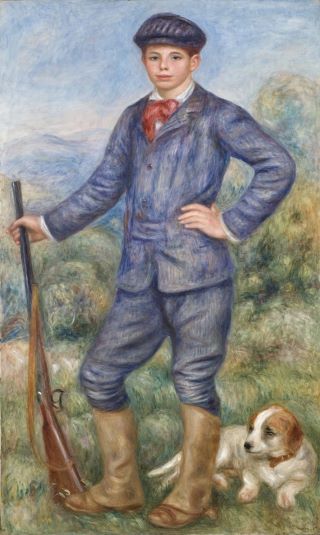 In 1896, he bought a house in Essoyes, where Aline was born, and they settled there. But around 1892, Renoir had begun to develop rheumatoid arthritis, which continued to progress for the rest of his life. He was told he would benefit from a warmer climate, and so in 1907, Renoir bought some land at Cagnes-Sur-Mer, in Provence-Alpes-Côte d'Azur, on the Mediterranean coast of France. He built a large house and spent his winters there with the family. He painted a large number of different scenes in this area: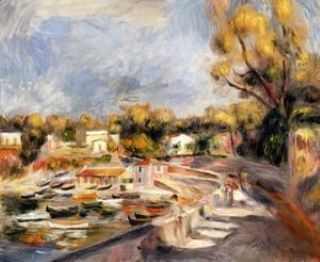 Aline's cousin, Gabrielle Renard, joined the household as a nurse and governess in 1894, and later became Renoir's model and studio assistant. There are many nude and provocative paintings of her, and one article says she became his wife sometime after Aline died in 1915. But most other sources do not mention this, so who really knows if this is true or not ……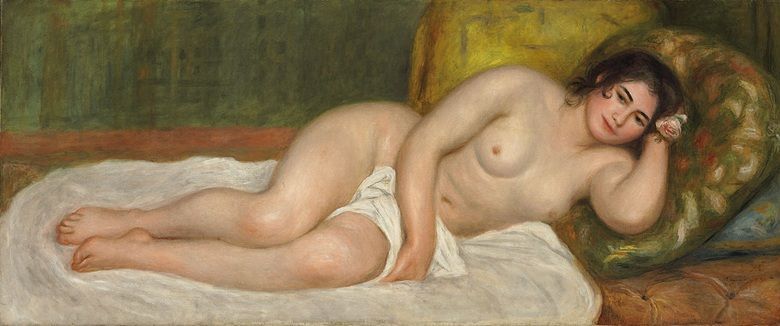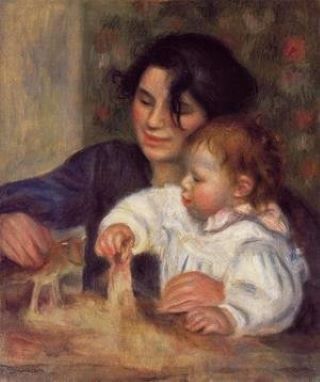 In 1912 he had a stroke, which then confined him to a wheelchair. Nevertheless, he continued to paint, having the paint brush tied to his hands, and the canvas put on a rolling stand so he could move the canvas rather than himself, to reach all corners. These photos below show his poor hands in later life, twisted and deformed from rhuematoid arthritis, which must have caused him great pain and discomfort.
He painted right up until his death on 3 December 1919 at home in Cagnes-sur-Mer. He was buried next to his wife, Aline, in her hometown of Essoyes, France.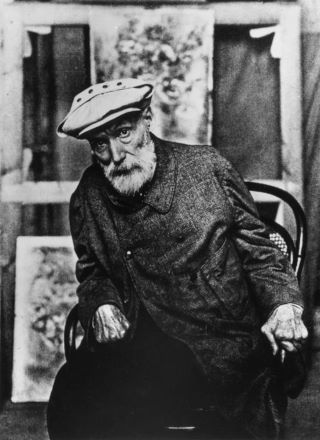 Tomorrow we will look at the character of the man behind the paintings.
If you wish to read a further description of Renoir's life and works provided by Wikipedia, click here.
If you wish to look at a comprehensive folder of his works, click here.