The amazing art of rock balancing
Can you believe these pictures?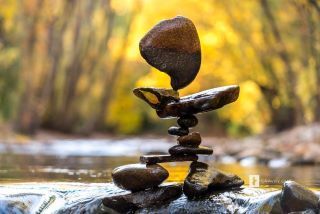 These rocks are placed individually by hand, relying purely on gravity to stay balanced, to create a precarious and short-lived work of art.
They are the work of Michael Grab, born in Alberta, Canada and now based in Boulder, Colorado, USA. Michael began balancing rocks through a "happy accident" in the summer of 2008, while exploring Boulder Creek in Boulder, USA. He continued doing it because he loves being outside in nature, and says "it felt good".
And no wonder! Whilst we marvel at how this feat of balance could possibly be achieved, we are also drawn to the texture of the rocks and can almost feel the pristine water running past our ankles ……….
Michael quickly noticed the therapeutic effects that balancing and working with nature had on himself and others. It nurtures something uniquely human, inspiring a sense of magic and peace, luring awareness out of the mind and into the moment — ultimately cultivating a meditative presence. 1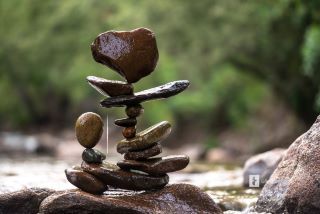 Since then, this curious spark has spiralled into a creative passion, a way of life, and a prolific international phenomenon.1 Michael Grab quit his warehouse job and started dedicating his days to balancing rocks and photographing the results.
He now makes his living travelling extensively, booking performances around the world for people who want to watch him balance rocks into mind-bending formations, using only "gravity glue." He has worked in many countries around the world, including China, England, Germany, Iceland, Italy, Holland, New Zealand and Switzerland, just to name a few.1
He never considered himself an artist until people started calling him one.
In this video, Michael explains why he does it and demonstrates an example.
Now, several years later into his new career, he has more than 50,000 social media followers and a growing reputation as a land artist. He loves his outdoor "office", surrounded by peaceful streams, trees and mountains.
His work is photographed and then dismantled as Michael believes it is important to leave his surroundings the way he found them, leaving no reminder of his work.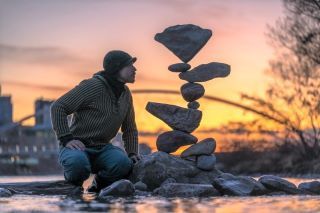 You can see that this art form requires infinite patience, appreciation of the inherent beauty of rocks and a very steady hand!
Would you have the patience and perseverance to do this work? See if you can pass the test, watching this video ...... (it's less than 5 minutes!)
If you would like to see more of Michael Grab's fascinating work, click here.
If you would like to read more about Michael Grab, click here.
Footnote:
With thanks to Michael Grab, via gravityglue.com