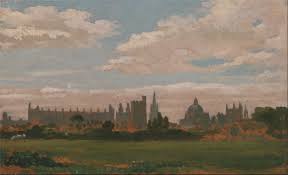 I don't want to confuse you but there are two painters with the name William Turner and to make life a little more complicated both lived in the late 1700s and both painted scenes around Oxford. And the other painter, not the famous one, was called William Turner of Oxford!!
William Turner (1789-1862) was an English painter who specialised in watercolour landscapes. He was a contemporary of the more famous artist J. M. W. Turner and his style was not dissimilar. He is often known as William Turner of Oxford or just Turner of Oxford to distinguish him from his better known namesake. Many of Turner's paintings depicted the countryside around Oxford. One of his best known pictures is (as shown below) a view of The city of Oxford from Hinksey Hill.(en.wikipedia.org)
To compare you can check back to JMW Turner's Oxford from Hinksey Hill as you saw yesterday.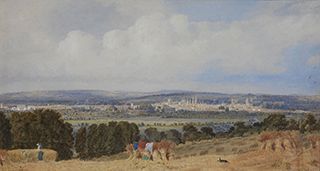 As you know if you have been reading the blogs written while I have been in England, I love mills as my family were involved in this industry for hundreds of years. Below is A Water Mill as painted by William Turner of Oxford. And as you can see from the quality of the painting, this William Turner was also an expert artist. Why don't we know about him? Why was he overshadowed by his namesake?
I don't know the answer to these questions (Why does one artist triump over another given both are creative experts?) but thankfully some of Turner of Oxford's paintings are still on permanent display at the Ashmolean Museum in Oxford. Some of his paintings are also to be found in the Tate Gallery (London, UK), the Metropolitan Museum of Art (New York City, US) and the Dunedin Public Art Gallery (New Zealand).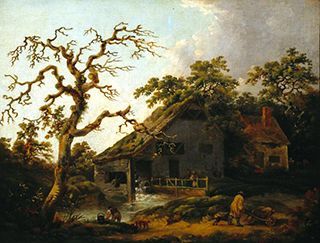 Turner was born at Black Bourton, Oxfordshire. He was the eldest of three children, and had two younger sisters. His father died in 1791, and he was raised during this early part of his life by his mother. In 1803 he went to live with his uncle, also called William Turner. Initially they lived in Burford but in 1804 moved to the manor house at Shipton-on-Cherwell.Because of his interest in drawing, Turner joined John Varley in London. In 1807 he had his first exhibition at the Royal Academy. He was elected as a full member of the Watercolour Society in 1808 and for the rest of his life participated in their yearly exhibitions. In 1810, Turner returned to Oxfordshire. He lived in Woodstock until 1811. After that he lived in and around Oxford.
Turner died at his home in St John Street, Oxford in 1862. A blue plaque marks the house where he lived. William and his wife are buried in Holy Cross parish churchyard at Shipton-on-Cherwell. In 1896 a memorial chancel screen was installed in the church, with a brass plaque reading "Erected in memory of William Turner of Oxford, Water Colour Painter and architect of this church." (en.wikipedia.org)
This is Turner of Oxford's painting of the Church of the Holy Cross (Shipton-on-Cherwell) which he designed, was married in and is buried, with his wife, in the churchyard.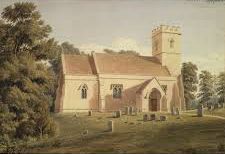 And now let us enjoy some more scenes around Oxford and beyond as seen through the eyes of Turner of Oxford. Some of his works remind me of the works of Peter Bruegel the Elder. Two examples of what would be termd in a genre style are shown below.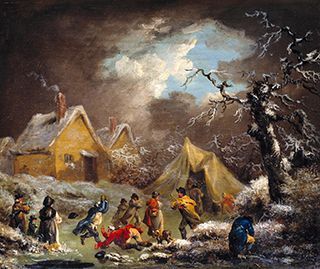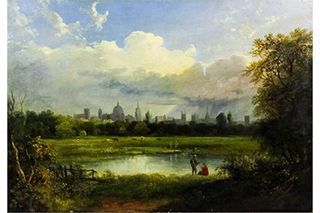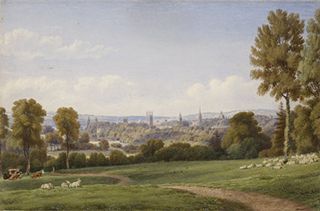 And further afield than Oxfordshire- below is a delightful painting of Newnham-on-Severn from Dean Hill.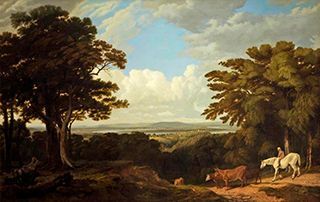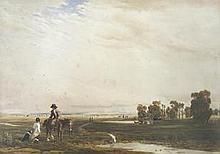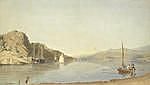 And in this sketch of Hailes Abbey, Gloucestershire you can see the artist's mind at work.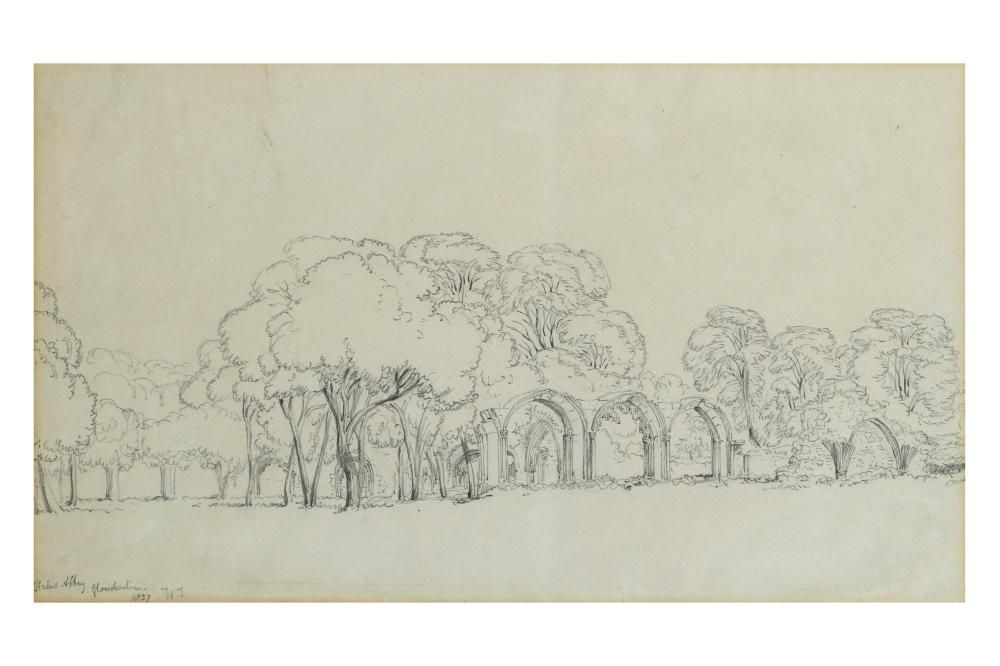 And Ben-no-Bear and the mountains of Ardgar as shown below demonstrates quite different style. I'm assuming the setting is Scotland but not sure so please if someone can enlighten me I would be very pleased.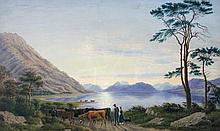 And I must conclude with another mill, this time a windmill though the painting is titled A View of the Oxfordshire Plain. I love the tonal structure of this image which I think is my favourite.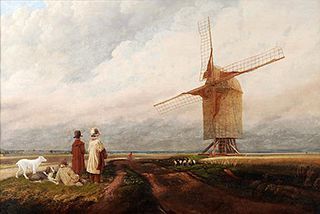 And the big question is, now that you know there were two William Turner's who were painters: which William Turner do you like best?
Please note that I am about to fly back to Melbourne and the as a result there might be a break in the blogs for a day or two as I readjust to the Australian time zone.