The Last "Vermeers": Part One
The Last Vermeer (as it is known from the movie by the same name⁂) is fast becoming my favourite Art Crime with a wonderful mix of larger than life characters full of hubris, revenge, jealousy, chutzpah and undoubtedly talent.
Andrew alerted me to this story after he watched the movie The Last Vermeer which in his opinion (and mine as I have now also seen the film) is the best of all the movies on art crimes. But it really should be retitled the last Vermeers as you will see.
At the centre of the story is the painting shown below titled Christ and the Adulteress (also titled Christ with the Woman Taken in Adultery) believed (for a time) to have been painted by Dutch painter Johannes Vermeer (1632-1675) a moderately successful provincial genre painter when he was alive, recognized in Delft and The Hague, though only producing a very small number of paintings during his lifetime.1
Vermeer's modest celebrity gave way to obscurity after his death... until in the 19th century, Vermeer was rediscovered by Gustav Friedrich Waagen and Théophile Thoré-Bürger, who published an essay attributing 66 pictures to him, although only 34 paintings (36 recorded elsewhere) are universally attributed to him today. Since that time, Vermeer's reputation has grown, and he is now acknowledged as one of the greatest painters of the Dutch Golden Age.1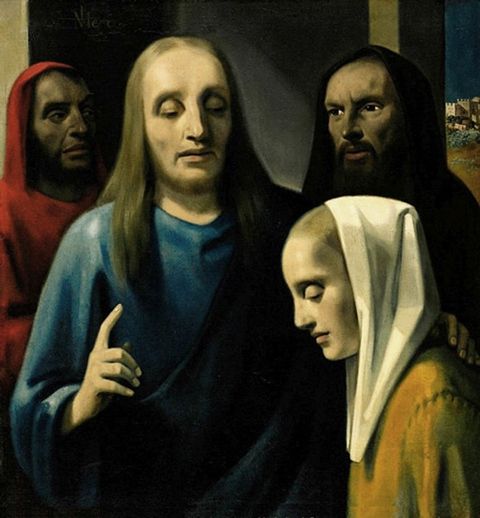 And so we have this painting, apparently by Vermeer, and a man called Han van Meegeren (below) - whom I am sure you have never heard of - but he engineered the most brazen and brilliant art scam of the C20th.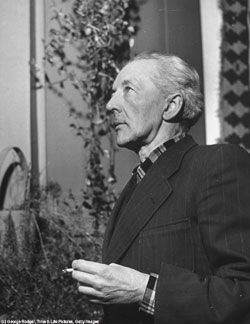 Henricus Antonius "Han" van Meegeren (1889–1947) was a Dutch painter and portraitist... and one of the most ingenious art forgers of the 20th century.
As a child, van Meegeren developed an enthusiasm for the paintings of the Dutch Golden Age, and he set out to become an artist. Art critics, however, decried his work as tired and derivative, and Van Meegeren felt that they had destroyed his career.1
Seeking revenge van Meegeren decided to prove his talent by forging paintings by 17th-century artists including Frans Hals, Pieter de Hooch, Gerard ter Borch and Johannes Vermeer.
In 1937 van Meegeren (living in France at the time) painted Supper at Emmaus as shown below.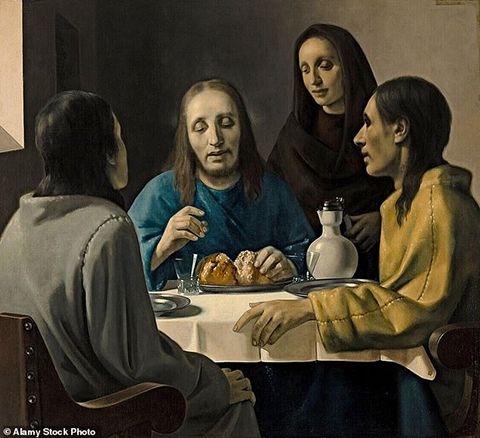 For the perfect crime to take place Han van Meegeren needed first to make sure his paintings look nearly 300 years old and then he needed an expert to authenticate his paintings as having been painted by Vermeer.
To make the paintings look old he used genuine C17th frames, canvases and pigments; with the sophisticated testing techniques of today, van Meegeren would not have got away with this. But it worked for him.
What also helped was that Vermeer had painted very few paintings so wealthy collectors were just itching to get their hands on a Vermeer. In fact a genuine Vermeer "The Girl with the Red Hat"... was discovered in 1925 in a private collection in Paris. It was the last genuine Vermeer ever found. Andrew Mellon bought it and later donated it to the National Gallery of Art in Washington, D.C., where it remains on view to this day. Mellon was a very generous man. 5
Ironically Mellon bought two fake Vermeers: the first in 1926; the second, in 1927. He never realized they were phonies. He displayed them in his home, right next to the "The Girl with the Red Hat", and gave them to the National Gallery along with the rest of his collection. Mellon's two fakes hung at the National Gallery as genuine Vermeers until the late 1950s, when chemical tests showed them to be made from modern paint. They're kept in storage now. Both of them were made by Han van Meegeren...5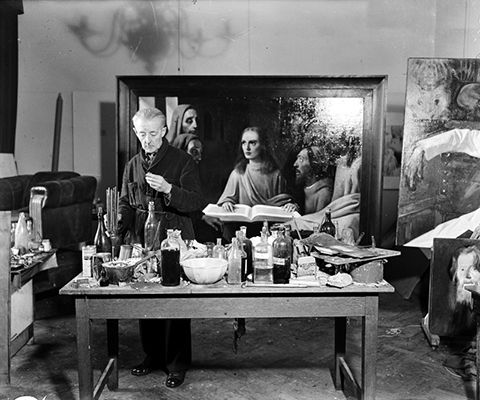 Van Meegeren was helped considerably by his friend the English art collector Theodore Ward who considered himself a true connoisseur of painting and resented wealthier collectors who could afford whatever they wanted but lacked a deep knowledge of art. He got his revenge with the Mellon fakes.5
In 1937, Abraham Bredius (below), who as one of the most authoritative art historians had dedicated a great part of his life to the study of Vermeer, was approached by a lawyer who claimed to be the trustee of a Dutch family estate in order to have him look at a rather large painting of a "Christ and the Disciples at Emmaus" - as shown above.
Shortly after having viewed the painting, the 83-year old art historian wrote an article in the Burlington Magazine, the "art bible" of the times, in which he stated:
"It is a wonderful moment in the life of a lover of art when he finds himself suddenly confronted with a hitherto unknown painting by a great master, untouched, on the original canvas, and without any restoration, just as it left the painter's studio. And what a picture! Neither the beautiful signature . . . nor the pointillés on the bread which Christ is blessing, are necessary to convince us that we have here — I am inclined to say — the masterpiece of Johannes Vermeer of Delft . . . quite different from all his other paintings and yet every inch a Vermeer. In no other picture by the great master of Delft do we find such sentiment, such a profound understanding of the Bible story — a sentiment so nobly human expressed through the medium of highest art." 2
Few doubts were advanced by his colleagues since Bredius' opinion was taken as gospel in the art world so much that he had been nicknamed "the Pope".2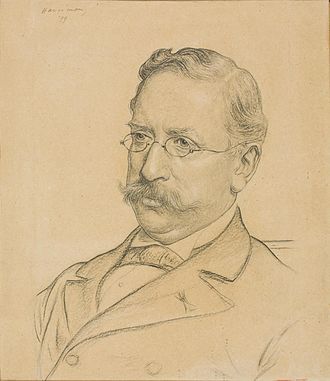 "The Supper at Emmaus" painting (which looks absolutely nothing like a Vermeer) was able to sway Bredius because the expert had always believed in the possibility of a Vermeer "religious period" since Vermeer had likely converted to Catholicism (his wife's religion). In other words, van Meegern shrewdly exploited the expert's own preconceived beliefs.6 It was also believed that Vermeer had been to Italy and this painting based on a composition of Caravaggio confirmed this belief. 2
The painting was purchased by the prestigious Boijmans Gallery in Rotterdam for the equivalent of $6 million and became the shining star in the gallery's exhibition "400 Years of European Art".
We will return in a couple of days to continue the story of the greatest forgery and how van Meegeren duped Hermann Goering.
⁂The Last Vermeer is a 2019 American drama film directed by Dan Friedkin from a screenplay by John Orloff (under the pen name James McGee), Mark Fergus, and Hawk Ostby. It is based on the 2008 book The Man Who Made Vermeers by Jonathan Lopez, and tells the story of Han van Meegeren (played by Guy Pearce), an art forger who swindles millions of dollars from the Nazis, alongside Dutch Resistance fighter Joseph Piller (Claes Bang).1
---
Credits
1. en.wikipedia.org
2. essentialvermeer.com
3. amazon.com
4. bbc.co.uk
5. amazon.com
6. theconversation.com