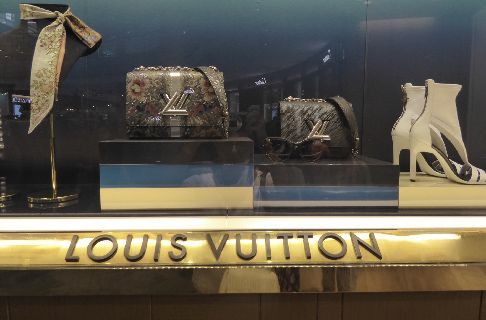 In May 2019 I was in Singapore, aftert Paris, the city rates a close 2nd in fashion and a favourite building.

(Credit: Flickr)
Housed in a spectacular Crystal Pavilion floating on the waters of Marina Bay, Singapore is one of the world's largest Louis Vuitton boutiques – second only to the brand's flagship Champs-Elysees store in Paris.
With nautical-inspired interiors illumined by natural light, the Louis Vuitton Island Maison is a one-of-a-kind concept that connects to the main shopping centre through an underwater tunnel. (Marinabaysands.com)
The tunnel resembles a fashion show runway - currently showcasing the 2019 summer men's collection and themed on the Wizard of Oz and the yellow brick road.
Louis Vuitton is known for its luxurious range of luggage - the top floor caters for bespoke luggage, personally engraved - from practical suitcases and overnight bags, where every whim is catered for - we saw a trunk designed especially for Christmas decorations.
And for a decadent picnic, the chauffeur would of course include the champagne carrier.
Handbags, scarfs etc - all the beautiful merchandise elegantly displayed in this fabulous building.
This is the LV take on the Egg Chair.
I read that LV burns any unsold bags at the end of the season. What a crime - the rumour appears to be true. Similar to Chanel, they burn them in order to prevent putting a lower price on them. Historically, it's known that LV does not put its pieces on sale
I'll just go back upstairs and purchase a few more outfits!
All my own photos, unless otherwise stated.