Happy Hanukkah to all my Jewish friends who are enjoying their Festival of Lights this week and the warmth of community.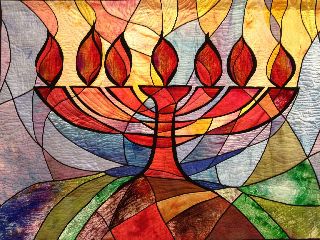 (Credit: bing.com)
In 2014 in West Hartford (Connecticut, USA) a riot of colour went on display at the Mandell Jewish Community Center's Chase Family Gallery when a show of quilts titled Connecting Threads were exhibited.  The quilts had been made and displayed in a celebration of Jewish industry and artistry, under the organisation of Diane Kruger Cohen. Above is the glorious Hanukkah menorah from one of the quilts.(courant.com)
One of my favourite artists is Marc Chagall (1887–1985) a Russian-French artist of Belarusian Jewish origin.  Below is an original sketch by Chagall, dated Chanukah 5707 (1946) and signed by him, of a Chanukah menorah drawn on the title page of Burning Lights, which was written by his wife Bella and which he illustrated. His chapter-by-chapter 36 pen and ink drawings convey his tenderness and love not only for the Jewish holidays but also most conspicuously for his wife. (jewishpress.com)
(jewishpress.com )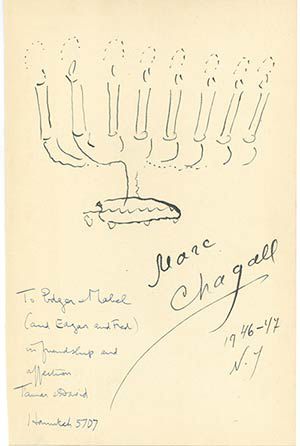 (Credit:jewishpress.com )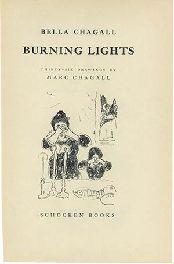 (jewishpress.com )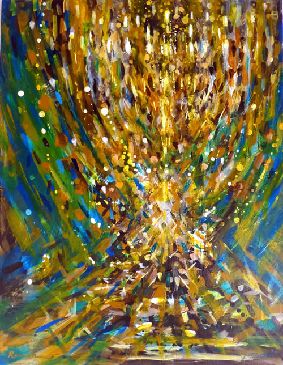 Rannan has said:
My work expresses something inexplicable – feeling, sensation, emotion and spirituality. The various levels and layers of paint correspond to different possible interpretations of the work. This presents an opportunity for new ways of seeing and understanding the familiar – refreshing form of communication that enhances the experience of ordinary life. I want to share the sense of discovery that I feel, the dynamic passion, energy flow and color vibration, to connect the viewer with a greater sense of self and place in the world.
A GOOD PAINTING IS ONE THAT OPENS A PATHWAY TO A PLACE I NEVER KNEW EXISTED. (yoramraanan.com)