The Alpine Club Collection
I have never heard of The Alpine Club Collection but this week Rowdy Wylie recommended that I take a look at the website for ArtUK which Rowdy subscribes to and now, so do I.
ArtUk is the online home for every public art collection in the UK. Their website states:
We are a charity, and our website represents a collaboration between over 3,400 British institutions. Through our work, we make art available for everyone – for enjoyment, learning and research.1
Browsing through the ArtUk website I noticed reference to an exhibition Alpine Club - 'Glaciers' Exhibition 2022 which appealed as I had just completed the post on Nicholas Roerich and his paintings of the Himalayas. And through this website I was also introduced to The Alpine Club.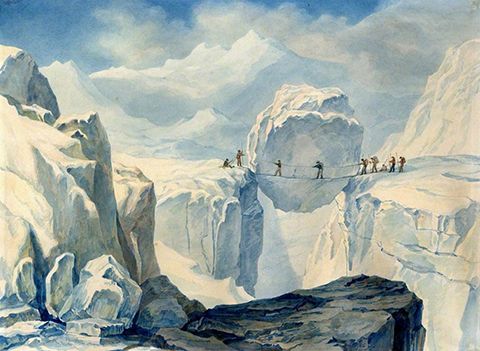 Since its foundation in 1857, there have always been members of the Alpine Club who have carried sketchbooks into the mountains, keeping a record of their endeavours and the peaks they climbed. Following its move to Savile Row, the Alpine Club began to hold exhibitions, and an art collection was formed. With the subsequent move to South Audley Street, members' exhibitions continued, alongside shows of mountain paintings by other dealers and galleries. Since 1991, the Alpine Club has been based at Charlotte Road in Shoreditch, and the collection now numbers around 600 paintings, many of them gifts or donations to the club.1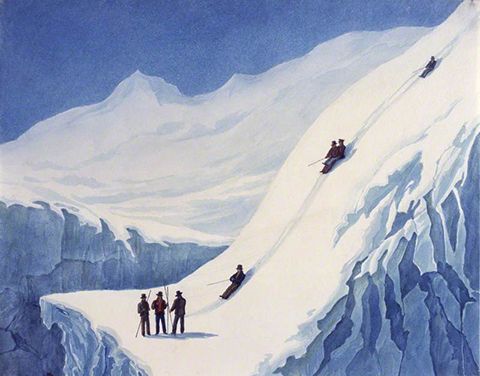 The works above were done by John Richardson Auldjo (1805–1886) in 1828. He was a Canadian-British traveller, geologist, writer and artist. Like many of the early alpinists, he accurately recorded the glacial world and the mountains as he climbed them.1
Below is another watercolour painting by John Auldjo.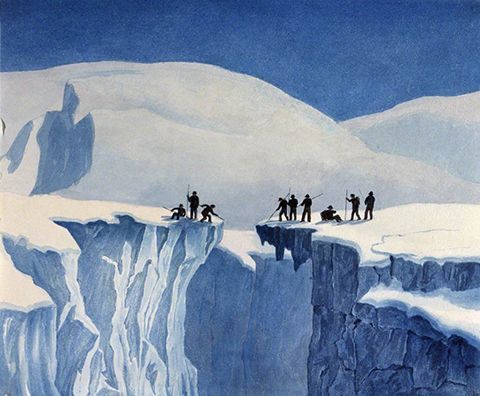 Charles Pilkington was an outstanding alpinist with many guideless ascents, including the guideless ascent of Piz Roseg (1882), Monch (1883), the second ascent of La Meije and Gabelhorn (1876). He was President of the Alpine Club from 1896 to 1898. Below are two of his Watercolour paintings, both capturing scenes from a range of rocky mountains located on the Isle of Skye in Scotland: the painting on the right is of the northern section of the range.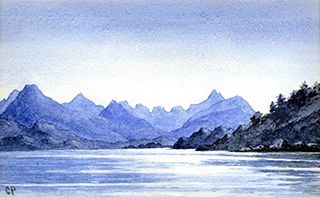 Next we will view an oil painting (below) by Albert Henri John Gos (1852–1942) who was Swiss and not only scaled mountains but was also an accomplished violinist, composer and artist. He studied violin with Amelie Munz Berger, wife of the artist Alexander Calame. Through this connection, Gos started painting; he studied art with Barthelemy Menn.1
The Matterhorn was Gos's favourite subject. He exhibited at the Royal Academy.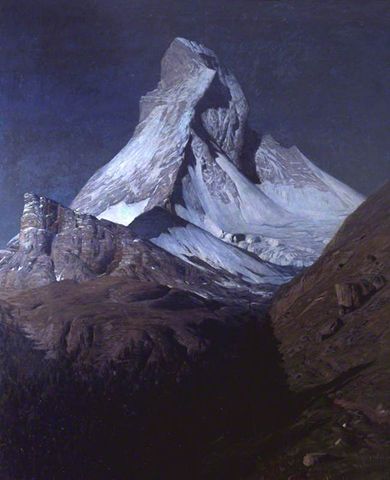 We will conclude with two paintings done by British artist Elijah Walton (1832-1880). The first is an oil painting featuring the precarious nature of the climbers' challenges.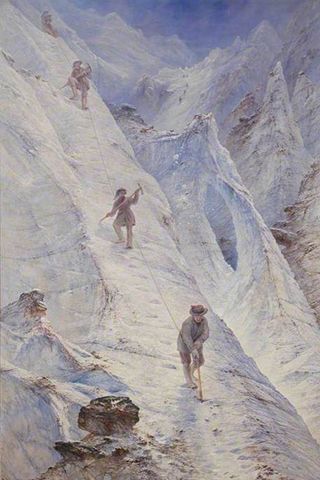 The second painting (below) by Elijah Walton represents the the 150th Anniversary Climb of Monte Viso (with F. W. Jacomb and Michel Croz on 30 August 1861) was completed by members of the Alpine Club following William Mathews' original route.1
Monte Viso is the highest mountain of the Cottian Alps and is located in Italy close to the French border.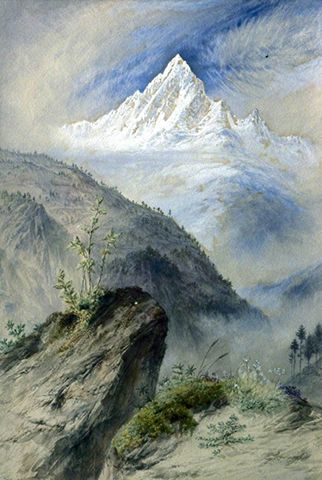 If you are fortunate enough to live in London the exhibition will run from 11 January - 31 March 2022 and is open every Tuesday and Wednesday, 12PM to 5PM. Full details can be found by clicking here.
Late Mail
We love it when our posts conclude with a welcome to the AnArt4Life blog and this morning is one of those days. A warm welcome to our newest subscribers who are all from Australia - M.D., J.M. and C.P. are now part of our on-line community sharing daily posts about art in the world around us.
Credit
1. artuk.org