Nicholas Roerich: From Beyond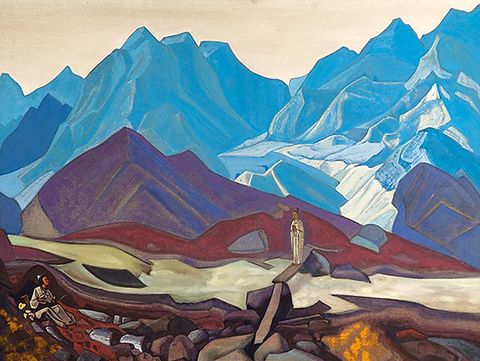 I discovered Nicholas Roerich (1874–1947) and his wonderful paintings when I was looking for information about the Himalayas during the time Jane was travelling in this area back in 2019 - seems such a very long time ago.
Yesterday we looked at three Roerich paintings of The Great Wall of China and I gave a litle background on Nicholas' life. If you missed this post follow the link to Longest Wall in the World through the Eyes and Hands of Nicholas Roerich.
In essence Nicholas Roerich was a trained painter and lawyer, an archaeologist, poet, historian, scenographer, scientist, traveller, philosopher and a crusader for peace and protection of culture.2 A fascinating and remarkable man who with his wife and two sons travelled through and lived in many countries. Today it is Nicholas' perception of the stunning mountians of Northern India, Tibet and the Himalayas we will view and appreciate - scenic recreations from the period 1923 to 1945.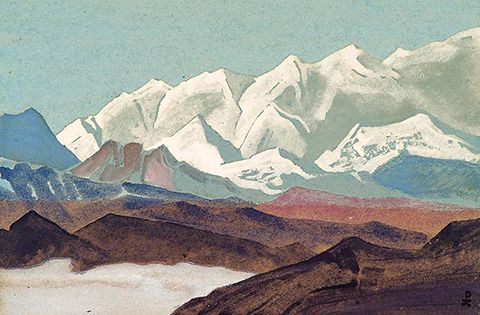 It is in Roerich's Himalayan paintings that one most easily finds evidence of the loftiness of spirit and sense of mission that led Roerich to attempt the tasks he set for himself. In them can be seen the sense of drama, the urgency of a message to send or receive, a traveler to greet, a mission to perform, a path to travel.1
The towering mountains stand for the spiritual goals that humanity must set for itself. Roerich urges people on to their spiritual destiny and reminds them of their duty to prepare for the New Era in which Rigden Jyepo will gather his army and under the Banner of Light defeat the host of darkness. Roerich the warrior was already armed and mounted; he sought to muster his army for the battle, and bid that their breastplates bear the word "culture." 1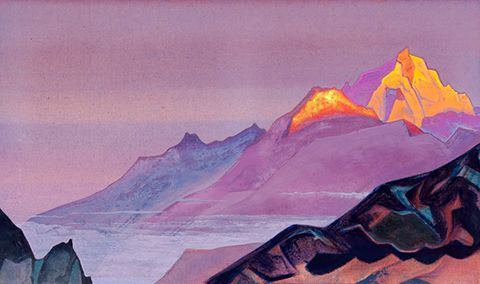 Born in Saint Petersburg, Russia, to a well-to-do notary public Baltic German father and a Russian mother, Nicholas lived in various places around the world - Russia, Finland, America...but it is his paintings of the Himalayas that are breathtaking.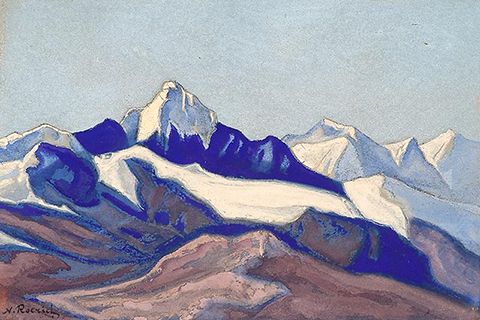 Nicholas' parents encouraged him to study law, but seeing their son's inclination for painting, they allowed him to study both, which he did with much success. In 1900, Roerich went to Paris to take lessons from Fernand Cormon, the well known tutor of Van Gogh and Toulouse-Lautrec. Upon his return to St. Petersburg, he married Helena Shaposhnikova, who later developed the Agni Yoga philosophy. Soon Roerich became quite a successful painter. One of his paintings was purchased by Russian Tsar Nicolas II himself.2
Roerich also worked as stage and costume designer for Serge Pavlovich Diaghilev's Ballets Russes and is especially known for his monumental historical sets. He designed the sets for several operas and ballets by Maurice Maeterlinck and Igor Stravinsky.2
In 1917 Roerich went to live near a lake in Finland, to strengthen his health. After the border between Russia and Finland was closed in 1918 in the context of the October Revolution and Finnish Civil War, the family travelled across several Scandinavian countries to Great Britain and eventually left for North America in 1920. There, Roerich founded two cultural institutions: "Cor Ardens" (Flaming Heart, a fraternity of artists from several countries) and "The Master Institute of United Arts" (an organization for education, science, and philosophy). 2
After leaving America, the Roerichs settled at Naggar in the Kullu Valley from which their estate looked towards the Himalayas. Here they established the Urusvati Institute which remains in Naggar with an exhibition about the pact. Nicholas Roerich died of a cardiac arrest on 13 December 1947.2
Many of the Roerich paintings contain characters from spiritual connections and narratives exemplifying the strong interest Nicholas and his wife Helena had in an incorporeal world.
Of interest is that Helena Roerich was an unusually gifted woman, a talented pianist, and author of many books, including The Foundations of Buddhism and a Russian translation of Helena Blavatsky's Secret Doctrine. Helena Roerich's collected letters, in two volumes, are an example of the wisdom, spiritual insight, and simple advice she shared with a multitude of correspondents—friends, foes, and co-workers alike.1
Later, in New York, Nicholas and Helena Roerich founded the Agni Yoga Society, which espoused a living ethic encompassing and synthesizing the philosophies and religious teachings of all ages.1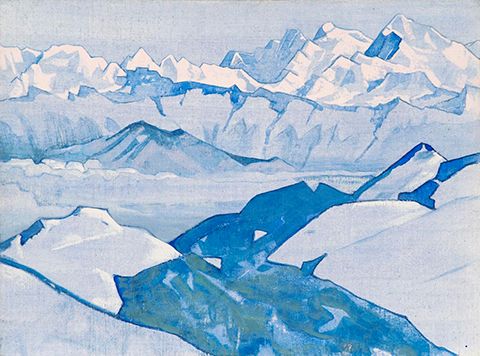 I thought you might like to see a few of his sketches of mountains done mainly in preparation for his paintings.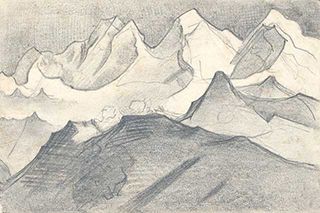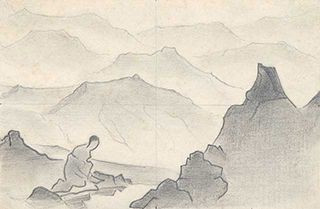 Nicholas Roerich is considerd to be one of Russia's greatest painters and there is a minor planet 4426 Roerich in the Solar System named in his honor.
In 1923, the Roerich Museum was founded in New York. In 1929, it moved to a new building. Presently, the Roerich Museum is located in Manhattan, at the corner of 107th Street and Riverside Drive.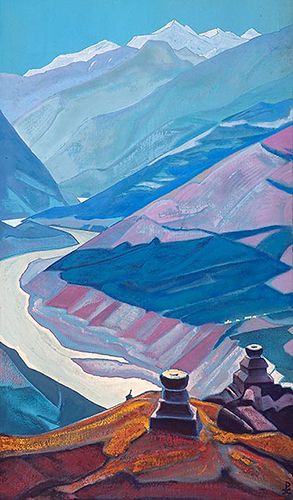 The original force of Roerich's work consists in a masterly and marked symmetry and a definite rhythm, like the melody of an epic song. 1
If you like the works of Nicholas Roerich you can have a slideshow in your own home with a choice of several different themes he explored in his paintings. Follow this link to Nicholas Roerich Museum Slideshows.
And at some time in the future we must return to look at the stage design works of Nicholas Roerich - please remind me if I forget!
But tomorrow - more lofty art - from The Alpine Club Collection!!
Credits
1. roerich.org
2. en.wikipedia.org