Yesterday I introduced you to the Australian realist artist Sue Hourigan and if you missed this post please click here.
Sue is an experienced artist of more than 35 years. Her passion for art began as a child - she loved to copy images from newspapers, swap cards and other designs, always striving to produce an accurate depiction of the original. Her mother was also an artist...1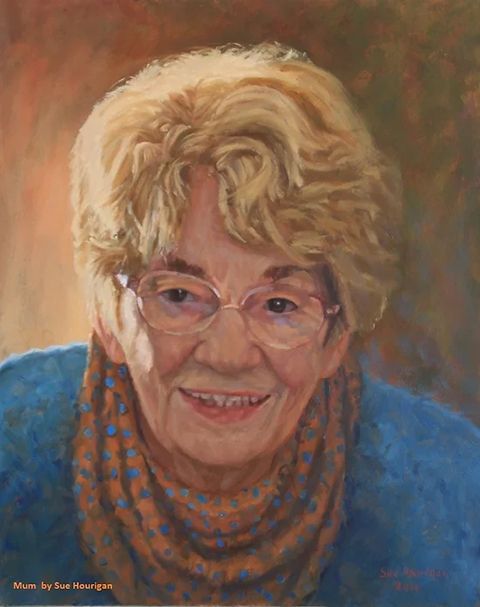 ...though Sue did not actually pick up the paint brushes until her mid twenties, when she was inspired and encouraged by a close artist friend to give it a go!1
Yesterday we enjoyed viewing Sue's amazing paintings of horses but her human figurative and portrait paintings are equally inspirational. And again, as with the working horses and their human companions, there is often a strong emphasis on a symbiotic relationship.
The relationship might be obvious...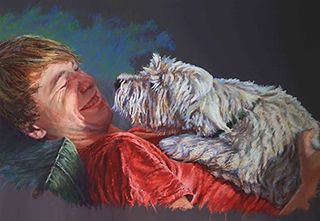 ... or more subtle.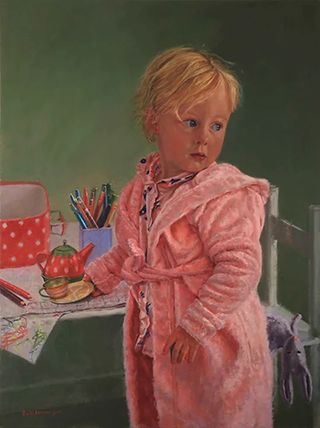 Sue's passion for producing the best artwork that she can has only grown over the years. She constantly strives for improvement, analysing and problem solving as each painting progresses. She has been influenced by many artists over the years, attending numerous workshops and picking up "little gems" of information along the way. There is always something new to learn with art!1
As mentioned in yesterday's post Sue is a founding member of the Passionate Palettes Art Group made up of artists of a wide of experience and talent who meet regularly to paint - sharing and supporting each other in this passion.
Sue is obviously a community conscious person and this is often exemplified in her paintings.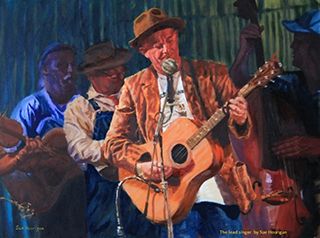 And whilst Sue's love and understanding of animals is very obvious...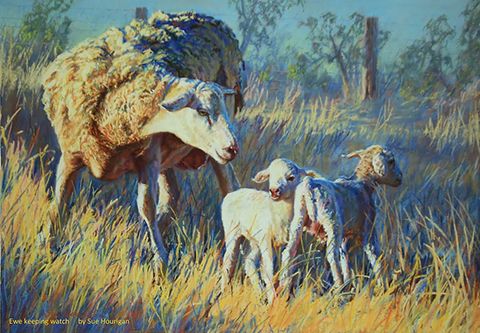 ...her love of nature and country is equally strong.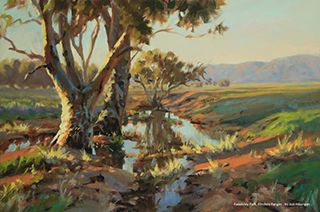 ...and our treasured wildlife, particularly birds don't miss out on being captured in paint by Sue Hourigan.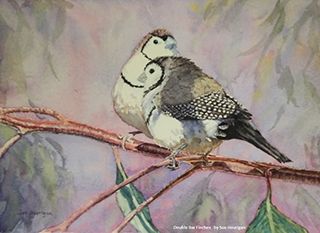 Sue's drawing skills are evident across her oeuvre and are no doubt enhanced by her engineering degree which would also be an excellent training ground for solving problems - even ones on canvas and paper. All artists are problem solvers, striving to work out the best way to present the images they have in their minds and want to share with the public.
And what a wonderful range of subject matter and mediums (oil, acrylic, pastel, watercolour, pencil and graphite) she is sharing with us across animals, people, landscapes, wildlife - it is difficult to choose a favourite painting or style.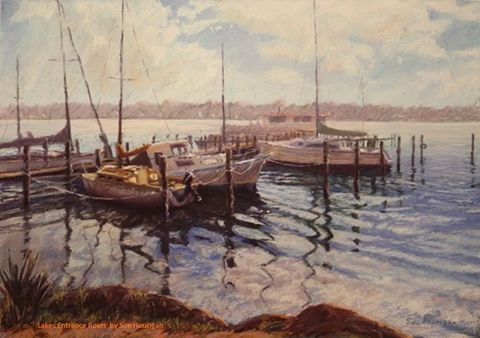 This year Sue exhibited at the Art Gallery on Ovens which is an artist run, non profit community gallery, with one of its key main objectives providing other artists both established and emerging in our region, the opportunity and experience to exhibit their art in a professional gallery space.1
Sue is also a member of the Bright Art Gallery and has exhibited and sold her works at various North East Victorian art shows over the years, winning numerous prizes and highly commended awards along the way, most recently winning the Best Pastel in Show at the 2021 Bright Autumn Art Show. Her works can also be viewed at Carlisle Art in Benalla, and the Olive Shop in Milawa. Many of her paintings are now sold as commissioned works.1
Early Morning Ride (below) presents us with an excellent image on which to sign off today's post.
How many of us have experienced a walk or ride through the beautiful bush (be it in Australia or another country) with loved companions both - human and animal - breathing in the welcoming morning air.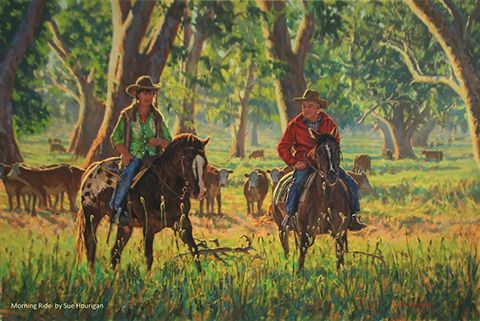 © Thank you to Sue Hourigan who kindly gave permission for the images of her work to be shared on AnArt4Life.
Credits
1. artgalleryonovens.com