Stockholm Through Traveller Jane's Eyes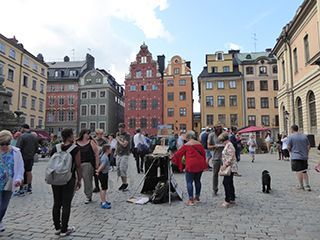 Today, let's scoot across the water to Travel with Jane during her visit to Scandinavia in 2019. My friend constantly assures me she can't paint or even draw a straight line (I haven't let her into the secret that most artists can't draw a straight line either!!). However, one thing is for sure: Jane can take great travel photos and paint the most beautiful images in words. I will now share some of these with you.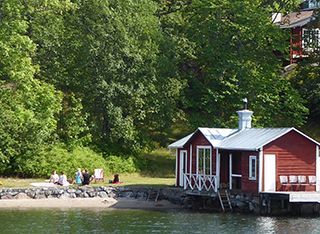 Stockholm is a beautiful city, scattered across 14 islands, within an archipelago of several thousand more. Many locals escape to a smaller less inhabited island during the summer to enjoy nature walks and a simpler life. Yesterday I cruised around part of the archipelago - it was a sunny day with wispy clouds. The summer break is over but we still saw families relaxing by the shore. The houses mostly timber and elegant in a mix of styles - many with a boathouse, wonderful enough to live in itself and usually in the same design as the main house.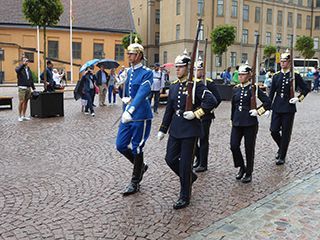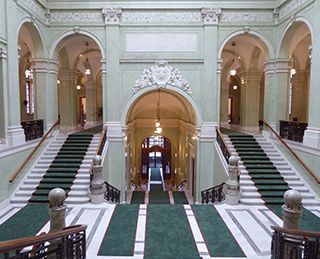 *The old town, takes up a small island, a mere 5 min walk from the centre of what is now the main town and where my hotel is located is known as Gamla Stan. On Tuesday I spent most of the day meandering along the small laneways which lead to elegant squares, surrounded by colourful buildings and majestic churches.
I settled into a restaurant, in the main square - Stortorget - the buildings here date back to 1600-1700s (and probably some of the most photographed), hoeing into traditional meatballs for lunch (I have to say my own are just as nice).
These days the square is filled with tourists. However Stortorget has a not-so-picture-perfect history: it was the scene of the Stockholm Bloodbath that took place over three days in 1520. The King of Denmark invited all the Swedish royalty and nobility to a banquet… and then had them all executed. The only noble to escape the carnage was Gustav Vasa as he was away from Stockholm at the time. He gathered an army outside the capital and eventually defeated the Danish to liberate Sweden. Despite all his family being killed and having to wage a war, it worked out pretty well for Gustav: He was the last surviving noble, so he got to become the first King of Sweden!
On one side of the square the former Swedish Stock Exchange building dates back to 1776, which now houses the Nobel Museum.
Not only is Sweden the home of IKEA and Volvo, it's also home to the prestigious Nobel Prize. A very entertaining guide regaled us with many interesting facts.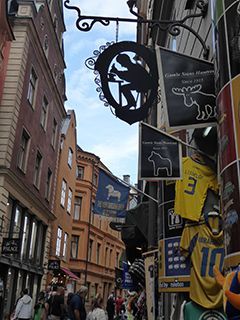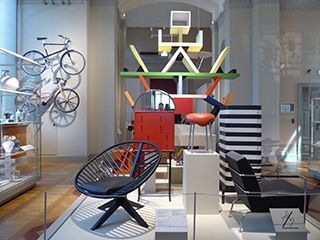 Alfred Nobel was born in Stockholm and became a wealthy man as a businessman, chemist, engineer and inventor with 355 different patents to his name - dynamite being the most famous and the synthetic element nobelium, is named after him. Today companies such as Dynamite Nobel and AkzoNobel are descendants of mergers with companies Nobel himself established.
In his will, he assigned the bulk of his estate (in 2012 the capital estimated to be around $US472 million) to establish Prizes awarded annually in the faculties of Science, Chemistry, Medicine and Literature, as well as the Peace Prize. Each Nobel prize comes with a diploma, uniquely crafted in fine calligraphy, an 18 carat gold medal, and a cash award of around $AUS1.2million depending on the current interest rate earned on the capital. It can be divided between up to 3 people.
The presentation is a stylish event, firstly at the museum which is closed for the day, allowing winners to view achievements of previous recipients and learn the ropes for the formal ceremony. Then it's off to the elaborate dinner and presentation, an event attended by several thousand at the nearby city hall - a black tie event - tableware designed specifically.
You would know that Martin Luther King was awarded a Nobel Peace Prize, but perhaps you didn't know that Bob Dylan won the Nobel Prize for Literature in 2018. Although most of the awards are presented in Stockholm the Peace Prize is awarded in Oslo - all on 10 December, the date of Nobel's death. (Wikipedia)
Marie Curie was the first woman to win a Nobel Prize - in Physics (1903) - a half share with her husband - the other half to Pierre Becquerel for their studies into radiation. Marie Curie won a 2nd prize in Chemistry (1911) in recognition of her work in radioactivity. Her work led to Radium and Polonium being added to the periodic table. She is the only woman to have won 2 Nobel prizes; her family has won 5 Nobel prizes, an accolade that may never be matched.
Yesterday I visited the National Museum, many paintings were in the stark monochromatic Scandinavian style.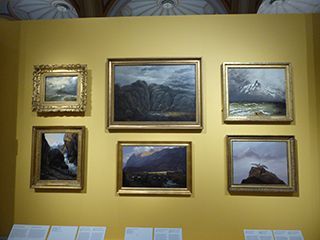 However the furnishings of more recent decades were a lot more appealing.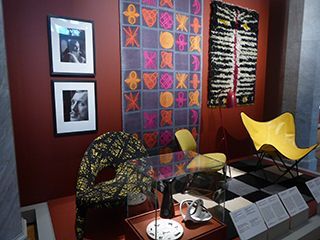 Follow this link if you are interested to see more of the Modern Scandinavian Furnishings in the National Museum.
Another day was at a slower pace, visiting the Modern Museum, surrounded by natural parkland on nearby Skeppsholmen Island. Most of the works of art were a little too modern for my taste - it's a worry when ripped up sheets of brown paper are considered artworks! There were some notable paintings by Matisse, Picasso and Jackson Pollock.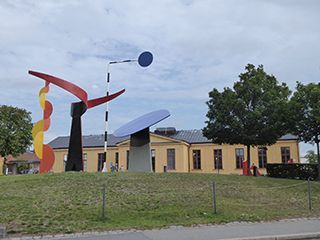 I stopped briefly at the Middle Eastern Museum, which housed a small Egyptian collection and the largest collection of Cypriot antiquities outside of Cyprus, 15,000 pieces in all - spanning more than 7000 years from the Stone Age to Roman times and the result of a Swedish archeological expedition between 1927-1931.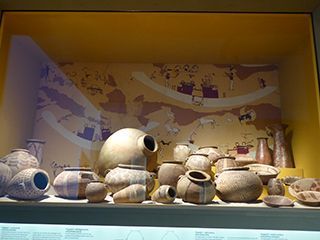 Stockholm is certainly a centre for art and culture, even the metro stations are filled with art works, a few of which I saw on a short tour this afternoon. Some platforms are cave like, while the more recent stations showcase modern urban art, quite wonderful to experience, but impossible to capture the artistic impact on photos.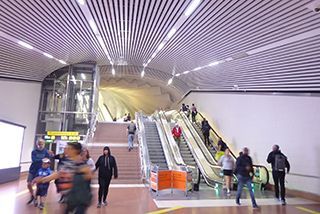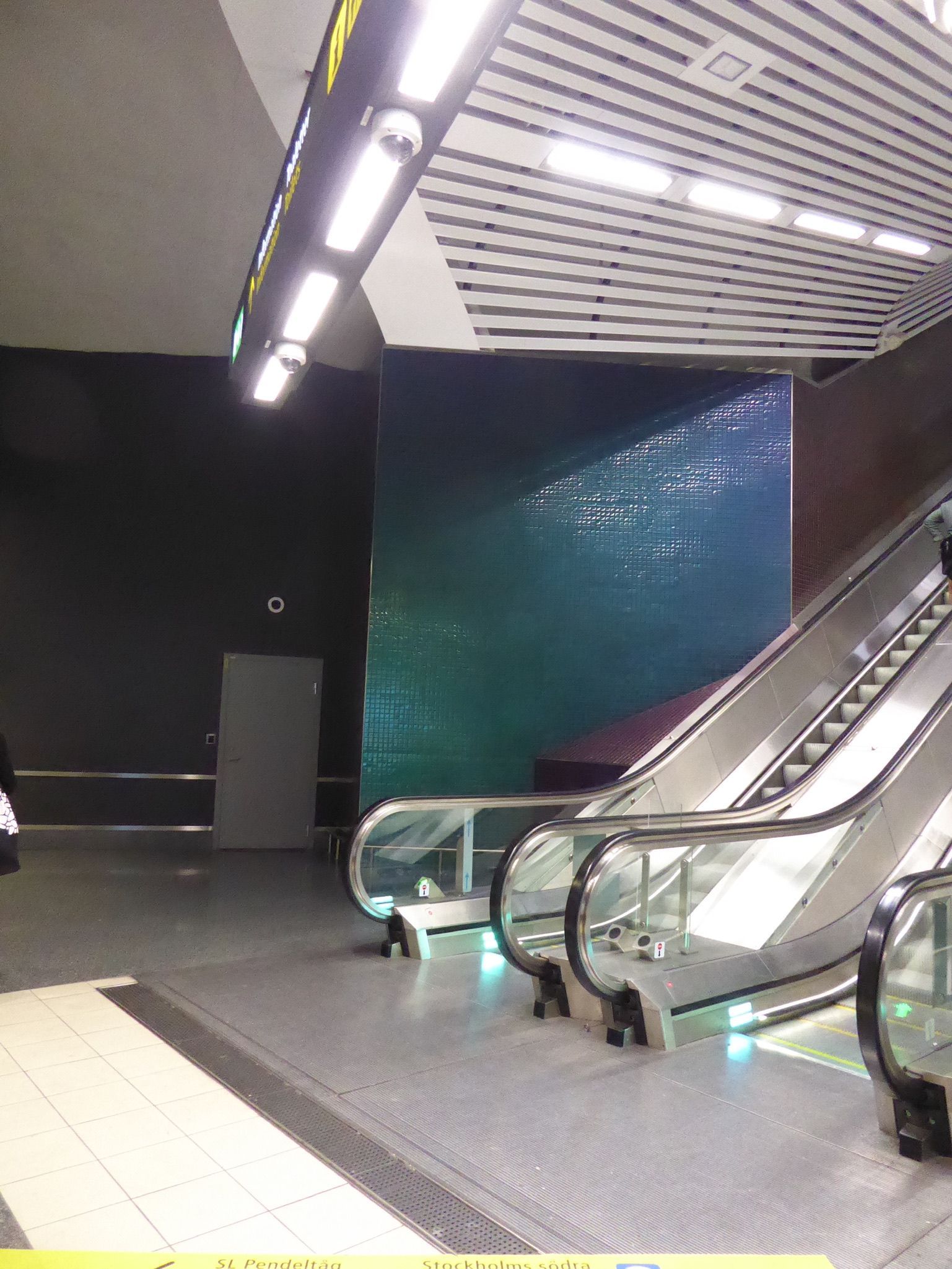 I found this 5 min video that provides an overview. Marie Anderson, our guide, features towards the end. She is very passionate about public, democratic art.
The World's Longest Gallery in Stockholm
And for those of you who would like to know more about the National Museum of Sweden please enjoy this video.
References Used in Text: A Guide to the Swedish Parliament; Wikipedia