Stepping through the landscape with Jenny Carrington
Regular subscribers and followers will know that my birth place is Bendigo in Central Victoria - one of the most beautiful areas of Australia (I'm biased!!) but definitely home to some of the most inspirational and exciting art culture in Australia.
Bendigo has always been a keen art scene and we boast one of the greatest art galleries in Australia bringing world class art exhibitions to the area. Check out the Bendigo Art Gallery especially if you are an Elvis Presley fan as there is a phenomenal exhibition on at the moment.
Today however, I want to introduce you to one of the most interesting, creative and versatile artists from Central Victoria - Jenny Carrington. Some of you will already know Jenny from her works on Facebook.
On 1 June 2022 Jenny pledged to produce a landscape a day!! The project commenced with a quick drawing of One Tree Hill. The scene immediately drew my attention as this is my childhood country where I roamed as a youngster under the protection of my brother! We would peddle our bikes out to One Tree Hill with our friends and play in the bush for hours.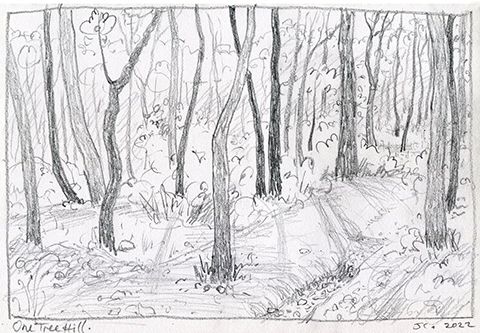 On Day Two Jenny took us to Mt Barker at North Harcourt which I know will interest our subscriber M from Wheelers Hill as this is her stamping ground.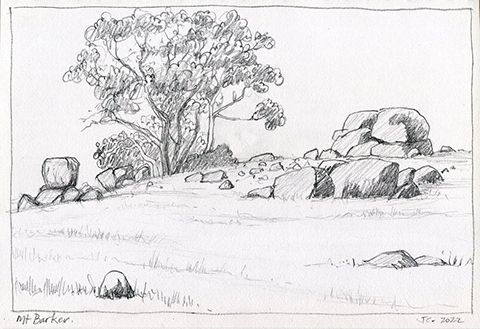 And then back to One Tree Hill to explore the massive granite boulders which adorn the area.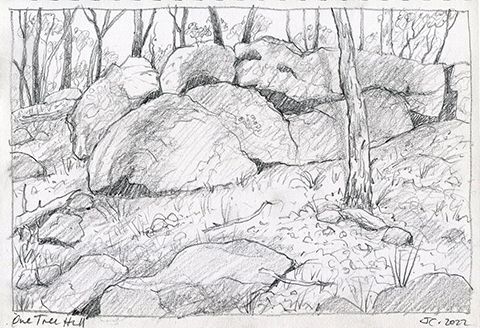 And we always believed as children that if you stood on the top of a boulder you could see forever!! Well at least across to the other side of the world.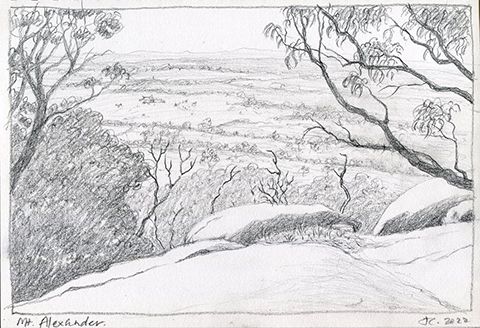 Take a moment now to follow the lines in Jenny's sketch and explore the shapes and patterns she so expertly creates. Let her lines take you on a journey to appreciate country. Perhaps take a wander with us down one of the paths that meander through the bush.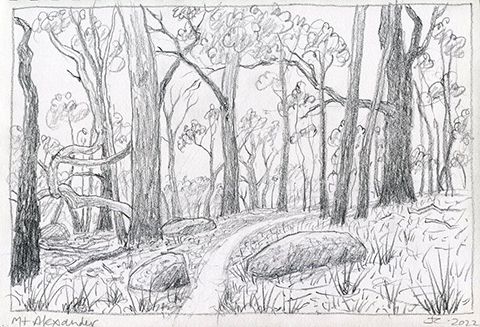 And then stop. Listen to the sounds of the Australian bush. The trickle of a stream at Sedgwick...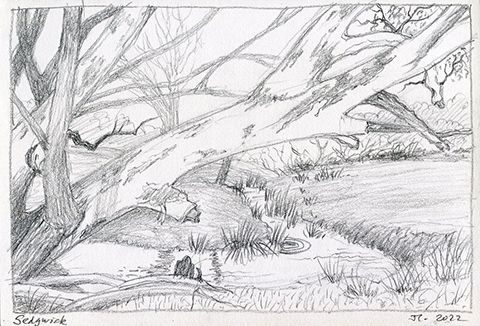 The rushing water over The Cascades at Metcalfe...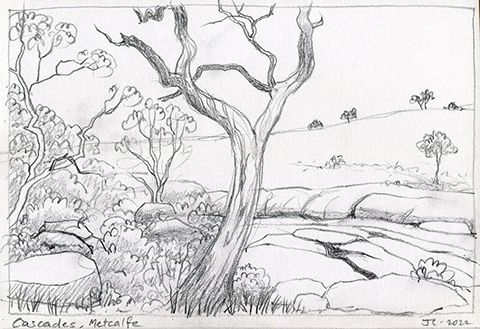 Jenny and I have brought a picnic basket and we invite you to sit with us and take in the beauty, the smells and the sounds of our little part of this great and ancient land.
© Thank you to Jenny Carrington who kindly gave permission for the images of her work to be shared on AnArt4Life.
Credit
1. facebook.com/jenny.carrington.90260