Skywhales: Every Heart Sings-World Premiere
Patricia Piccinini, Skywhale, 2013, Gift of anonymous donor 2019 through the Australian Government's Cultural Gifts Program © Patricia Piccinini1
Trevor in Canberra has alerted me to the exciting news that the Skywhale Family created by Australian artist Patricia Piccinini will take flight over Canberra on 7 February, 8 March and 3 April 2021 - weather permitting.
Skywhalepapa is a monumental sculpture in the form of a hot-air balloon. A new companion piece to Skywhale, together they form a skywhale family that will be launched near the Gallery and take flight over Canberra three times. The sculptures will also float across the skies of Australia as a National Gallery Touring Exhibition.1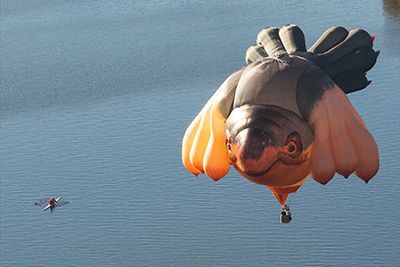 Watch Skywhale fly alongside her new companion Skywhalepapa for the first time. Commissioned by the National Gallery of Australia, with the support of the Balnaves Foundation, this will be Skywhalepapa's global debut.2
I have managed to find an artist's sketch of what Skywhalepapa will look like- with his babies to complete the Skywhale Family.
He does have a certain strength I think': a mockup of Skywhalepapa. Photograph: Patricia Piccinini/National Gallery of Australia 3
An immersive sonic experience will accompany the skywhales, with a special live performance of We are the Skywhales by Jess Green and band supported by the Luminescence Children's Choir.
Check out the National Gallery of Australia site below.
Tomorrow, Jane is going to take us in a completely different direction but just as inspiring.
Credits
1. knowmyname.nga.gov.au
2. swissreviewartandeventsmagazine.wordpress.com
3. theguardian.com