Rogan Taylor: Watercolourist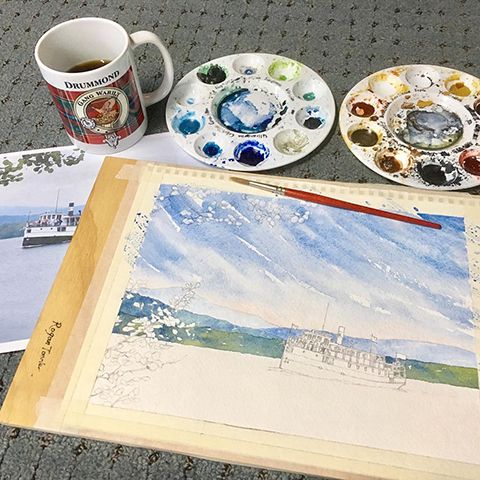 When I first started to examine and appreciate Rogan's paintings what immediately caught my eye was that he, like me and many others of a certain vintage, have a great love of the Mini. And no, not the skirt!! The car!!!
In 2019 Rogan celebrated sixty years of the Morris Mini-Minor which came into this life in 1959. I purchased my first Mini in 1965 the day I turned 18 and immediately painted it (using house paint!!) two tones of green!! I then upgraded to the Mini Cooper S range (owning two in fact), the first model of which were built predominantly for racing. And yes...we certainly did hurtle along on the road from Bendigo to Melbourne in Victoria, Australia.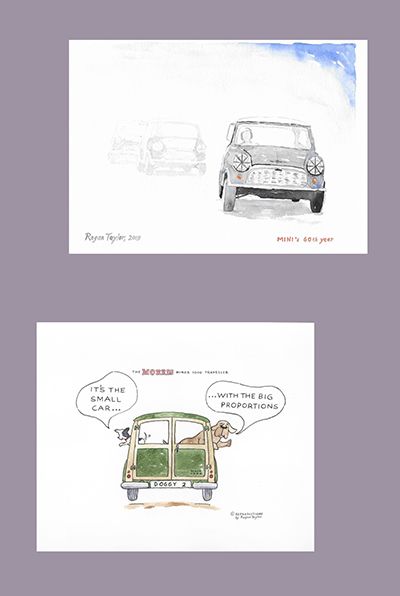 There are so many variants of these cars and I too loved the Morris Minor 1000 Traveller as seen above - what a wonderful name for a car and for some reason it always reminded me of a piece of furniture... looking like a cupboard on wheels!!
It's done! exclaimed Rogan when he finished painting The Morris Minor Tourer. As he has described: All the advantages of two cars for the price of one! When the weather's right, the hood down provides all the pleasure of an open car. When it rains, with the hood and winding windows up it's cosy and completely weatherproof..." - early Tourer advertisement. © Rogan D Taylor. 1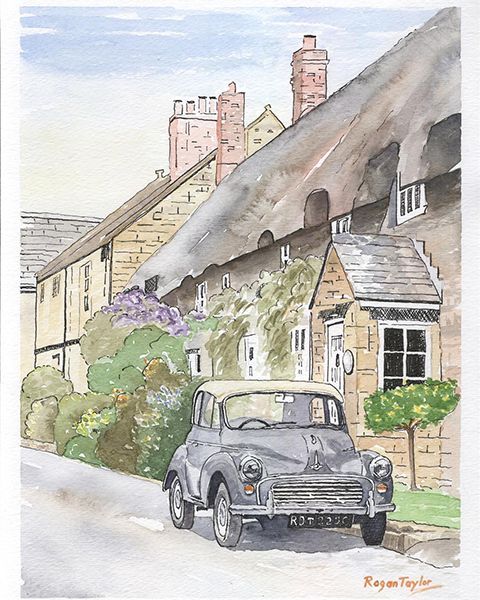 Rogan is a very versatile artist covering a great range of subject matter which I find most engaging. And Rogan's horizon is as wide as the world as he now lives in Castle Rock, Colorado, USA but was born and grew up in (Southern) Rhodesia, now Zimbabwe and has also travelled extensively around the planet with his box of watercolours in hand.
And so let us board a plane and see where Rogan will take us commencing in Zimbabwe ...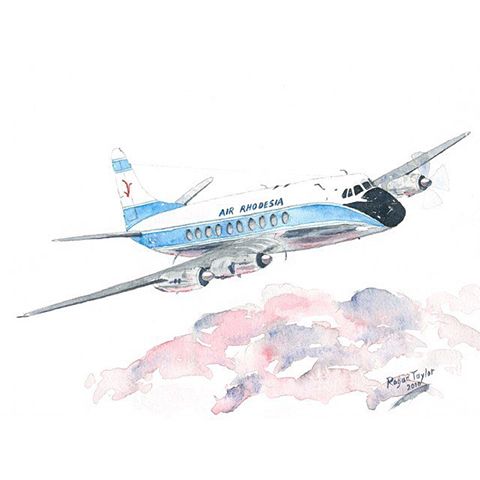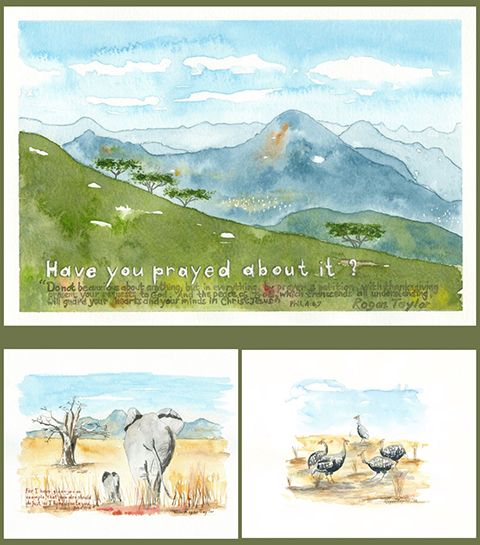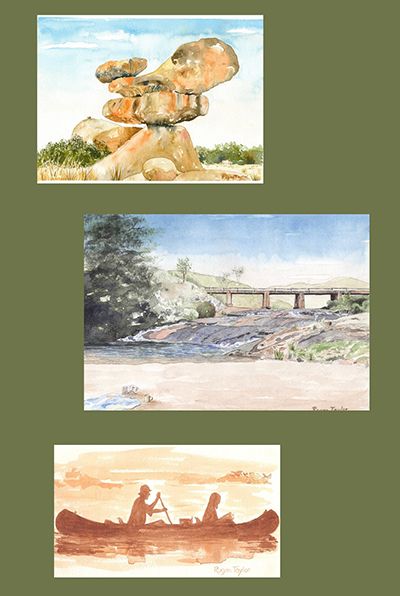 With an English/Scottish ancestry it is not surprising we find Rogan painting an occasional scene in England. Below we can enjoy the remarkable chalk cliffs in East Sussex, England.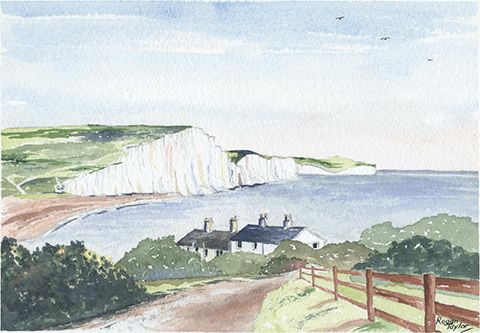 We're back in New Zealand! Here's a watercolour I did in 2010... Lake Taupo looking at the lake from Kuratau; hoping to wet those brushes soon 😉! wrote Rogan ... and he did!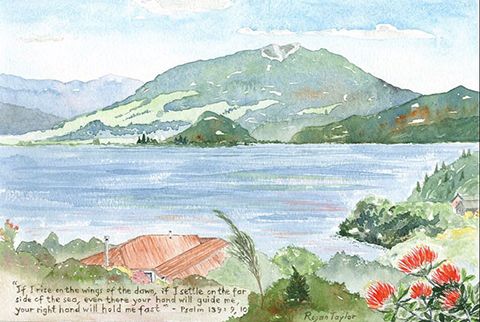 Rogan often writes a biblical text to accompany a painting and I particularly like the words he has chosen for the idyllic scene above.
If I rise on the wings of dawn, if I settle on the far side of the sea, even there you hand will guide me, your right hand will hold me fast. Psalm 139:9,10.1
But let us conclude this post with a showcasing of Rogan's paintings from his chosen country - the United States of America - particularly the states of Maine and his home state of Colorado.
Although Rogan was obviously captivated by the sunset over Moosehead Lake in Central Maine if you read his description below you will gain further evidence that this artist appreciates and embraces a sense of history in his visual interpretations.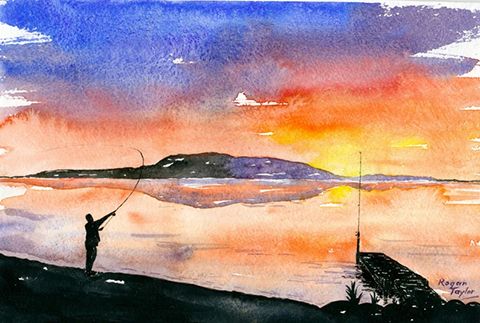 Beautiful lakes and ponds abound in Central Maine, and to the Central "Main-uh" names like Sebec, Schoodic, Manhanock, Wassookeag, Piper, Whestone and Hebron, to name a few, are household words. The largest lake in the state of Maine is Moosehead Lake (above), also in the central part of the state, and is the largest mountain lake in the eastern United States.
Situated in the Longfellow Mountains in the Maine Highlands Region, the lake is the source of the Kennebec River. Towns that border the lake include Greenville to the south and Rockwood to the northwest. There are over 80 islands in the lake, the largest being Sugar Island.
Fishing, like all the bodies of water in Maine, is very popular, and more so, been a source of livelihood for centuries. Moosehead Lake's most common fish are Lake Trout, Brook Trout and Smallmouth Bass.1
Rogan no doubt chose to paint the Portland Lighthouse, Maine (below) as it and its setting is so beautiful but as you will read there is a little more to the story as it has a very long and interesting history.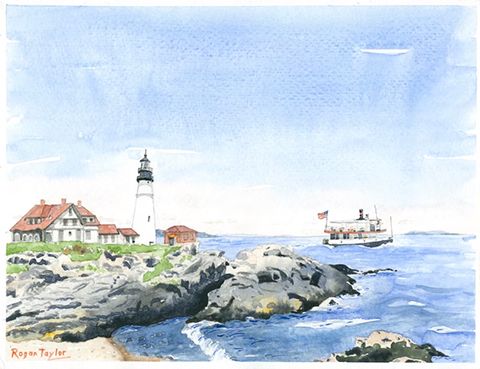 This lighthouse at Cape Elizabeth in Maine, officially known as the Portland Head Light, is the oldest lighthouse in the State of Maine. It sits on a head of land at the entrance of the main shipping channel into Portland Harbor. Construction began in 1787 by order of the first president of the United States, George Washington, and was completed on January 10, 1791.1
In 1787, while Maine was still part of the state of Massachusetts, George Washington engaged two builders from the town of Portland, and instructed them to take charge of the construction of a lighthouse on Portland Head. Washington reminded them that the new government was poor, and he ensured that only local materials were used to build the white conical lighthouse.1
Today, Portland Head Light stands 80 feet above ground and 101 feet above water. The DCB 224 airport style aero-beacon can be seen from 24 nautical miles away. It is one of the most picturesque lighthouses in the United States, and is claimed to be the most photographed lighthouse in the world.1
Finally we come to Rogan's home state of Colorado and and again his sense of history (as we also saw in the paintings of the Mini and Morris Minors) is emphasised in his paintings- this time of one of the oldest standing structures in South Fork, Colorado - the Water Tower, now beautifully restored. My painting, based on an old photograph taken in 1943, helps us relive the romance of the steam trains when they travelled west from Alamosa to South Fork and then on to Creede.1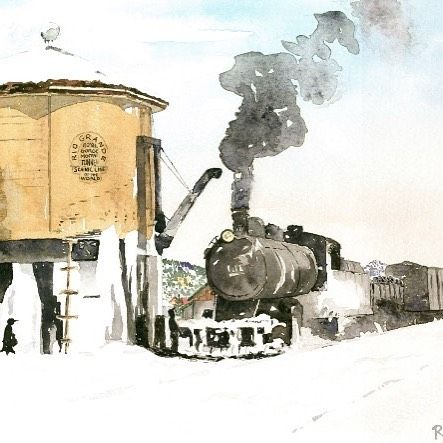 Colorado is considered to be one of the ten most beautiful states in America and the watercolour expressions of the natural beauty as seen in these Rogan Taylor paintings is an endorsement of this.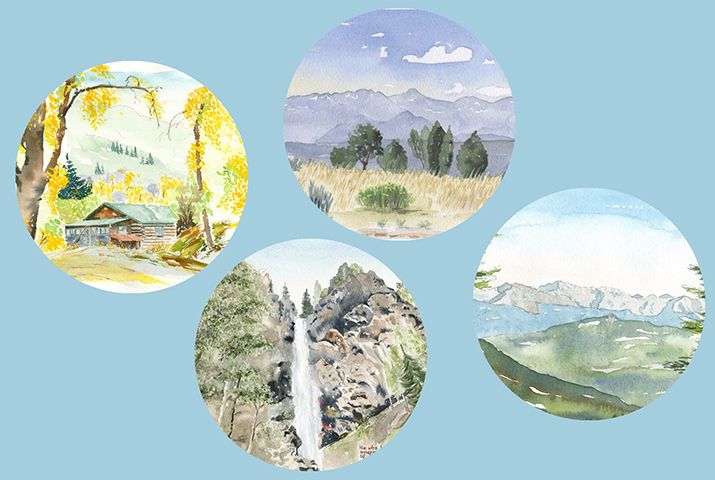 © Thank you to Rogan Taylor who kindly gave permission for the images of his work to be shared on AnArt4Life.
For users of Instagram you can check out more of Rogan's paintings by following the link below.
And Etsy users can check out Rogan's Watercolor Shop below.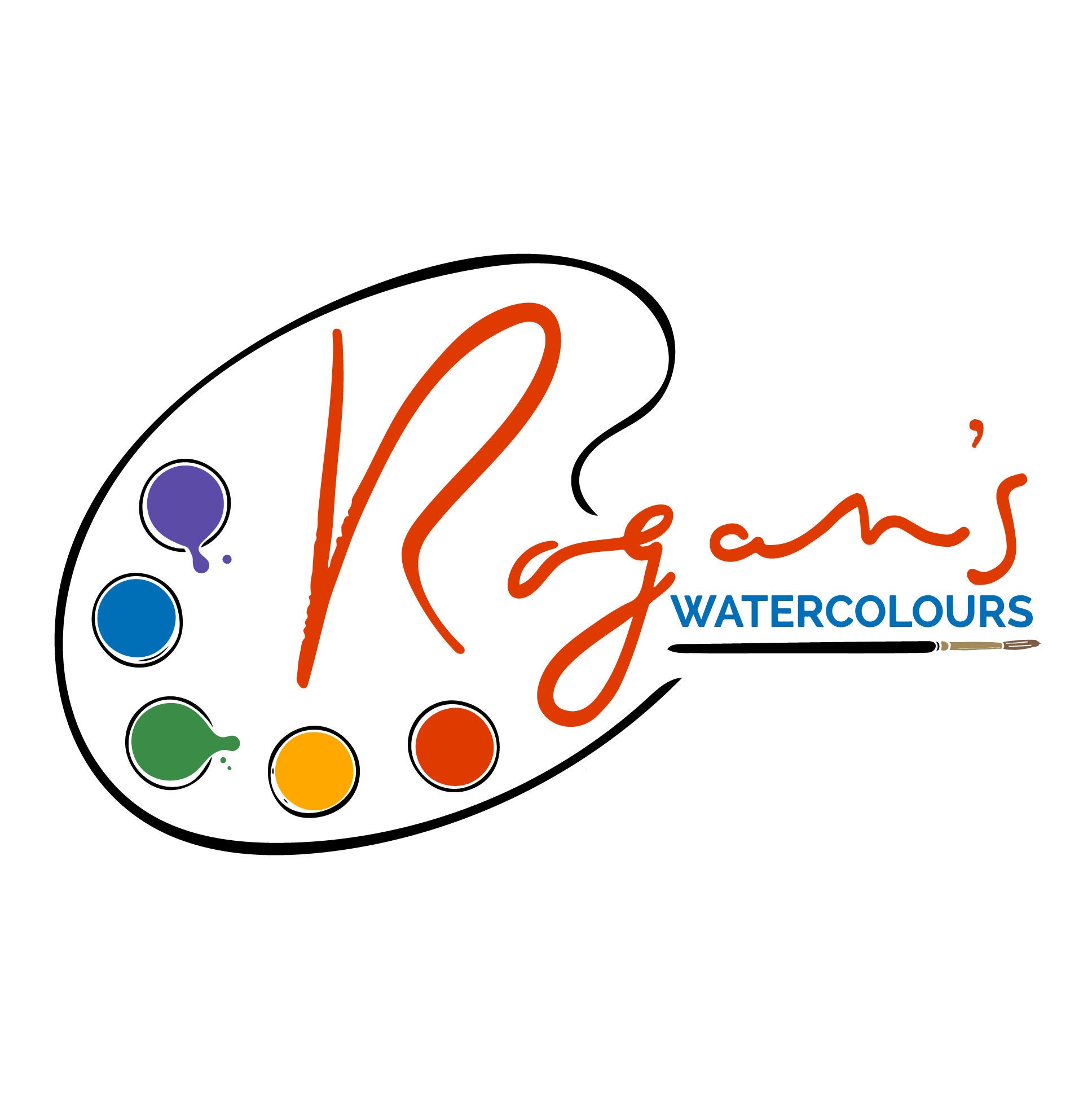 Credit
1.RogansWatercolours - Esty and instagram.com/roganswatercolours