French Island – a unique experience!
Today's post is a special one for our overseas readers, and our Australian readers who have rarely, if ever, seen a koala. Contrary to popular myth, there is not a koala in every Australian back yard! (Possums, yes, but Koalas, certainly not!). In fact, the Koala is a very elusive animal and difficult to spot in the wild. I myself have only ever seen a koala once before, at the Zoo, and that was pretty disappointing because he was curled up in the fork of a gum tree fast asleep.
But that all changed when some friends and I went on a day trip to French Island, south east of Melbourne, Victoria. We had the joy of seeing quite a few koalas, and I would love to share some photos with you today…..and a very special video at the end!
The word Koala is said to come from the Aboriginal Dharug people (whose traditional lands span the area from Parramatta to the Blue Mountains of New South Wales). The word means 'no water.' This is because koalas generally do not drink, they get all the water they need from the leaves they eat - generally from the Manna Gum. Despite popular myth Koalas are not bears, they are native Australian marsupials, who give birth to tiny, underdeveloped young who grow up drinking milk inside a pouch in their mother's tummy until they are big and strong enough to face the world ..... and maybe hitch a ride with Mum!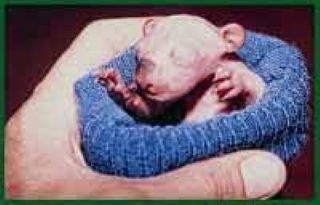 French Island is about 70 kilometres, just over an hour's drive, south east of Melbourne, in Westernport Bay. It was named in 1802 by Pierre Bernard Milius leading a French scientific expedition on board the ship, L'Naturaliste. It is about 170 square kilometres, two thirds of which is National Park, and there are only 100 or so residents.
It is twice the size of its nearby neighbour, Philip Island, which has a permanent population of about 14,000, and nearly 40,000 people in summer!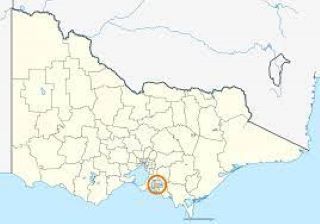 The only way to get to French Island is by ferry, or by small plane or helicopter, and some residents of French Island do have their own planes and private landing strips, as there is no airport on the island.
We caught the ferry across from Stony Point for the 12 minute ride across Westernport Bay.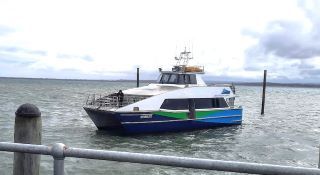 Unfortunately it was a wet, grey day, but that didn't dampen our enthusiasm to see this largely undeveloped, heritage listed, piece of nature. We were met by our lovely guide, Cindy, and we climbed up into a large off-road vehicle called an Oka.
It was definitely the best way to travel as there are no sealed roads and they were mostly mud after days of recent rain.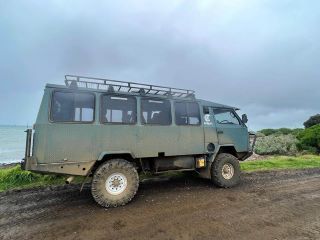 We learned a great deal about the island, its flora and fauna and history. You can read more about the island by clicking here and its flora and fauna by clicking here. (The island's only other claim to fame is the pop singer Kylie Minogue owned both a farm and home on French island, but has now sold both of them.)
We had not travelled far when our guide spotted a koala in a very small manna gum, right on the side of the road! Of course we all piled out for an "up close and personal" view! None of us had ever been so close before, and he was quite realxed, starring back at us!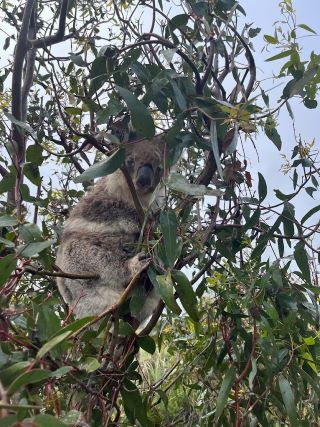 We stopped at a lovely property for lunch, and there we saw Cape Barren Geese, cows, sheep and a large number of peacocks!
One of them put on a spectacular display for us! Even the back view was something to behold, and explains where the saying "shake your tail feather" comes from!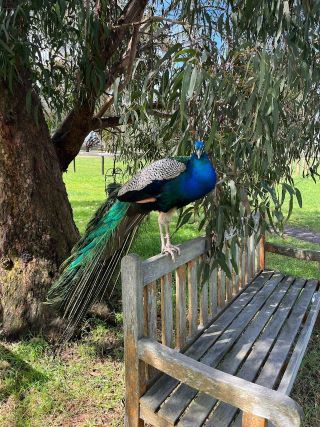 But the highlight for us was definitely the koalas. The owner told us that, contrary to popular opinion, koalas will sit in, and eat the leaves of, other trees besides the Manna Gum, such as pine trees and other gums. And high up in a pine tree we saw exactly that!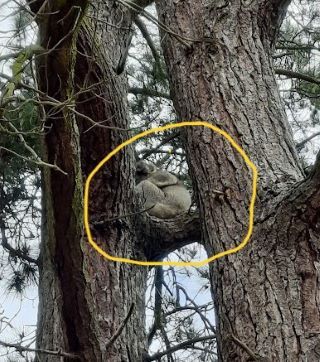 Koalas can sleep for up to 20 hours a day, digesting the large amounts of leaves they eat. So we were very lucky to see these koalas so active, and even a couple with babies!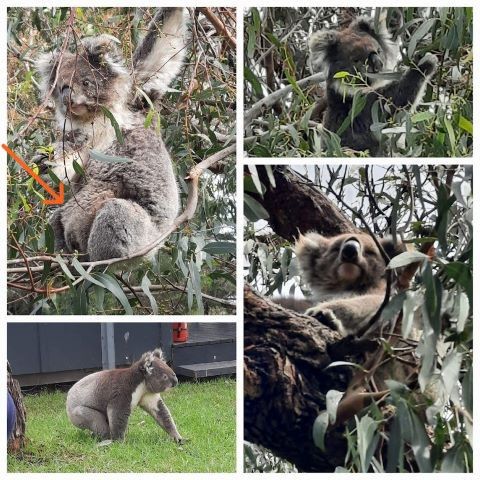 You might be forgiven for thinking that these sleepy-looking, beautiful creatures make no sound – but they do! And it is quite in contrast with their soft and cuddly appearance!
I was lucky enough to capture it in the following short video of a koala changing trees to sit in!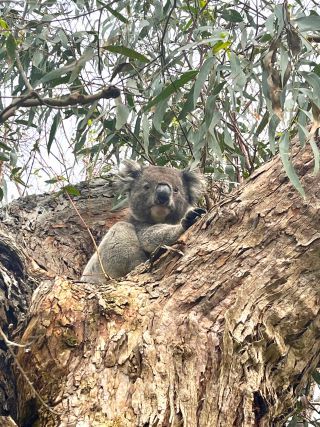 We had a lovely day, despite the dreary weather! All too soon it was time to say goodbye to French Island and take the Ferry back to the mainland.
But we have certainly come away with some unforgettable memories of this unique wilderness!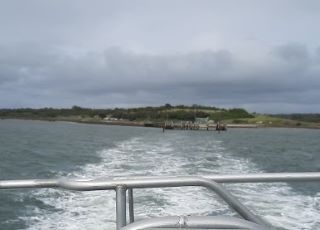 Footnote
With thanks to Cindy from Naturaliste Tours, (https://naturalistetours.com.au/) and Celia at The Manadalay Estate, French Island.