Robert Bissell and the Bears
I have just discovered a wonderful new artist for us to appreciate called Robert Bissell who creates astounding images of animals, including many of bears.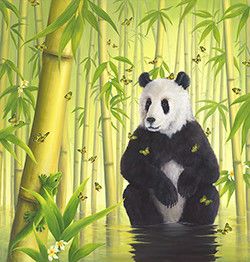 Artwork Description by Robert Bissell
I have wanted to do a painting of a panda bear for many years but found it difficult to depict something that is such a universal image for many people. Panda bears seem to be part of a dream for me. For most of us they only exist in images or as effigies. They are also seen as the symbol for environmental protection. This bear is enjoying a conversation in the quiet of the forest away from human concerns. Long live the panda bear! – Robert Bissell (robertbissell.com)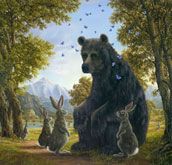 However reading the Artwork Description by Robert Bissell we learn a great deal more and discover layers of connotations. Bissell states:
The journey we take in our lives is always touched by another who can help show us the way or offer advice. Although we gain our knowledge from a number of sources, there are usually one or two that are particularly meaningful in our quest for guidance. The most profound of these "old souls" are those that have traveled far themselves and are wise beyond their years. It seems to me that bears significantly present to us as old souls, whereas rabbits are generally seen as young learners, still maturing on their journey. (robertbissell.com)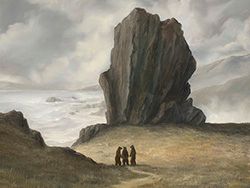 Based on a painting by Millard Sheets (1907 – 1989) who often painted the Californian coast near where I live. I replaced his human workers having a conversation with these bears. It shows a simple life in an extraordinary landscape. (robertbissell.com)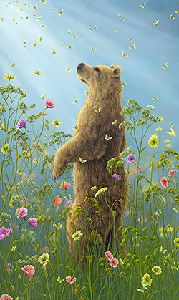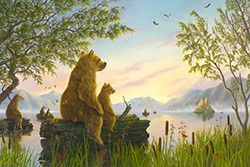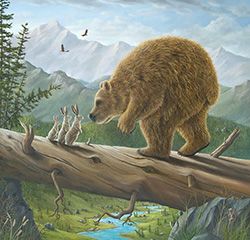 In 1995 Bissell decided to return to his art and to explore the possibilities of telling people about nature. Most appropriate to this time in the artist's life is Contemplation (oil on canvas).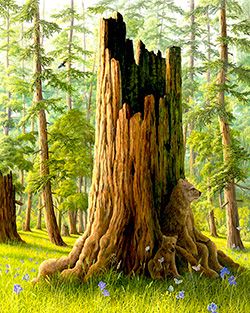 One of Bissell's most remarkable paintings is The Visitor. His explanation is given below.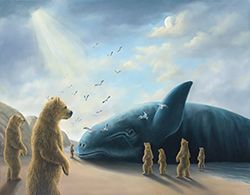 "View of Scheveningen Sands" by Hendrick van Anthonissen, 1641, had been in the Fitzwilliam Museum, Cambridge, England for 140 years. It was seemingly a painting of people congregating on a seashore. In 2014, the museum restored the painting and was surprised to find that it had been originally painted with a whale on the beach. It was at the time I read this story that several whales had been found visiting beaches in Northern California. We are always fascinated when this happens and many decide to go and greet this visitor. It is a chance to get close to one of the largest and most magnificent creatures on earth. (robertbissell.com)
How fascinating that whales were beaching back nearly 400 years ago.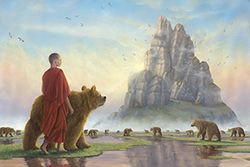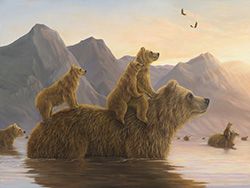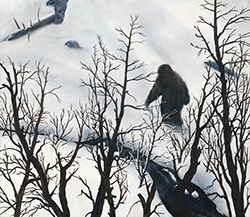 Bissell's work is largely informed by the writings of the mythologist Joseph Campbell (American, 1904–1987), who held that myths from disparate cultures and eras all share fundamental structures. Bissell's reading of Campbell's The Hero with a Thousand Faces initiated his own journey as artist to portray "the callings we have, the quests we undertake, difficulties we share, helping hands that appear out of nowhere (it seems), and finally the elations and conclusions we all have in common."(robertbissell.com)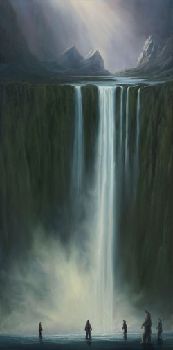 Rushing Mist captures two different points of view in its composition. At the top is a landscape revealing the source of the waterfall and at the bottom another landscape highlights figures gathering together and gazing upwards, seeming to search for something greater or beyond them. With its strong white vertical brushstrokes, the waterfall links the two landscapes and perspectives. Unlike the figures who cannot view of the upper landscape, we have the privilege of both views and gaining insight into something that's not visible to others. (robertbissell.com)
Soon I am going to write on the perspectives with a painting or a sculpture and I want you to remember this painting (Rushing Mist) as it illustrates a point I will be making.
The Hero Image today is Moonlighter 11- a Giclée Print on canvas. Robert Bissell produces many of his works as Giclée prints. Giclée is a neologism coined in 1991 by print maker Jack Duganne for fine art digital prints made on inkjet printers. The name originally applied to fine art prints created on Iris printers in a process invented in the late 1980s but has since come to mean any inkjet print.The word Giclée ("g-clay"), is derived from the French verb gicler meaning "to squirt or spray", Giclee, is used to describe a fine art digital printing process combining pigment based inks with high quality archival quality paper to achieve Giclée prints of superior archival quality, light fastness and stability. (Wikipedia)
Please visit Robert Bissell's Website to see more of his incredible works.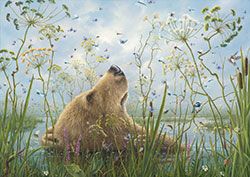 Robert Bissell explains that in The Whole World *I wanted to create something complex and immersive that would reflect my own experience of crawling through the grass and underbrush one day earlier in the summer. As I turned over on my back and looked up ,I felt as if I was experiencing (and was in the middle of) everything there was in the landscape. From that vantage point there was a rhythm to the natural world. Every being was dodging and darting here and there in some kind of perfect harmony with the grasses and flowers. In that time, my whole world.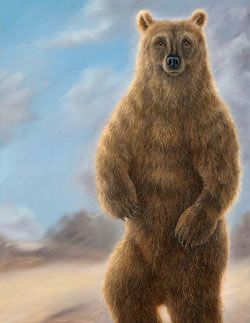 Jane is in England and has posted her first blog for me to share with you tomorrow.