Nolan and his love affair with Ned Kelly
In most countries outlaws from back in time have found a position of fame and favour. In Australia Ned Kelly is no exception. Whether he was badly treated by the police, whether he deserved to be hanged, whether he deserves to be the folk hero he has become, is all debatable. I have no idea where the truth lies but I do know this- I love the work of Sidney Nolan and I love his Ned Kelly Series. This is probably one of the most familiar images from the series.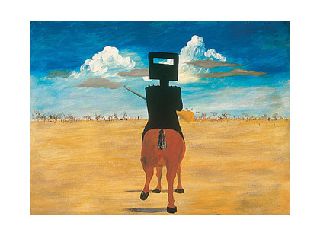 The simple stylised lines of Kelly, stark against the desert, alone, facing bravely whatever lies ahead. These concepts have helped immortalised Ned and create an icon in our society, particularly for the anarchists amongst us. Ironically Nolan has portrayed the homemade armour Kelly used against the police in the final standoff at Glenrowan (north east Victoria) as heroic not ridiculous. The faceless head as created by the helmet has been used by Nolan to symbolise all people who have stood against the wrongs often perpetrated by authority. And why is he riding away into a distant landscape? I sometimes wonder if Nolan was thinking of Don Quixote as he painted these images. There is so much to talk about in the narrative images.
Where did Ned get the idea for making his own armour? Historians, of course, don't really know. But there is an opinion that Ned was familiar with the novel Lorna Doone by Richard Doddridge Blackmore in which an outlaw appears in armour made from iron. This is Nolan's perception of the Last Stand at Glenrowan on Monday 28 June 1880. What catches the eye here is the ramshackle building (probably the pub which was ultimately burnt down in the fight I think) which somehow manages to convey a solidness against the odds. And in front the two armoured figures, Ned and one of his men, united in their fight. But they don't look fierce or dangerous. They look slightly childlike. I wonder why?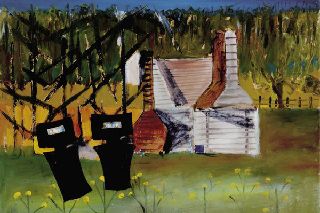 The scene at Glenrowen was witnessed by many onlookers including photographers and journalists. Here is a photo taken on the day of the siege showing a view of the remains of Ann Jones' hotel- The Glenrowan Inn (left rear) where the final confrontation began between the Kelly gang and the Victorian Police. The larger building I think is the railway station.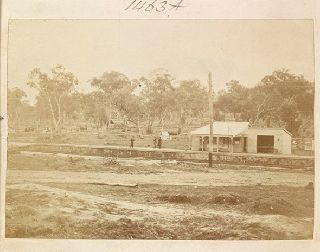 Ned had been building up a great hatred for the police since his very young days. His father died when Ned was 11 and he became the head of the household. By 14 years Ned was in trouble with the police receiving severe punishment for his misdemeanours including 3 years gaol for knowingly receiving a horse he knew had been stolen. A police trooper named Fitzpatrick seems to have been the catalyst to Ned finally unleashing his anger towards the police though no-one can claim that Ned Kelly was a saint as his crimes had escalated. This is not the place to go into the events: suffice to say Ned hated Fitzpatrick. Nolan has painted Fitzpatrick pulling Ned's sister Kate onto his knee (see below) which was followed apparently by a fight, Fitzpatrick claiming Ned tried to murder him. Ned and his brother Dan fled and their mother ended up in gaol for two years. This scene, recreated by Nolan, is almost domestic and certainly Nolen has depicted Mrs Kelly's house where this took place as homely. But the angle of Kate implies unwillingness and fear in contrast to the smug, confidence of Fitzpatrick. Nolan paints in what could be defined as a naive style, simplified images and little attention to perspective. The figures, the story are far more important. And the bright colours used almost make the viewer see these images as belonging in a picture book. And that's what he intended to do- recreate a story about a young unfortunate man, someone we should all feel great compassion for because of the injustice he suffered.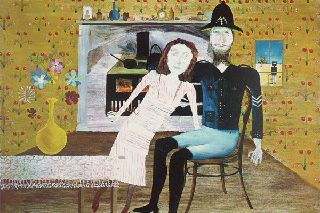 Then in 1878 at Stringybark Creek (near Mansfield), the Kelly outlaws took the lives of three policemen and sealed their own fate. This is Nolan's image depicting Kelly and Michael Kennedy, one of the policemen who was killed at Stingybark Creek. The painting almost looks comical even with the threat of death. And though it was Ned (and his men) who did the killing on this day, he looks vulnerable. Why? Because the power of the police would win eventually? Perhaps.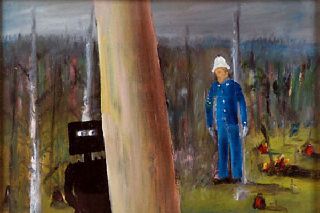 Below Nolan has shown the death of one of the policemen; the significance to the fate of the Kelly gang being portrayed by the dominance of the dead trooper.
And this is the Death of Constable Scanlon. The historical record shows that the Constable was about to fire again when Kelly fired and Scanlon fell from his horse, dead.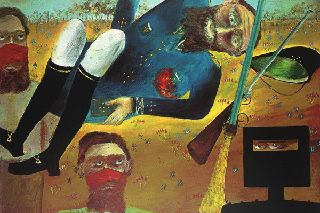 To quote Nolan on this image: In a sudden, violent accident time seems to stand still. I have exaggerated; the bridle must have been long, but that and the levitated horse and constable increase the unreality of violent events. Kelly seems to be present only as a force of destiny. Sidney Nolan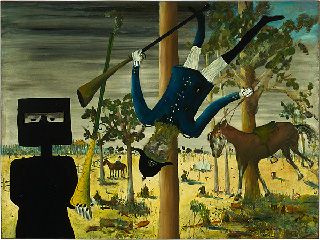 The images in the Ned Kelly Series are stark which suits the theme of the narrative and basically follows Kelly's journey. However, Nolan intended the images to be used as a vehicle for the expression of his thoughts on the universal themes of injustice, love and betrayal. Ned Kelly's trail illuminates the power of the police and the court and the diminished role played by the jury which is almost hidden by the dominance of Ned who has been found guilty but his strength prevails as he stubbornly folds his arms in personal defiance. Lurking behind, almost as if floating in the air is the judge. What do you make of the way Nolan has portrayed him? If you are wondering about the tiled floor in red and white, Nolan explained it was in a house I was in once. Perhaps a touch to remind us that underneath these people were just ordinary men.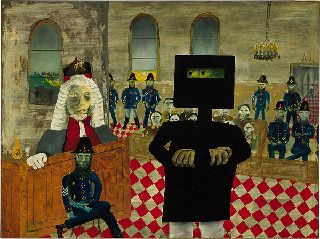 If you have time it is worth reading the handwritten document known as the Jerilderie Letter which was dictated by Ned Kelly to fellow Kelly Gang member Joe Byrne in 1879. It is a 56-page document of approximately 8,000 words where Kelly tries to justify his actions, including the murder of three policemen in October 1878 at Stringybark Creek. He describes cases of alleged police corruption and calls for justice for poor families.
Finally, if you are looking for a hanging scene for Ned Kelly, there isn't one. Nolan, for what ever reason chose not to record his view of this. Perhaps he felt he had made his point about injustice, love, and betrayal and there was nothing further to achieve. Personally I think he didn't want his viewers to see his hero dehumanised by the brutality of such a scene. What do you think? And without a death scene Ned Kelly lives on.
Sidney Nolan (1917–1992) was one of Australia's most prolific painters and belonged to the Angry Penguins we discussed in an earlier post.
The Ned Kelly series was commenced by Nolan in 1946 when he was living with Sunday and John Reed at Heide (now the Heide Museum of Modern Art), in Heidelberg, Victoria. Nolan left the paintings with the Reeds when he moved on and eventually Sunday donated 25 of the Kelly paintings to the National Gallery of Australia in 1977. I won't go into the whole story but it is important for you to know that Sunday Reed collaborated to a certain extent on the Ned Kelly paintings with Sidney Nolan.
To quote Nolan on this image: In a sudden, violent accident time seems to stand still. I have exaggerated; the bridle must have been long, but that and the levitated horse and constable increase the unreality of violent events. Kelly seems to be present only as a force of destiny. Sidney Nolan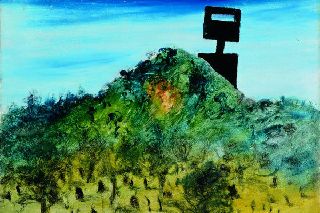 Painting HomeworkAll painting begins in your head! In your MindStudio. I would love to see some sketches showing your interpretations of the Ned Kelly story. Scan them and send them to me. I would love to have a little on-line exhibition in the Blog. It's up to you. In the next couple of days I will draw my interpretation of Ned Kelly and show it to you. If you are one of my overseas subscribers you are not off the hook! You can have a go at Ned Kelly or one of your own folk heroes.