Nolan and his love affair with Ned Kelly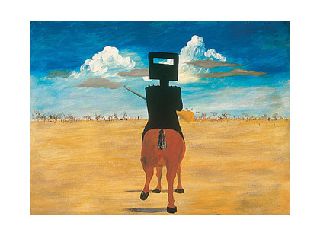 The simple stylised lines of Kelly, stark against the desert, alone, facing bravely whatever lies ahead. These concepts have helped immortalised Ned and create an icon in our society, particularly for the anarchists amongst us. Ironically Nolan has portrayed the homemade armour Kelly used against the police in the final standoff at Glenrowan (north east Victoria) as heroic not ridiculous. The faceless head as created by the helmet has been used by Nolan to symbolise all people who have stood against the wrongs often perpetrated by authority. And why is he riding away into a distant landscape? I sometimes wonder if Nolan was thinking of Don Quixote as he painted these images. There is so much to talk about in the narrative images.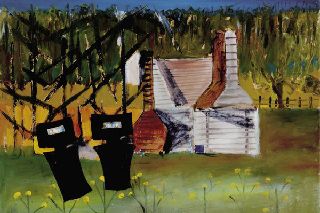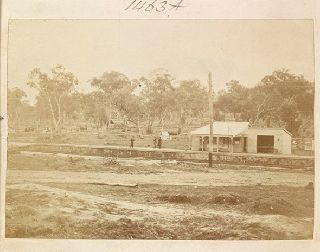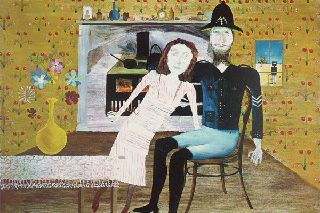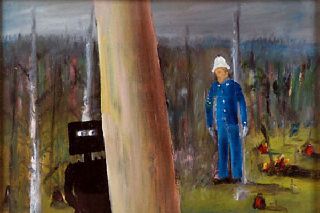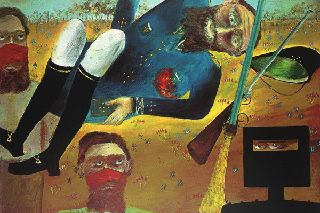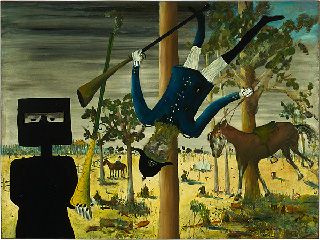 To quote Nolan on this image: In a sudden, violent accident time seems to stand still. I have exaggerated; the bridle must have been long, but that and the levitated horse and constable increase the unreality of violent events. Kelly seems to be present only as a force of destiny. Sidney Nolan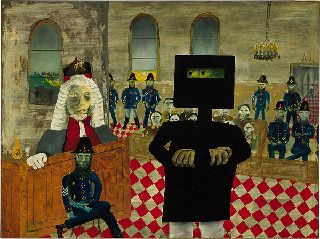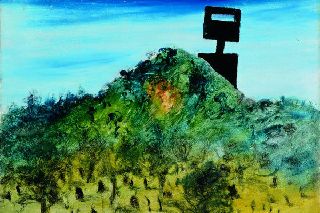 Finally, if you are looking for a hanging scene for Ned Kelly, there isn't one. Nolan, for what ever reason chose not to record his view of this. Perhaps he felt he had made his point about injustice, love, and betrayal and there was nothing further to achieve.  Personally I think he didn't want his viewers to see his hero dehumanised by the brutality of such a scene. What do you think? And without a death scene Ned Kelly lives on.
Sidney Nolan (1917–1992) was one of Australia's most prolific painters and belonged to the Angry Penguins we discussed in an earlier blog (https://www.annenewman.com.au/stormy-petrels-or-angry-penguins/).
The Ned Kelly series was commenced by Nolan in 1946 when he was living with Sunday and John Reed at Heide (now the Heide Museum of Modern Art), in Heidelberg, Victoria. Nolan left the paintings with the Reeds when he moved on and eventually Sunday donated 25 of the Kelly paintings to the National Gallery of Australia in 1977. I won't go into the whole story but it is important for you to know that Sunday Reed collaborated to a certain extent on the Ned Kelly paintings with Sidney Nolan.
Painting HomeworkAll painting begins in your head! In your MindStudio. I would love to see some sketches showing your interpretations of the Ned Kelly story. Scan them and send them to me. I would love to have a little on-line exhibition in the Blog. It's up to you. In the next couple of days I will draw my interpretation of Ned Kelly and show it to you. If you are one of my overseas subscribers you are not off the hook! You can have a go at Ned Kelly or one of your own folk heroes.