Mysteries and Memories of Boxes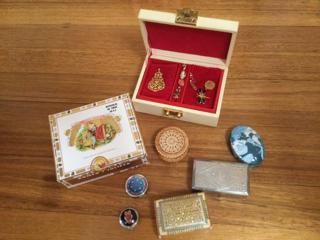 Anne showcased her wonderful collection of boxes in Boxes for Boxing Day 2021.
What is it that attracts us to collect boxes and treasure them? Firstly the memories they invoke – how we acquired them and the personal stories we attach to them. And secondly the mystery of what they contain – from meaningless paraphernalia to treasured keepsakes.
We don't have nearly as many wonderful boxes as Anne, however today my sister Caroline (yes the one that delves into rabbit holes on our AnArt4Life blog) and I share some of our treasured boxes and what they mean to us.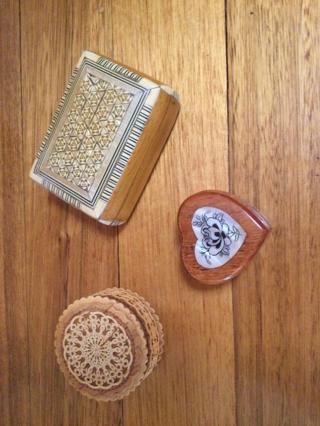 I purchased the decorative round box somewhere in Asia about 10 years ago – a mystery to me as to where exactly - perhaps Japan and is made from balsa wood, it's very light and I was attracted to it as it is so intricately carved.
I bought the rectangular box, inlaid with mother of pearl, from a very persistent street vendor when I first arrived in Cairo in 1988. He hassled me for quite some distance and in the end the only way I could get rid of him was to make a purchase. As it turned out it was a good buy as I couldn't find another one which was as well made.
The little heart shaped box was given to me by my brother after he returned from Cambodia. It contains a set of small keys - the mystery is what do they unlock?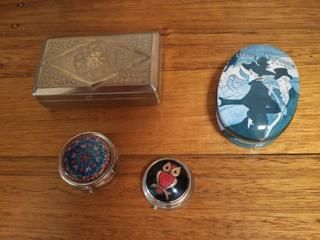 The silver cigarette tin is from Italy and beautifully engraved. It's never contained cigarettes as I don't smoke!
I store odd foreign currency coins in the oval tin, which originally contained a cake of Avon soap. I liked the Toulouse Lautrec image on the lid.
Then 2 pill boxes:
One as a keepsake from a small store on the Turkish side of Nicosia in Cyprus - which is poor, very quiet with dilapidated buildings - a stark contrast to the vibrant and colourful Greek side of this city - the last divided capital city in the world.
And the owl from Bath in England - a reminder of the Bath Temple built in 1AD, dedicated to Minerva, the Roman Godess of Wisdom, symbolised by the owl.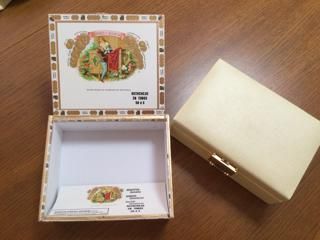 Now to two of my favourite boxes (above):
An empty Romeo & Julieta cigar box - not from Cuba, but a gift from a girlfriend after her visit to the Dominican Republic. The box is handmade and a work of art in itself. I had forgotten that I had stored postcards in it - I spent a happy hour browsing through the travel tales sent by friends from countries near and far.
A white leather jewellery box given to me by my brother and sister for my 21st birthday which I use every day and is still in pristine condition.
This is Caroline here enjoying this opportunity to bring you this joint post with Jane. The first box I thought I would showcase is more a whimsical one. A Villeroy and Boch money box, (alas an empty one).
It made me think, do kids still have a use for money boxes anymore? With fewer coins in circulation and the advent of credit cards, online purchasers, wallets on phones, Crypto currency, possibly not. Would be a shame if kids do not have them anymore as we used to like turning money boxes upside down, shaking them with vigour with the hope a couple of coins would fall out so we could buy a few lollies.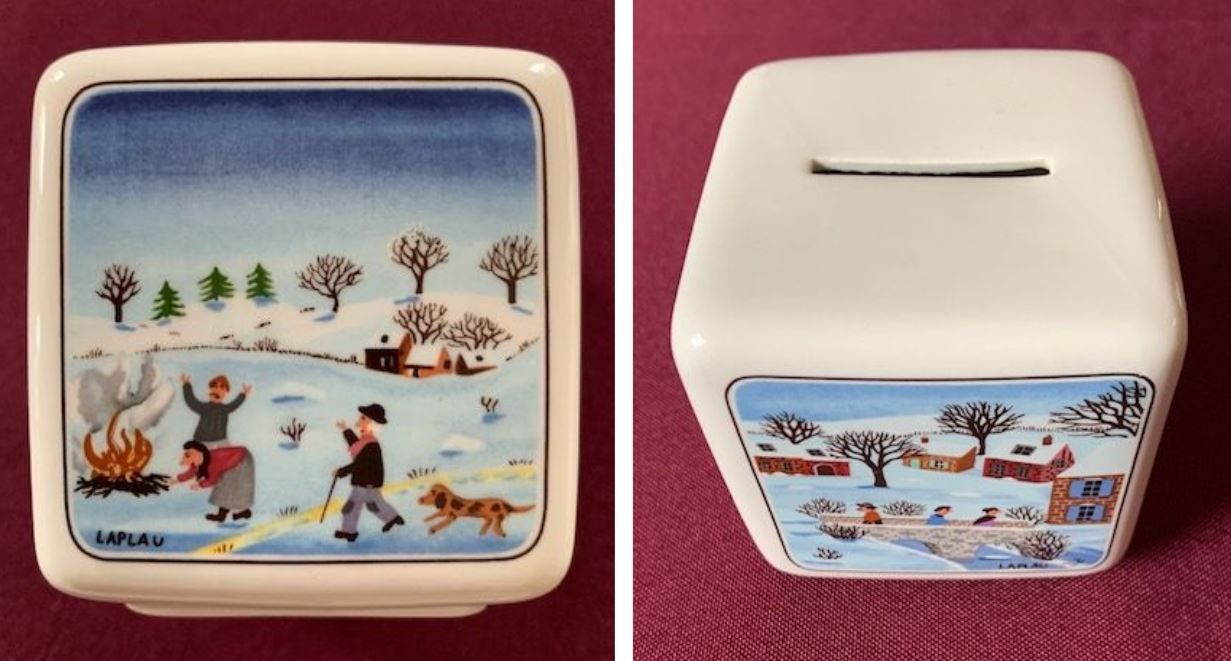 The next box, a family heirloom is very special. It is affectionately called "Oma's doosje" which is Dutch for Grandma's little box. We checked in with our mother Elisabeth to get the background to why this name and some additional details about it.
Elisabeth said 'if we lost something the first thing one of us would say it is probably in Oma's doosje! Therefore all boxes which had something special in it, became Oma's Doosje, my Oma had one cupboard with nothing else but boxes all called Oma's Doosjes!
For a bit of fun to learn how to pronounce doosje, click here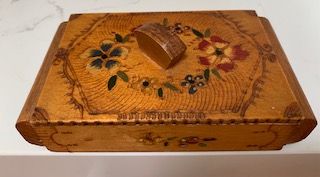 There is a beautifully pencilled inscription of two addresses in the upper right corner. The writing only measures approximately 50mm x 40mm. This is incremental in reminding Elisabeth of the history of the "doosje".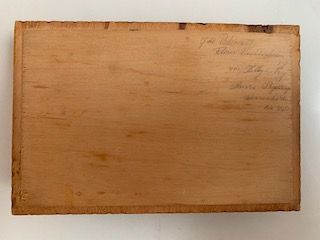 The addresses were written by our Aunty Josee and shows the address of Josee's boarding school and her 'former' home address. This reveals the box was used by Josee around 1939
Removing the lid of the doosje, uncovers a number of treasures.
Some hockey paraphernalia including the coveted Parramatta Women's Hockey Assoc 'B' Grade premiers badge. This is treasured all the more as I decided to play hockey when I was about 28, a long stretch between the school yard games.
There are some badges from those school days, Homebush West High School, Airey house sports team, and the Gould League badge.
The 3 x 50 cent coins celebrate different moments, The Silver Jubilee which marked the 25th anniversary of Queen Elizabeth II's accession to the thrones of the United Kingdom and other Commonwealth realms (1977), the marriage of H.R.H The Prince of Wales to Lady Diana Spencer (1981) and the 25th Anniversary of decimal currency (1991).
Continuing on the main theme, an American dime and 50 Greek Drachma's.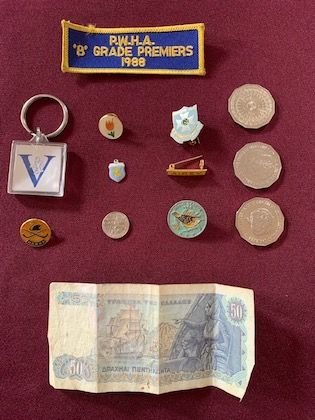 We hope you enjoyed sharing our memories of these treasured boxes and their contents as much as we did bringing these to you.