Muriel Matters: that daring Australian girl!
The pun on Muriel's surname is intentional! The name Muriel Matters is not well known but what she did was incredible and mattered so much that it changed the face of the world. So let's finish off this week with another remarkable woman.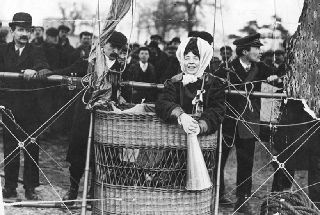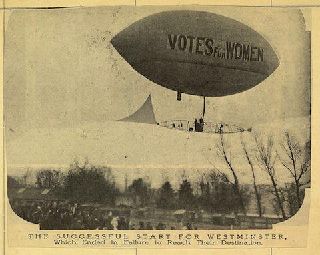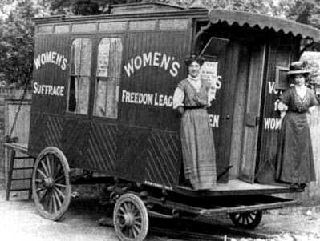 Muriel Lilah Matters (1877– 1969) was an Australian (Adelaide) born suffragette, lecturer, journalist, educator, actress and elocutionist. After graduating in music from the University of Adelaide, she had begun by the late 1890 to act and conduct recitals, initially in Adelaide, but later in Sydney and Melbourne with the Robert Brough Company. At the same time she was also teaching elocution. This is my favourite photo of her.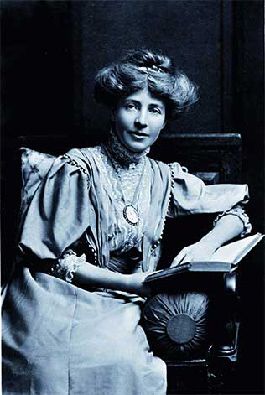 In 1905 she travelled to London to further her acting career where she began doing recitals intermittently and eventually performed at the prestigious Bechstein Hall (now named Wigmore Hall). At the same time she was working as a journalist and this is how she met George Bernard Shaw and the exiled anarchist Prince Peter Kropotkin, the latter providing the impetus behind Muriel's involvement in the suffragette cause. Prince Peter challenged her with: Art is not an end of life, but a means.  Muriel later wrote that meeting Kropotkin, proved to be the lifetime in a moment lived – my entire mental outlook was changed. From all accounts Muriel had been shocked when first arriving in London to learn that women couldn't vote. South Australia had granted women equal franchise in 1894 and Muriel had already exercised her vote twice.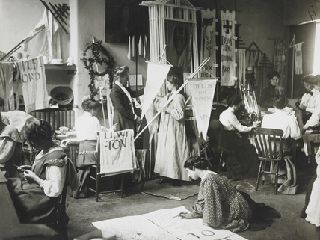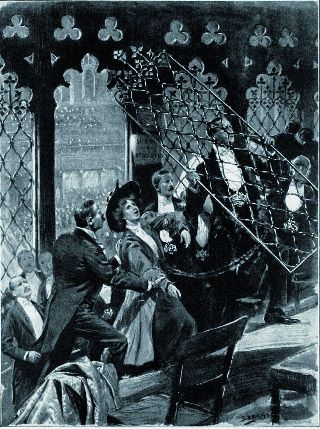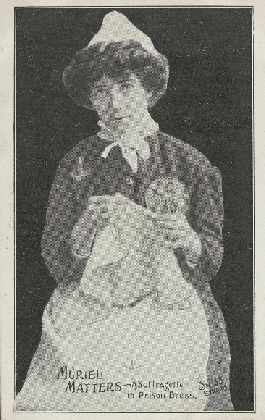 While in Australia Muriel Matters helped Vida Goldstein secure an Australian Senate resolution outlining Australia's positive experiences with women's suffrage which was sent to Prime Minister Asquith in Britain.
After returning to England Muriel became involved with the Mothers Arms project in East London led by Sylvia Pankhurst. She began working with the children and mothers living in the slums of Lambeth, London educating the children in the Montessori method plus feeding and clothing them. Matters undertook a second lecture tour of Australia but this time it was to speak on Maria Montessori's educational ideas which she had embraced.
Muriel did get married to a divorced Bostonian dentist, William Arnold Porter and became Muriel Matters-Porter. The couple did not have any children.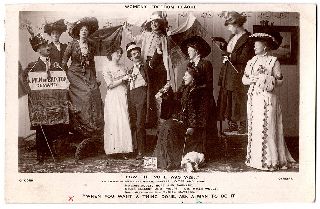 The description given by the library is: a Postcard, cardboard, printed, monochrome, group portrait of men and women in theatrical costume, man wearing a banner 'THE MEN OF BRIXTON DEMAND VOTES FOR WOMEN THIS EVENING', printed inscription front: 'WOMEN'S FREEDOM LEAGUE. 'HOW THE VOTE WAS WON.' [play by Cicely Mary Hamilton and Christopher Marie St. John, 1909] CHARACTERS BY MISSES VALDEMAR, PORTER, YATES AND HOPE. MESDAMES WOOLF, HOPE AND BARNARD. MESSRS. SASSOON AND PHELPS. GOG: MASTER WOOLF. STAGE MANAGERESS: MISS MURIEL MATTERS. 'WHEN YOU WANT A THING DONE, ASK A MAN TO DO IT.'
Unfortunately I don't know if Muriel is in the photo.
Muriel Matters lived on in Britain until her death in 1969.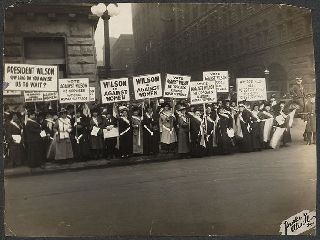 I think I will have tomorrow off from Blog writing as I'm practising my embroidery as inspired by Jane and May Morris! And then we are going to have some fun with the men who stood against the suffragettes. We are going to view some of the wonderful cartoons that were drawn of these politicians and sadly I have to confess that one of them was a relative of mine!
And of course soon we will take a look at the work of Sylvia Pankhurst.