Muriel Matters: that daring Australian girl!
The pun on Muriel's surname is intentional! The name Muriel Matters is not well known but what she did was incredible and mattered so much that it changed the face of the world. As yesterday was International Women's Day it is a most appropriate time to introduce you to this remarkable woman.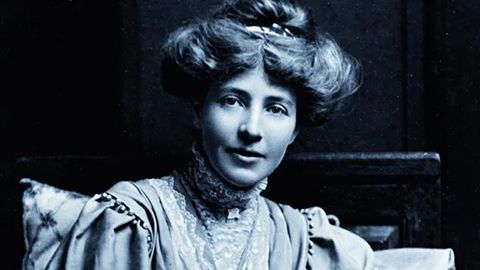 In a hot air balloon which Muriel hired, she gained notoriety around the world for promoting the suffrage cause for women in England. Her airship was blazoned with the words Votes for Women and Women's Freedom League. Muriel, in the balloon, planned to drop WFL pamphlets on the Houses of Parliament and King Edward Vii as he opened the official year for the British Government in Feb 1909. Unfortunately the balloon was blown off course and ended up in the outskirts of London but Muriel did manage to scatter her leaflets and gain international attention.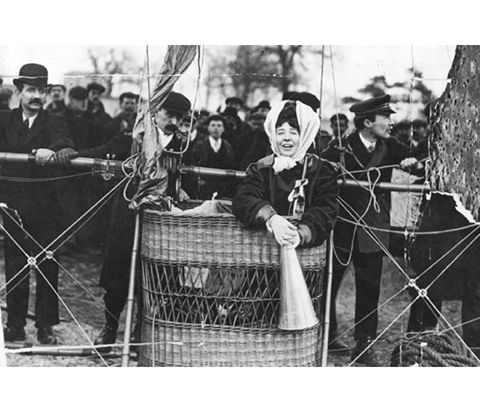 Muriel, along with her artistic friends, are considered to be amongst the first to use street art for a political purpose, writing their slogans anywhere that could be seen: air balloons, vehicles, pavements, buildings. No doubt Muriel was aided by Sylvia Pankhurst who was a professional artist and put her artistic talent and knowledge to further the cause of women.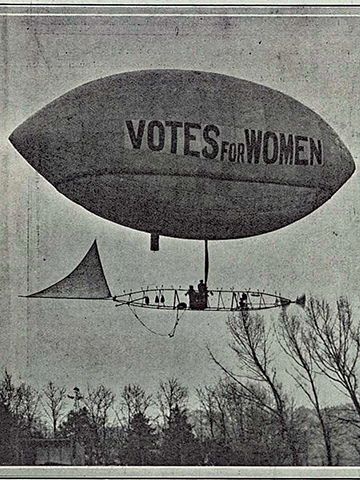 And here is the van she used to promote her cause.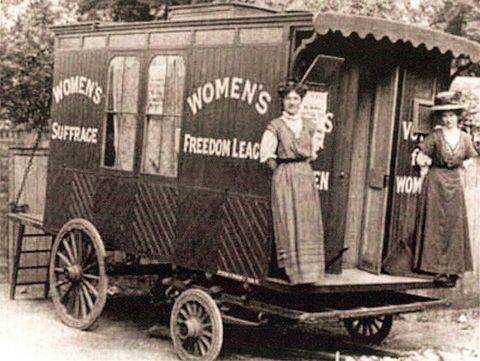 Muriel Lilah Matters (1877– 1969) was an Australian (Adelaide) born suffragette, lecturer, journalist, educator, actress and elocutionist. After graduating in music from the University of Adelaide, she had begun by the late 1890 to act and conduct recitals, initially in Adelaide, but later in Sydney and Melbourne with the Robert Brough Company. At the same time she was also teaching elocution. This is my favourite photo of her.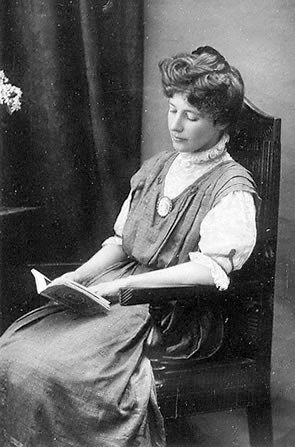 In 1905 she travelled to London to further her acting career where she began doing recitals intermittently and eventually performed at the prestigious Bechstein Hall (now named Wigmore Hall). At the same time she was working as a journalist and this is how she met George Bernard Shaw and the exiled anarchist Prince Peter Kropotkin, the latter providing the impetus behind Muriel's involvement in the suffragette cause. Prince Peter challenged her with: Art is not an end of life, but a means. Muriel later wrote that meeting Kropotkin, proved to be the lifetime in a moment lived – my entire mental outlook was changed. From all accounts Muriel had been shocked when first arriving in London to learn that women couldn't vote. South Australia had granted women equal franchise in 1894 and Muriel had already exercised her vote twice.
Here we see the Banner Makers hard at work.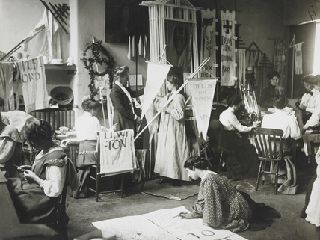 On the night of 28 October 1908, the WFL (Women's Freedom League) conducted a simultaneous protest at the British Houses of Parliament. It was to occur outside St Stephen's Entrance, the Old Prison Yard and in the House of Commons. The purpose of the protest was to raise attention to the struggle of women and remove the "grille", a piece of ironwork placed in the Ladies' Gallery that obscured their view of parliamentary proceedings.6
Matters was at the heart of the protest at this symbol of women's oppression. She and an associate, Helen Fox, both chained themselves to the grille of the Ladies' Gallery and Matters began loudly proclaiming the benefits of enfranchisement directly to the elected MPs.6
Although not recorded in Hansard, the official minute of the House of Commons, Matters pronouncements were technically the first woman's speech ever in the British Parliament.6
Meanwhile, Violet Tillard lowered a proclamation to the politicians below using pieces of string and a man from the Stranger's Gallery threw handbills onto the floor of Parliament. The police soon seized all the people involved but could not separate Matters and Fox from the grille. Eventually the grille was removed completely with the women attached and, once escorted to a nearby committee room, a blacksmith was fetched to detach the women from the ironwork. Not charged over the incident, Matters and the other women involved were soon released near St Stephen's Entrance where they rejoined other members of the WFL who were still protesting. It was here that Matters was arrested on a "trumped-up charge of obstruction" trying to rush the Parliament's lobby. The following day, 14 women (including Matters) and one man were tried at the Westminster Police Court. Matters was found guilty of willfully obstructing London Police and was sentenced to one months imprisonment to be served at Holloway Gaol.6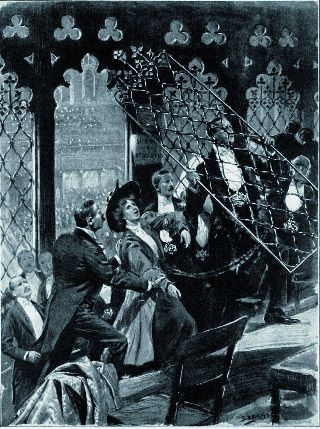 In 1910, Muriel Matters returned to Australia for a tour where she spoke in Perth, Adelaide, Melbourne & Sydney on prison reform, equal pay for equal work, and for the vote to be granted to the women of Great Britain. Violet Tillard came with her on the tour and they presented the audience with illustrations related to the movement and Muriel even wore a facsimile of her prison dress as shown below (sorry about the poor quality).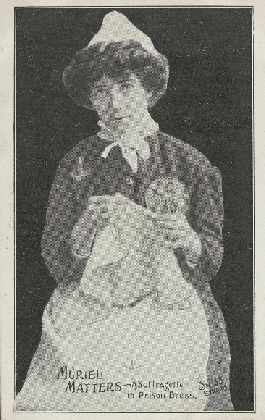 While in Australia Muriel Matters helped Vida Goldstein secure an Australian Senate resolution outlining Australia's positive experiences with women's suffrage which was sent to Prime Minister Asquith in Britain.
After returning to England Muriel became involved with the Mothers Arms project in East London led by Sylvia Pankhurst. She began working with the children and mothers living in the slums of Lambeth, London educating the children in the Montessori method plus feeding and clothing them. Matters undertook a second lecture tour of Australia but this time it was to speak on Maria Montessori's educational ideas which she had embraced.
Muriel did get married to a divorced Bostonian dentist, William Arnold Porter and became Muriel Matters-Porter. The couple did not have any children.
I found this postcard below taken sometime between 1907 and 1914 illustrating how she used her acting skills to spread the message of the Women's Freedom League in town centres as she toured around in her caravan.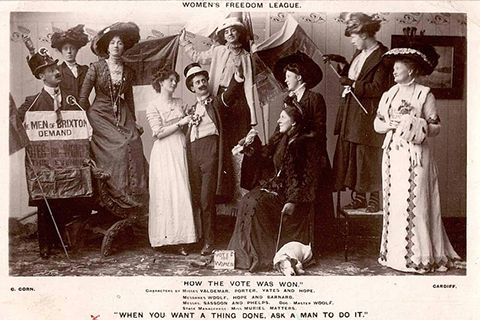 The description reads: 'HOW THE VOTE WAS WON.' CHARACTERS BY MISSES VALDEMAR, PORTER, YATES AND HOPE. MESDAMES WOOLF, HOPE AND BARNARD. MESSRS. SASSOON AND PHELPS. GOG: MASTER WOOLF. STAGE MANAGERESS: MISS MURIEL MATTERS. 'WHEN YOU WANT A THING DONE, ASK A MAN TO DO IT.'
I believe the play they are acting out was written by Cicely Mary Hamilton and Christopher Marie St. John, 1909.
Robert Wainwright who has written a book (Miss Muriel Matters) about this wonderful Australian woman has said:
The police surrounded the stage on many occasions and she'd speak from the back of a cart or on a town statue,"...
There are references of up to 3,000 people gathering around the tiny figure, who had to be under police escort because men would hang around the fringes and throw rotten food, or generally try to disturb what was happening.
In her 1939 interview with the BBC, Muriel recalled what she was up against.
"When addressing open air meetings I used to put a mackintosh on to receive the bad eggs and rotten fish," she recalled.3
Muriel Matters lived on in Britain until her death in 1969.
Credits
1. theaustralian.com.au
2. eastsussexww1.org.uk
3. abc.net.au
4. murielmatterssociety.com.au
5. pinterest.com
6. en.wikipedia.org