Monday's Art Work: Laughing Child by John Brack

Can you imagine what it would be like growing up as a child of a famous artist?
Can you imagine what it would be like to be an adult and see a painting of yourself as a 4 year old - a painting you have never seen before?
A couple of weeks ago Charlotte Brack (daughter of Australian artist John Brack saw, for the first time, a portrait that her father painted of her in 1958, when she was just four. It was unveiled for her at auction house Smith & Singer where it is about to go to auction (at a published estimate of around half a million dollars).1
The lost Brack, titled Laughing Child, was recently discovered in the collection of the heirs of the original purchaser, art collector Cara Black who picked it up in 1958 for 50 guineas (about $1600 today).2
If you study the painting carefully you will see that Brack has simplified the shapes of facial features which take over as the dominant emphasis in the portrait rather than create facial features with tonal changes in the colour of skin, There is little attention to light and shade but rather the dark distinct shapes of the eyes and mouth contrasted against a yellow face convey the emotion of childhood joy.
The bouncing ribbons mirror the shape of the smile thus creating the image of a Laughing Child.
Charlotte Brack explains a little more about the painting: "Dad put everything there for a reason," she says, her eyes moving across the golden haystack of hair in the picture. "There's a message in the messy hair and the flying plait. For me it's about the chaos of being a child. "I'm dressed neatly, but my hair brought chaos in."2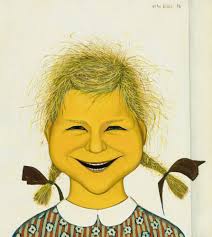 John Brack once said of portraiture, "I am not interested in how she looks sitting in the studio, but in how she looks at all times, in all lights, what she looked like before and what she is going to look like, what she thinks, hopes, believes and dreams".2
John Brack (1920-1999) was an Australian painter, and a member of the Antipodeans group. According to one critic, Brack's early works captured the idiosyncrasies of their time "more powerfully and succinctly than any Australian artist before or since. Brack forged the iconography of a decade on canvas as sharply as Barry Humphries did on stage."
Brack's early conventional style evolved into one of simplified, almost stark, shapes and areas of deliberately drab colour, often featuring large areas of brown. He made an initial mark in the 1950s with works on the contemporary Australian culture.
Brack's works cover a wide range topics and themes. He often did a series of works on a particular theme over a number of years. His portraits, including self-portraits, and portraits of family, friends and commissions, and his paintings of nudes were produced throughout his career.
Some examples of his subject matter are: War time drawings (1943–45);
Scenes of urban life (Shops, street scenes etc.) (1952–); Racecourse (1953–1956)
School, the playground (1959–60); Wedding (1960–61); Shop Windows (1963–1977); Ballroom Dancers (1969); Gymnastics (1971–73).1
Below is Charlotte Brack admiring with a smile the painting of her as a Laughing Child.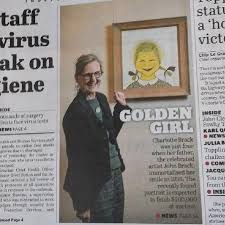 Charlotte Brack recalls her childhood:
"The studio was always perfectly in order. Paintbrushes lined up in size order," she says. "Nothing like the rest of the house which was in total mayhem with the four of us."...It was an unconventional childhood. Charlotte said, "our grandmother despaired of us ruffian kids. Mum would make us gorgeous dresses, but without neat collars. So our grandmother would buy them for us. I'm sure the dress in the painting is one she gave me."2
With Laughing Child she has one concern: "The biggest insult for Dad was when people bought his paintings for investment only – reducing all his work and thought down to money and nothing else." Then she smiles, the same infectious grin and laughing eyes captured by her father undimmed by the passage of time.
"But I don't mind if it goes into the private collection of someone who loves it."2
I'm a John Brack fan especially as he captured the essence of much of the life of growing up in Melbourne in the 1950s. I have one John Brack print - The Car which reminds me so much of those Sunday afternoon drives we went on - all over Central Victoria and when the holidays came - all over the eastern and southern states of Australia.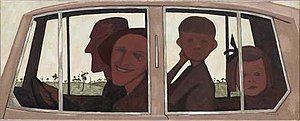 Credits
en.wikipedia.org
smh.com.au
facebook.com