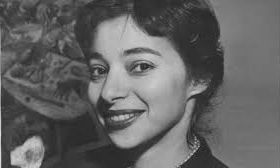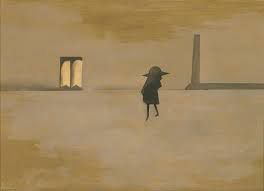 (Credit: Art Gallery of New South Wales)
Mirka Madeleine Mora(18 March 1928 – 27 August 2018) was a French-born Australian visual artist and cultural figure who contributed significantly to the development of contemporary art in Australia. Mirka herself used a great variety of media- drawing, painting, sculpture, murals, embroidery. Here is her Bird with Brood a charcoal on paper work done in 1960.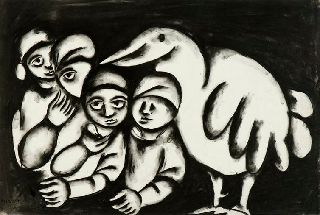 (Credit: Business Insider)
Mirka was born Mirka Zelik in Paris, to a Lithuanian Jewish father, Leon Zelik, and a Romanian Jewish mother, Celia 'Suzanne' Gelbein. Mirka was arrested in 1942 during the Vel' d'Hiv Roundup (Rafle du Vel' d'Hiv). Her father, Leon, managed to arrange for her release from the concentration camp at Pithiviers (Loiret) before Mora and her mother, Celia, were scheduled to be deported to Auschwitz. The family evaded arrest and deportation from 1942 to 1945 by hiding in the forests of France. After the war, Mora met a wartime resistance fighter Georges Mora in Paris at the age of 17. They married in 1947. (Wikipedia)
Mirka and Georges migrated to Melbourne, Australia in 1951. Occupying studios in the Grosvenor Chambers in the 'Paris End' of Collins Street they became key figures on the Melbourne cultural scene. Georges became an influential art dealer, and in 1967 he founded one of the first commercial art galleries in Melbourne, the Tolarno Galleries. (Wikipedia) This is one of her works from this time. A pastel titled Face in Mist (1967)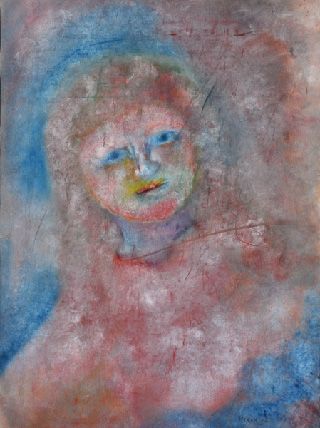 (Credit:aasd.com.au)
The Mora family also owned and operated three of Melbourne's most famous cafés. The Mirka Café was opened by Jean Sablon in December 1954  at 183 Exhibition Street and was the venue for the first major solo exhibition by Joy Hester. Joy Hesteer was one of the Angry Penguins we looked at some time back.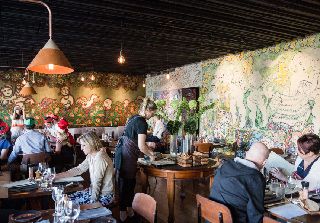 (Credit: Broadsheet)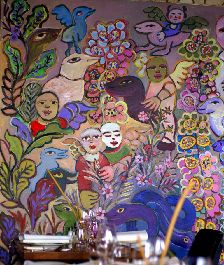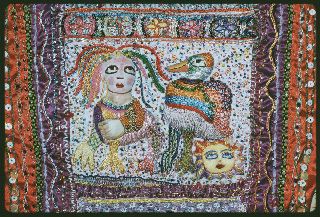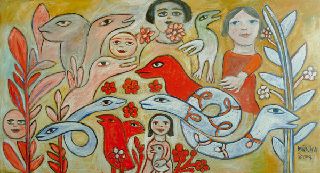 (Credit: Art Almanac)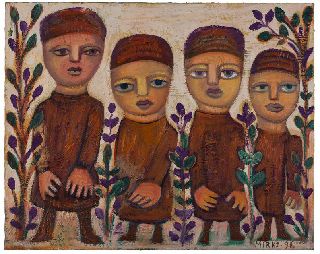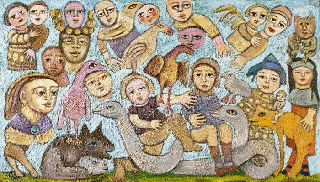 (Credit: Visual Arts)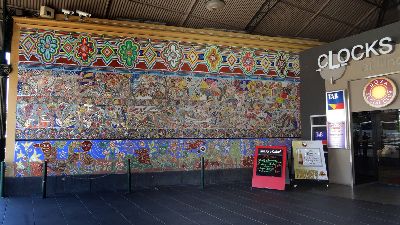 (Credit: MAP)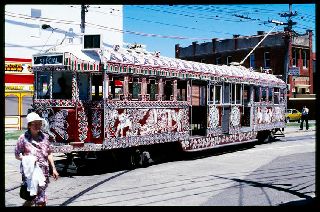 (Courtesy of the Rennie Ellis Photographic Archive, State Library of Victoria)
Mirka Mora participated with Bruce Petty, Reg Mombassa, Ginger Riley and others in the production of the Federation Tapestry Suite in Melbourne Museum coordinated by artist Murray Walker and executed by the Victorian Tapestry Workshop to mark the Australian Centenary of Federation in 2001. In the sixth panel, Mora portrays Aboriginal leader Charles Perkins conversing with three white Australians. Sadly I couldn't find an image of her panel.
Other major commissions that no longer survive include sets, costumes and masks for the ballet, Ivan the Terrible (1964), and the operas Medea and Bacchae (1979-1980), and 85 1.5m puppets for the opera Bennelong. (Wikipedia)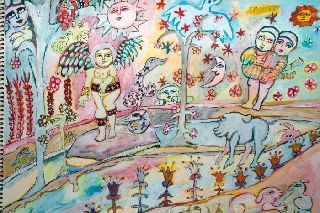 (Credit: ABC)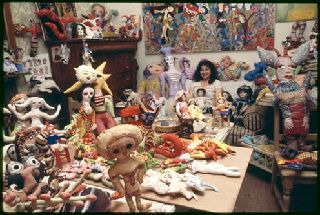 (Credit: The Conversation)

(Credit:aasd.com.au)
Mirka Mora had more than 35 solo exhibitions throughout her career. An important retrospective Mirka Mora: where angels fear to tread: 50 years of art 1948-1998 was held at Heide Museum of Art 1999-2000 to celebrate 50 years of her work. Mirka Mora: Charcoals 1958-1965 featured in the Melbourne Art Fair 2018, from August 1–5, just prior to her death. (Wikipedia)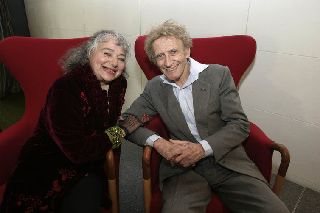 (Credit: Shaney Balcombe/AAP)
Vale Mirka. Your contribution to making Melbourne one of the great art cities of the world will never be forgotten.  Mirka and Charles Blackman have a lot of talking to catch up on over a cup of coffee. Charles worked at a time in the restaurant owned and run by Georges and Mirka so no doubt Blackman will have to do the washing up!
We will farewell this remarkable woman and artist with one of her Angel paintings.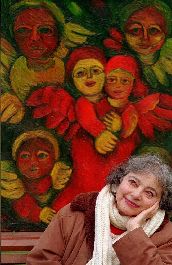 (Credit: Herald Sun)