Life is Art and Art is Life with Victor Maloney: Part Three
Back before Christmas I introduced you to the artist Victor Maloney Part One and Victor Maloney Part Two.
In late 2007 Victor made the Seachange to Tasmania where he had a home Art Space in East Devonport appropriately called Tiger Creek which was opened on Saturday mornings to show and discuss art and the art world in general to the public. Victor began to absorb the Tasmanian history and culture .....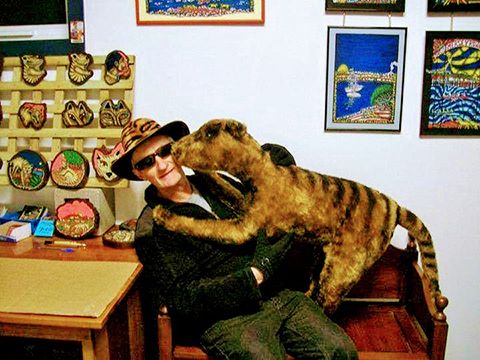 Victor lives art and I'll let him tell you a little more about his art journey:
G'day, I'm an artist writer originally from Adelaide, South Australia ...when in 2007 began enjoying life in Australia's last frontier of the unspoiled and greatly unexplored natural wellness, Tasmania...and following the unsolved mystery of the Tasmanian tiger ... 1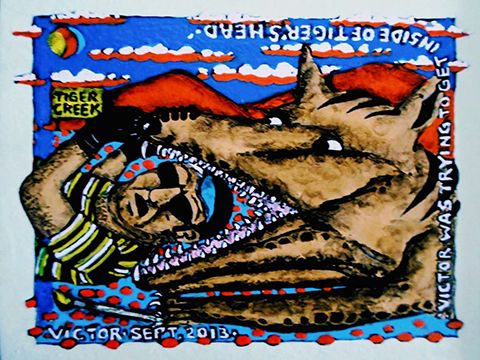 By getting inside the head of a thylacine Victor was able to discover all kinds of new learnings about Tasmanian Tigers, Tasmanian culture and in fact unexpected narratives and perhaps some secret voyages by famous people from history began to be revealed - at least in Victor's imagination. Or maybe, in some cases there is a surprising fact to be discovered which helps interpret these fascinating and inspirational works.
You might be having difficulty reconciling Mona holding a Tasmanian Tiger but please do read on and more will be revealed.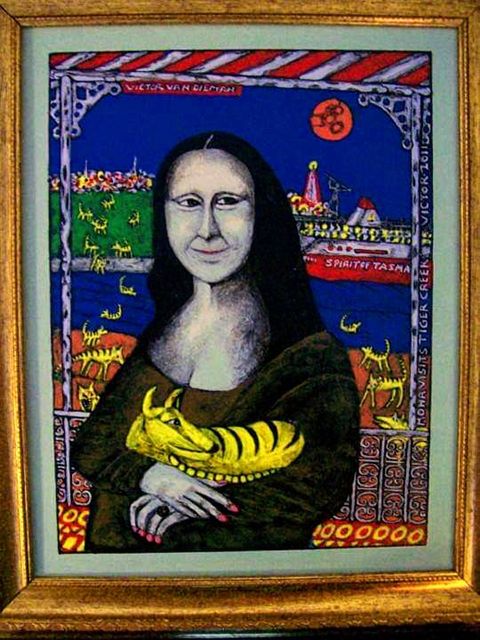 As I have pointed out in earlier posts on Victor's paintings - there is within, an endless unrevelling of narrative that flows around the image in the form of the subject matter of the painting enchanced by the printed word. You need to read a Victor Maloney painting like you would read a book.
Stopping to examine Mona visits Tiger Creek we can see in the top right hand corner a ship named Spirit of Tasmania which is the vessel/s which transports humans and vehicles from the state of Victoria across Bass Straight to Tasmania. How else would Mona have been able to get to this beautiful island state of Australia!
Australians also know that Victor has created a very clever association of art images in this painting as MONA does exist in Hobart, the capital city of Tasmania! Mona is alive and very well in Tasmania! The Museum of Old and New Art otherwise known as MONA was established by David Walsh and opened in 2011 to become one of the most remarkable art galleries/museums in the world. And therein lies some of the narrative in this image.
Victor encourages his audience to join the dots to make connections when viewing his paintings - he likes to weave hitorical facts into a new environment. And I find the word environment constantly in my mind as I study the Maloney view of the world.
Tasmania is known for more than being the home to the thylacine - it was also the home to Errol Flynn the famous film star of the 1930-1950s who was born in 1909 in Hobart, Tasmania. Errol was equally famous for his wildlife which started when he was very young and no doubt had much in common with the young wild thylacines who sadly were exterminated as they were seen as a threat to the Tasmanian sheep industry 2.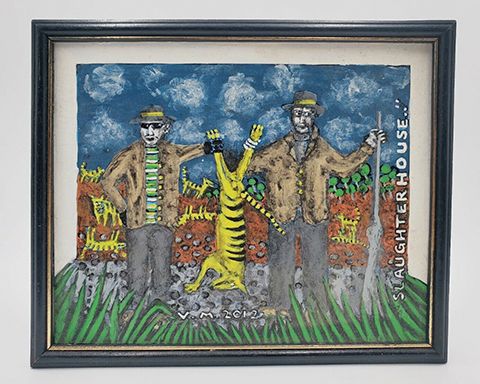 Consequently, the remaining population was rapidly exterminated and the last known thylacine died at the Hobart Zoo in 1936. The species was eventually declared extinct in 1982.2
The poignancy of Victor's Paradise Lost painting is not missed...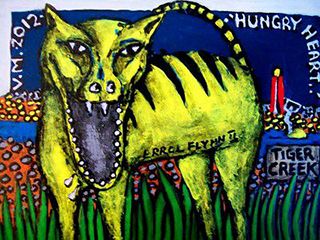 I think having John Milton in communication with the thyacines in Paradise Lost is so thought provoking. There is much to unravel here and so I'm hoping that those of you who are experts in this field might join in with an interpretation by using the Comments box at the end of the post. We are sorry we can't give you a clearer focus on the background in this image but Victor tells me that trees line the bank on the far side of the scene.
For me the lesson from Paradise Lost is to be the best you can in your chosen environment. But then again, I am not a student of Milton and Paradise Lost.
And as for the last of the thylacines - well humans had made it impossible for them to find any environment where they were accepted.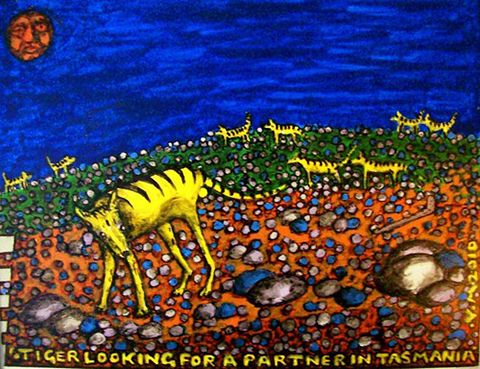 Victor does explore the possibilities of where the thylacine disappeared to... though acknowledging they would have encountered some problems on the way. Below in Tigers caught by The Nut at Stanley the Tassie Tigers encounter The Nut, which is a bluff in the north west of Tasmania formed from the remains of an ancient volcanic plug. But if you look carefully it would appear that the thylacines have also encountered some armed prison guards determined to prevent their escape just like the barriers encountered by the convicts who were sent from Britain to the penal settlement at Port Arthur in the south of Tasmania.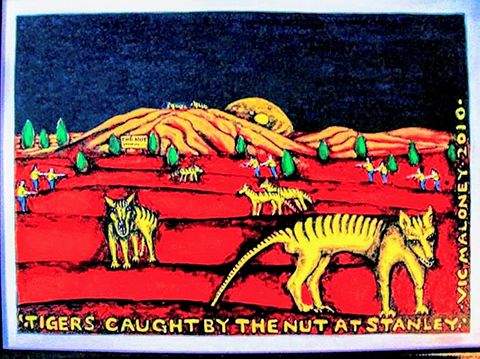 And this painting becomes the perfect segue to Victor's paintings of Ned Kelly - certainly someone who was chased by the law enforcers of the time - but come on Ned wasn't in Tasmania - Ned was from the state of Victoria!
We will continue this Tale from Tasmania tomorrow! And you will be pleased to know that both Errol Flynn and Ned Kelly both live on!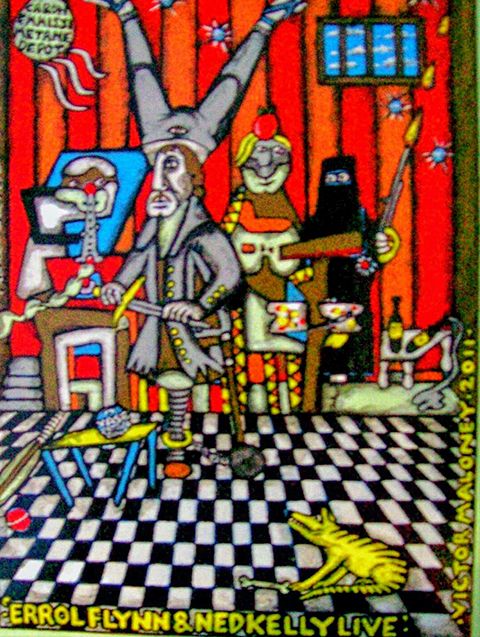 © Thank you to Victor Maloney who kindly gave permission for the images of his work to be shared on AnArt4Life.
You can follow Victor on facebook by Clicking Here and on Instagram by Clicking Here.
Late Mail
We welcome in the New Year with a new subscriber from North Carolina in the USA. Welcome aboard Cathy we are delighted that you have joined the AnArt4Life online community where we share our interests and joy in all things art.
Credit
1. Correspondence from Victor Maloney
2. nature.com
3. en.wikipedia.org