Life is Art and Art is Life with Victor Maloney: Part One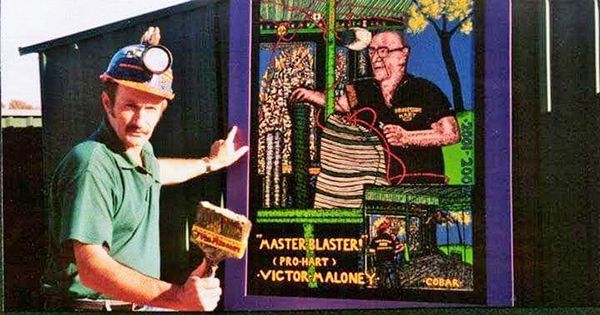 Recently we have given you two small teasers into the paintings being created by Australian artist Victor Maloney.
When I showcased the amazing collection of paintings owned by South Australian Steve Cook you saw a couple of Victor's paintings which you can check up on by clicking here.
And then only a week or so ago I included some paintings by Victor when Rowdy Wylie and I were advertising the art events going on in Victor Harbor, South Australia which you can check out right here.
Today we are going to dive in deeper to learn what is driving Victor in his art pursuits and discover more about his own very special view of the world.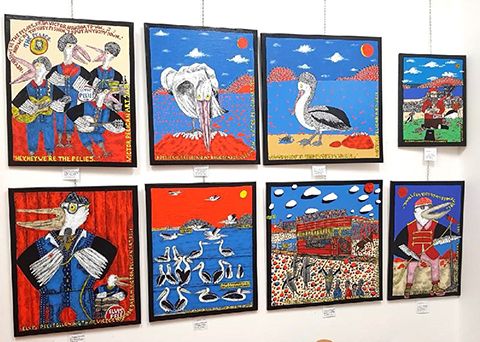 And driving is the operative word where Victor is concerned - and humour - the latter permeating his images especially through the application of anthropomorphism to pelicans.
The painting on the left hand side (below) is a mural which hangs in the the Lions Club Information Shelter at Victor Harbor, South Australia. And on the right is the Peli Can Drive mural which was recently erected on the roof of the newly revamped Flight at Warland cafe in Victor Harbor.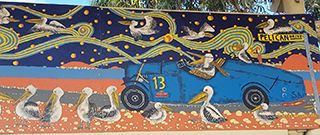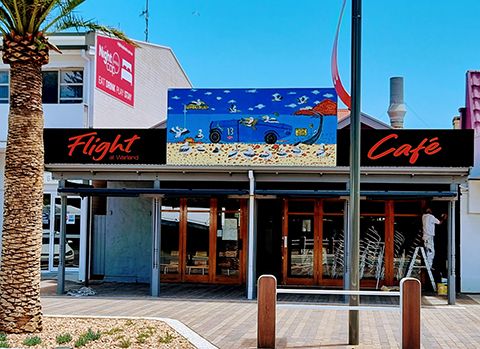 I'm going to let Victor take us into his world and his art journey:
I believe that life is art, and that art is life. Art can capture a moment in time, and through that image, people can be inspired, become emotional, and lost feelings can be restored to the conscious mind. Art is all around us, and Art is in the design of every product that we use.1
For Victor nothing escapes his eyes even the Ovaltine factory!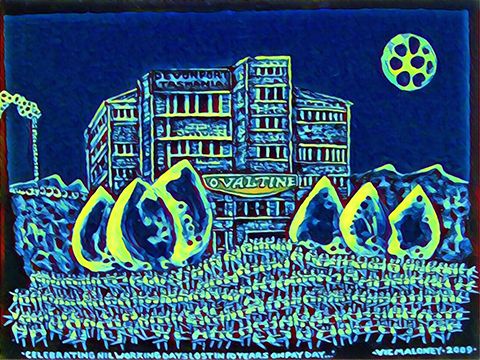 Victor continues:
My first taste of art came to me as a young child after I consumed a tin of "Safe if Swallowed" Water Colour Paints! Later, my Father and I produced "Combined Works" on the Besser bricks of the house that he built in suburban Adelaide South Australia.1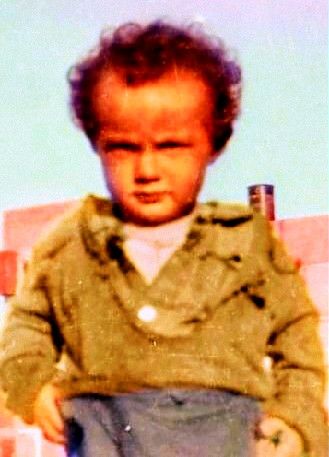 I became heavily involved in Art at High School and can recall a particular occasion when my art teacher told me that my painting was "Lifeless and Mundane". After that comment, I proceeded to take the watercolour painting to the back of the Art Room and proceeded to tamper with the painting in every way humanly possible. When I then dropped the "moist blob of a painting" on his desk, his eyes lit up, and he smiled broadly and gave me a Credit for "the work's unplugged emotion".1
And remarkably here is the painting from Mr. Lamb's art class titled Semaphore Road, 1967. Victor tells me that there is a story to this painting so we will return to learn more along the track!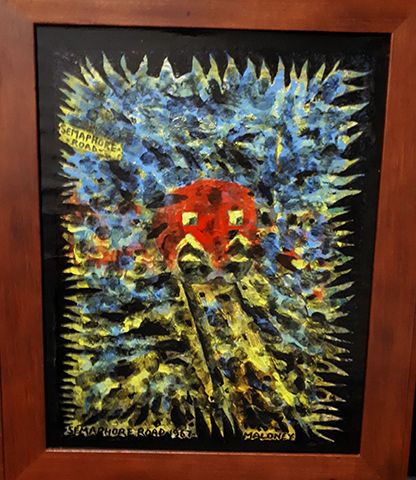 I hadn't touched Art since leaving High School until I had a chance meeting with outback artist. Kevin "Pro" Hart in 1988 while living in Broken Hill in New South Wales. From that first meeting with Pro Hart my Art has taken me on many journeys around Australia, while the art itself has also travelled to some unusual places, including the private collections of H. R.H The Prince of Wales, Hollywood, Executive Director Steven Spielberg and singer Stevie Nicks.1
At this point in Victor's journey I should say a little about Kevin "Pro" Hart who had such a profound influence on Victor.
Pro Hart was one of the Brushmen of the Bush whom we have written many posts on and the last surviving member of this outback art group is John Pickup - a member of the AnArt4Life team.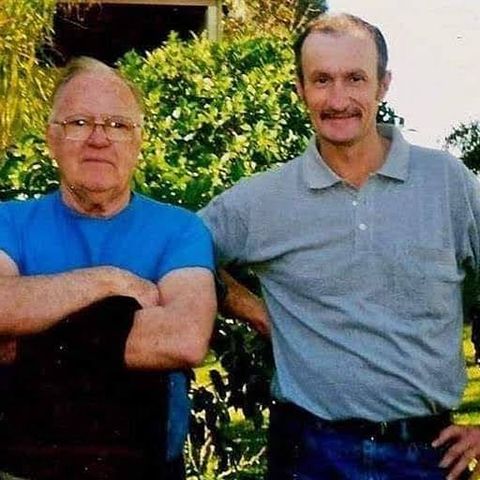 To learn a little more about Pro and the Brushmen of the Bush please check out the past post given below.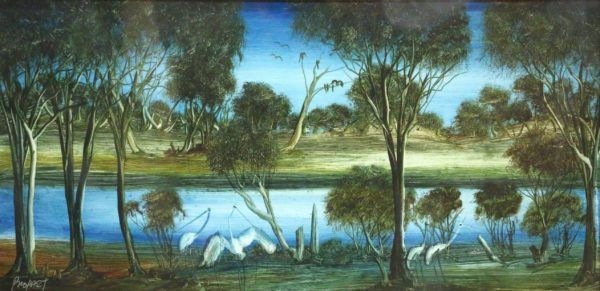 Victor has often shown his admiration and respect for his mentor Pro Hart as we see in the hero image at the stage of the post which shows Victor with his Archibald Prize entry of Pro Hart. And some more paintings below which also illustrate the talent Victor has as an artist and his ability to catch emotions in his subjects.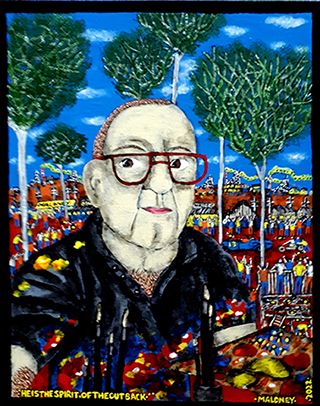 Below in Pro's Reply we see Victor's interpretation of Pro Hart's reaction to The art establishment and once more the expression and emotions being shown are very powerful.
I think this is my favourite amongst the Victor Maloney oeuvre.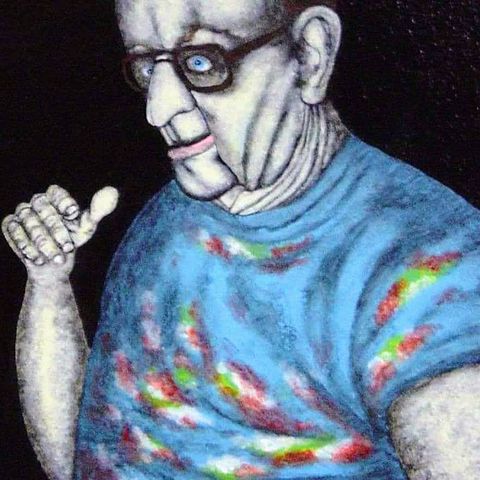 We are fortunate to be able to travel his art journey with Victor and to see the development of his style. This is the first painting he did in Broken Hill after meeting Pro Hart. It is easy to see the development that has taken place when you compare this image with the later works which have become alive with colour, line and print.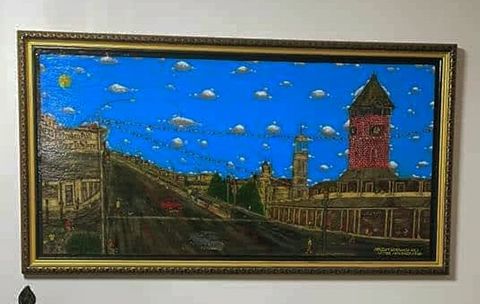 Victor Maloney lived for over 20 years in outback New South Wales - in Broken Hill and in Cobar both mining towns dating back to the late 1800s.
Pay day at The Great South Mine was Victor's first figurescape - drawn at Pro's house while waiting for lunch! And the other painting below is from Cobar where we are going tomorrow with Victor but please note the title Silos in Limbo from the series Silos of The Land illustrating Victor's canny mind and ability to bring a play on words into a visual world.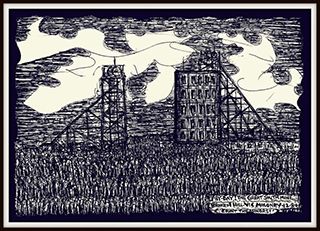 Before we leave today's post let's get to know a little more about Victor style of painting which he terms Organic 3-D Art.
The video takes just a little over 7 minutes and showcases many of Victor's outback paintings so please keep a look out for scenes from the mining towns. In all his paintings he captures the vibrancy of the environments in both colour and composition in a style that is unique and intriguing.
Credit
1. Correspondence from Victor Maloney