Life is Art and Art is Life with Victor Maloney: Part Four
Victor Maloney and I left you yesterday contemplating the attempt by the thylacines to escape from the Tasmanian government sponsored extermination they were facing in the early years of the C20th. If you missed this post click here.
We also left you with the teaser that Australia's most famous bushranger, Ned Kelly, might have had close connections with Tasmania. So let us begin to unravel this Maloney Narrative and help you get to know Ned a little better.
Like a dinky-di Aussie from Victoria Ned Kelly was very good at sport. In fact if we believe Victor, Ned played for Essendon!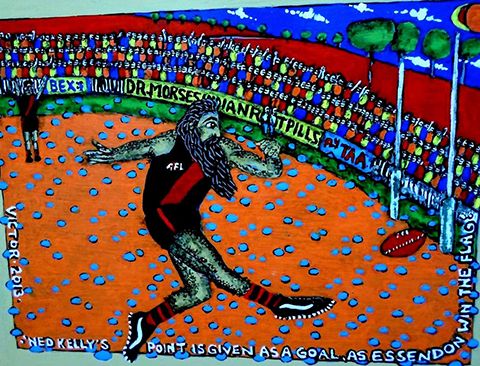 Also like a true Australian Ned played cricket and liked a flutter on the races.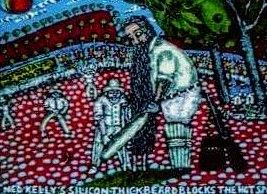 One fact does stand out when learning about the life of Ned Kelly and that is his horsemanship. Victor believes it was good enough for Ned to have won The Hobart Cup which has of course been left out of the official records to protect Ned's not so secret occupation as a notorious bushranger.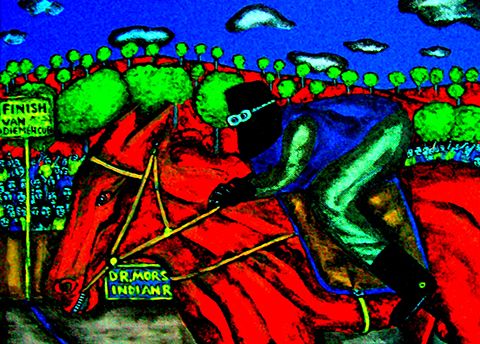 It is a natural consequence of living in Tasmania that Victor would introduce the devil and who better to talk to the devil than the notorious bushranger Ned Kelly.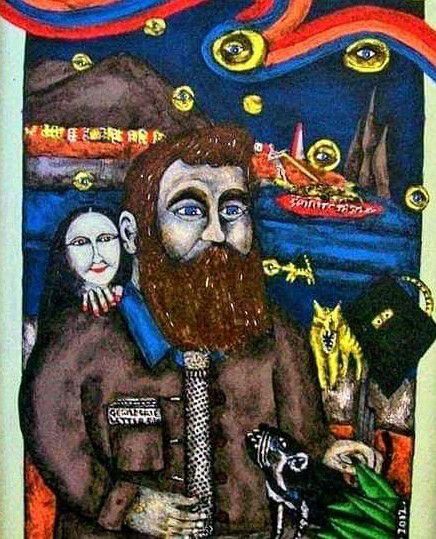 Now at this point we have to bring in a little more background info especially for our overseas subscribers. In Tasmania there are two comparatively small tiger like species - the Thylacine (Tasmanian Tiger) and a very distant relative called the Tasmanian Devil which is a carnivorous marsupial of the family Dasyuridae. The size of a small dog the Tasmanian devil became the largest carnivorous marsupial in the world following the extinction of the thylacine in 1936. It is related to quolls, and distantly related to the thylacine.1
Victor also found Vincent Van Gogh talking to the devil!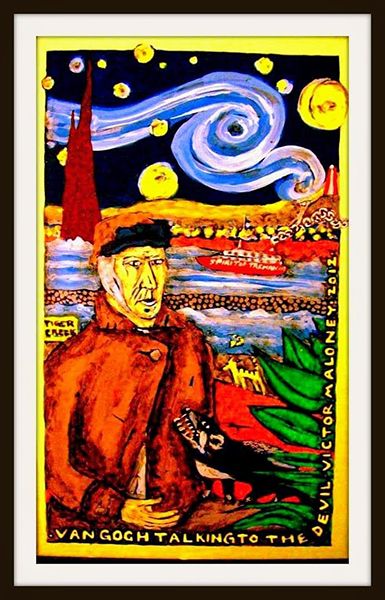 But was Ned really in Tasmania? Victor certainly believes that there is a distinct possibility that Ned made a secret journey to the Apple Isle as it is locally known.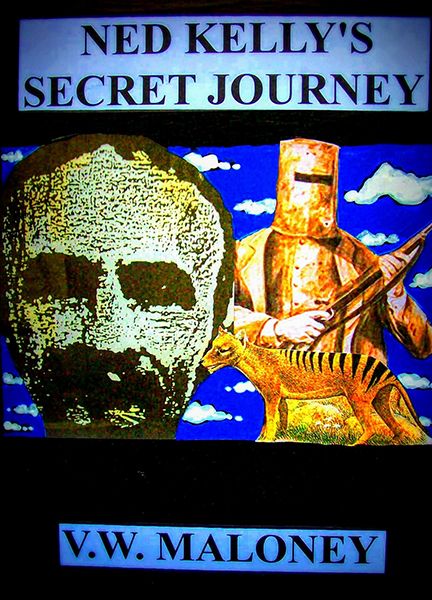 Certainly as Victor explains Ned's father John "Red" Kelly was in what was then called Van Diemen's Land - at the expense of Her Majesty Queen Victoria's service! Red Kelly was a model new citizen in the infamous Port Arthur Penal Settlement and was released from his contract early and then made his way to the mainland and to a new life. If you would like to read more about the real story of the Kellys please click here.
But was Ned really in Tasmania and if so why did he go? In the Youtube video below Victor recounts the story first told to him, when a toddler, while fishing with his father, at Outer Harbor. It seems that Ned was going to make a stowaway trip to Tasmania, to raise some funds to help his mother to pay some court fines. The paintings which Victor produced for the story were featured in an art exhibition at The University of Tasmania some of which you can see in the video.
The images of Victor's paintings are slow to load in the video but please be patient as they are superb and well worth waiting for or you can manually scroll to see the images more quickly.
While living in Tasmania Victor Maloney managed to see that Vincent got some sound advice from Picasso who wasn't found talking to the devil.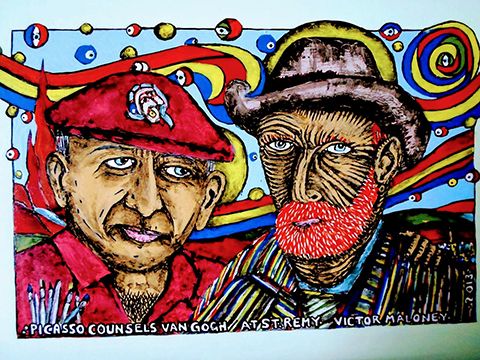 And Victor's old mentor Pro Hart, in the company of Andy (Warhol), was giving advice to Jackson Pollock to catch a cab home!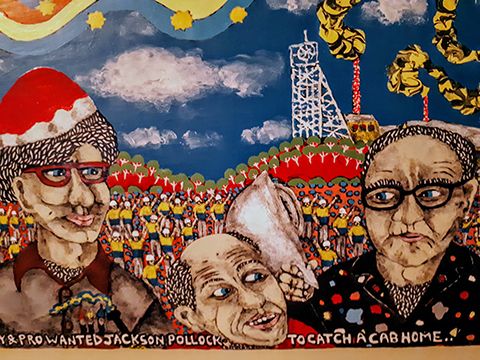 Let us conclude the Tasmanian Chapter of Victor Maloney's life with his own reflections when he says:
a big part of my Tassie art adventure, was doing live art events, with Tassie Snake Artist, Bill Flowers. Bill Flowers and I started the Australian Folk Art Movement in 2010 and combined art forces for the Australia versus USA, Friday 13th Folk Art Challenges for YouTube and Ebay. 2
Victor was also invited to send a submission of his work to the then Prince Charles, during his Bi Centenary Australia Tour. And so I'm delighted to be able to tell you that the works of two of the artists involved in the AnArt4Life blog have been in the possession of King Charles III as a painting by team member John Pickup was purchased back in the 1970s by the then Prince Charles.
If you are enjoying this art journey it is well worth watching this interview of Victor by Bill Flowers the Snake Artist, followed by the pair of them teaming up for an art duel!
We will be back in a few days with the last two posts in the Victor Maloney series. And in the meantime Russell in Australia has joined up to receive a regular dose of AnArt4Life. We hope you enjoy our art offerings Russell as we aim to entertain, inspire and challenge your thoughts about the art that is all around us.
© Thank you to Victor Maloney who kindly gave permission for the images of his work to be shared on AnArt4Life.
You can follow Victor on facebook by Clicking Here and on Instagram by Clicking Here.
Credit
1. en.wikipedia.org
2. Correspondence from Victor Maloney