John Winter Pickup OAM Investiture 12 May 2021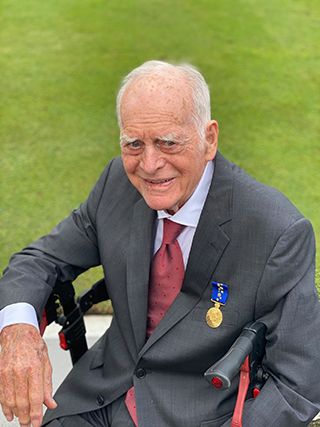 John Winter Pickup's Medal of the Order of Australia in the General Division was announced as part of the Australia Day Honours on the 26th of January 2020 by the Governor-General, David Hurley AC DSC FTSE.
Here on the AnArt4Life blog we know John as an artist and one of the Brushmen of the Bush. However his OAM was received for his 57 years service to the community as a broadcaster including ABC Regional Manager Broken Hill, New South Wales and Mackay, Queensland; Manager of the ABC Radio and Television Darwin, and inaugural Manager of Radio 4CRM Mackay. The background detailing John's considerable achievements across many fields was covered in a previous AnArt4Life post - John Pickup OAM. 2
The presentation of this very prestigious honour by His Excellency the Honourable Paul de Jersey AC at Government House in Brisbane, Queensland, (John's state of residence), was held on 12 May 2021 having been delayed for over 12 months due to the restrictions on holding events because of the Corona virus pandemic. However the big day finally arrived.
John particularly wanted to share the significance of this memorable day hoping it will prompt others to nominate the many other people who are deserving of an OAM for the work they do in their community, but may never receive such an honour. To find out more about nominating a person follow this link to the website of the Department of Prime Minsiter and Cabinet.
John and his family travelled to Government House in Brisbane for the ceremony. Twenty-four other people were also to receive their Australia Day Honour on this day but due to a change in procedure, each person was given a separate ceremony.
Here is his recollection of the day.
"We entered into the grounds of Government House, and I was at once struck by just how beautiful this building is, the official residence and workplace of Queensland Governors since 1910."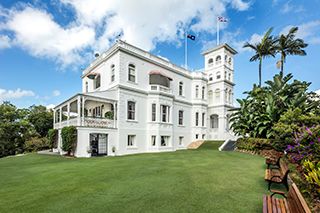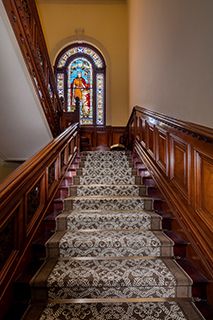 "We entered into a side building first and, after some intitial paperwork, a splendid officer in uniform with gold braid introduced himself as our guide for the day. He explained in some detail what the procedure would be. We felt very comfortable with his warmth and friendliness, which, by the way, was typical of every member of staff that we met thoughout the day."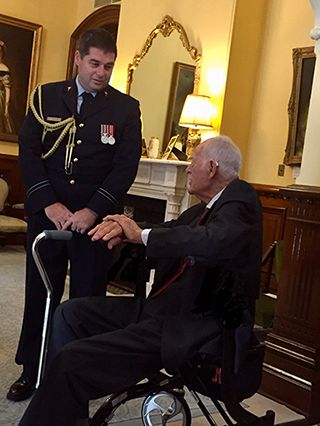 "Following the new procedure for investitures each recipient and their family members now enter as a small individual group."
"After a short wait in an ante room with beautiful chandeliers and portraits of former governors we were ushered into the investiture room where chairs placed for my party and I. However, I elected to sit in my wheelie walker in front of them."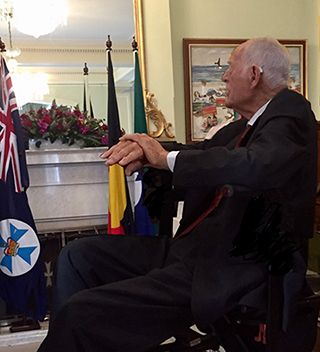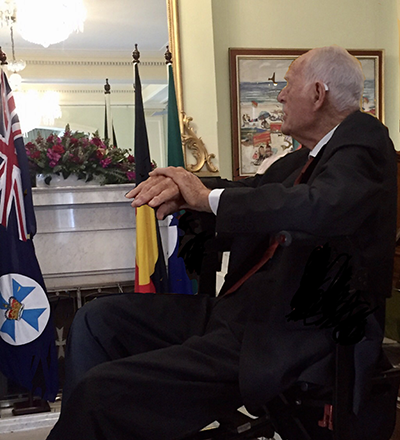 "His Excellency's private secretary came in and advised that she would be acting as MC at the lecturn and explained the procedure. We were then invited to stand for the governor's entrance and the playing of a shortened version of the Vice Regal anthem."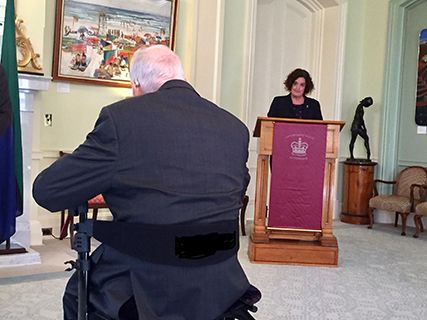 "With an army officer carrying a red cushion with my medal by his side, His Excellency came forward and when I tried to stand, he kindly suggested I remain seated."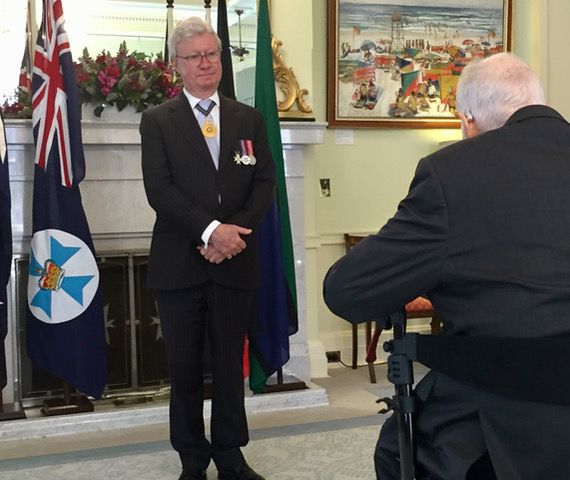 You can view John receiving his Medal of the Order of Australia from His Excellency the Governor of Queensland by following the link below to a short video.
The Order of Australia medal (below) was designed by Australian born Stuart Devlin AO, CMG who gained world fame for his works in gold and silver. Devlin designed the coinage for many countries including Australia's decimal coins and became especially well known as a London-based designer of collectors' items.
We will be producing a post on the work of Stuart Devlin very soon.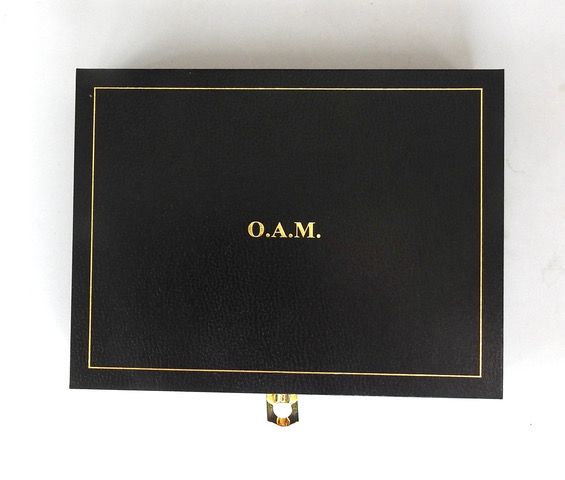 John received his Medal of the Order of Australia from His Excellency the Governor of Queensland and we are all so proud of his achievements.
John Pickup is a remarkable Australian and has been active in so many fields of endeavour.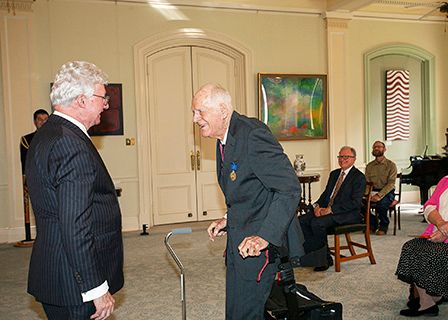 John continues:
"After the investiture I was able to stand for photos with his Excellency and, under this new procedure, families are able to take photos most of the time."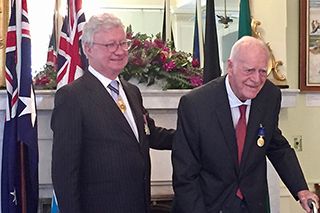 "After a short, very pleasant, conversation with the governor we were invited to move downstairs for morning tea at tables under large umbrellas and set with trays containing a lovely assortment of sandwiches, cakes and hot foods. Stewards wearing white gloves explained the different cakes and savoury delights on tiered stands, and a smiling waitress served us champagne, fruit juice, tea and coffee."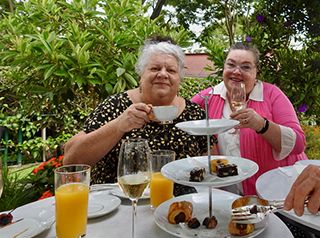 "We were then invited to move to the steps for the official photographer to take photos with the family and my guide, and then he suggested that we could move around to take our own photos, which we did. I particularly like the photo of myself with my guide, as he was just so friendly and welcoming."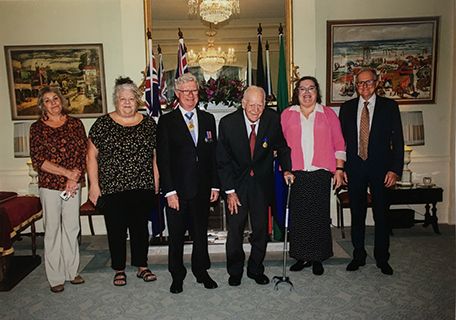 "In fact, a really outstanding feature of the whole event was the way we were greeted with smiles and the word "congratulations" from every member of the staff we came into contact with. Although there were 25 recipients on our day we were never under pressure to hurry along and two or three other groups sitting at the tables would also say "Congratulations" as they moved past."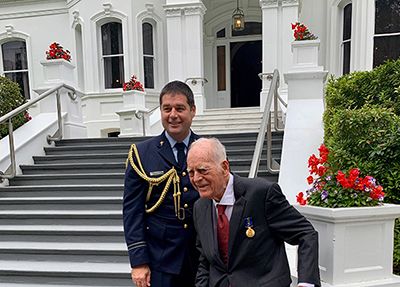 "It was a memorable day and I thank all of you who have passed on your own congratulations to me." John Pickup OAM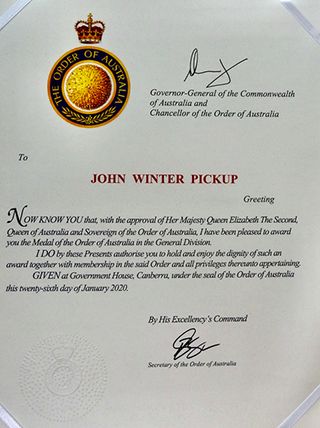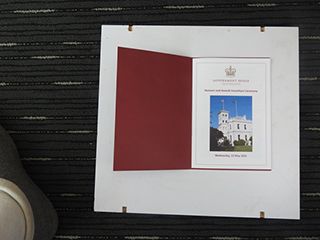 For those of you who are interested, please click on the video link below to hear John's full description of his investiture at Government House Queensland.
The audio commences at the point where a Government official takes the details of John and his family following Covid-19 regulations and when he is met by the Government staff guide for the occasion.
Acknowledgements
Photograph by Scott Riley of SRPhotography at Government House Queensland on 12 May 2020. It is displayed here with the permission of the photographer (scottrileyphotography.com)
The background to the award was covered on the AnArt4Life blog in a post John Pickup OAM following a phone interview with John Pickup by blog writer Caroline (The Keeper).
Governor of Queensland site - facebook.com
Photo taken by member of John Pickup's family who has given permission for inclusion in the post.
All photographs taken at Government House Queensland have been approved for inclusion in this post by Government House Queensland.
❁ All photographs and text have been checked and approved of by John Pickup OAM.