John Lacey: Finding Designs in Nature
Thanks to the correspondence we are receiving from John Wylie in Port Elliot, South Australia we are learning more about the fabulous artists of South Australia - especially those from the Fleurieu Peninsula.
Today I want to introduce you to John Lacey from Mount Compass in South Australia. Put a star on your tour map because when you are next travelling please consider visiting this area and take in the beautiful scenery and fabulous art works.
John Lacey Self Portrait


John is a self-taught artist, who began painting as a hobby around 1980 whilst working as a Motor Body Design Draftsman. He then went on (after more study) to work for himself as a Graphic Designer until 2004...He became a professional artist in 2004. His work is about self expression of the landscape and the occasional portrait.1
Lately I've been talking a little about light in paintings and when you first look at a John Lacey painting it is the light that first draws your attention to look further into the image. The light might be very subtle - but it is there as an essential element - often reflected in the title of the painting.

And the area where John Lacey lives is known for its beautiful wines so let's promote this by looking at his paintings with Vineyard Moonrise - again noting the subtle touch of light.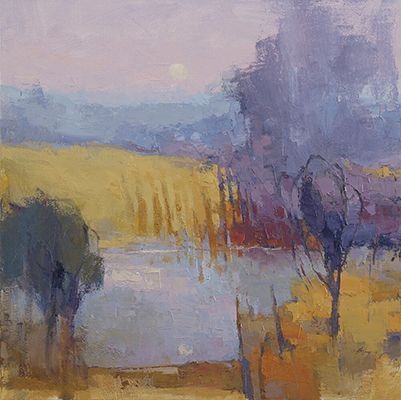 John paints in oil and cold wax on canvas and for me his landscapes present an uncanny merging of the real with the abstract. He talks about Transition of Form and Finding Designs in Nature.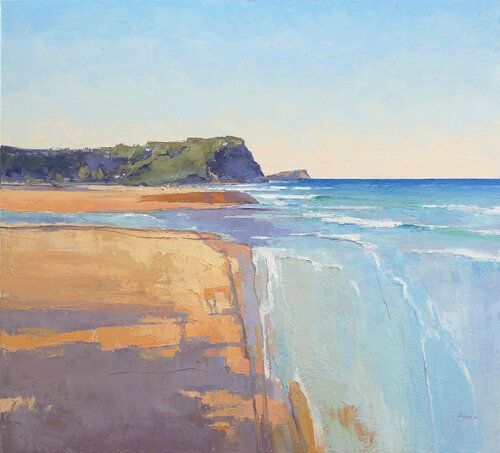 John Lacey's studio and Green Tank Gallery is a must see when visiting the Fleurieu. If you love art you will enjoy your visit here.
From the wonderful setting and atmosphere of Mount Compass you will find the sculptured gardens and contemporary architecture that sits well in the location. It's just four hundred metres from the Victor Harbor Road, just south of the town. You'll be delighted with the experience and hospitality.
There's a regular changing exhibition of very professional work from this award winning artist in his gallery. Then there's the studio. Here you'll find work in progress and an abundance of paintings in storage racks. John or Lydia (his wife) will gladly accommodate visitors who would like to see these. Often you'll find 10 -20 works out, resting on the walls just waiting to be thumbed through. And there is a story to be told about most of them.
We are just over 10 minutes from the McLaren Vale wine district. If you are travelling from Adelaide it's well worth the extra distance, and the added bonus is the incredible vista from the top of Willunga Hill on your return.
Also being members of the Mt Compass Produce and Tourism Trail, we encourage visitors to explore the local produce. To top this off there is the unique Port Willunga Beach and surrounding village of Aldinga to the west. Then 20 minutes south, the coastal towns of Port Elliot, Goolwa and Victor Harbor.1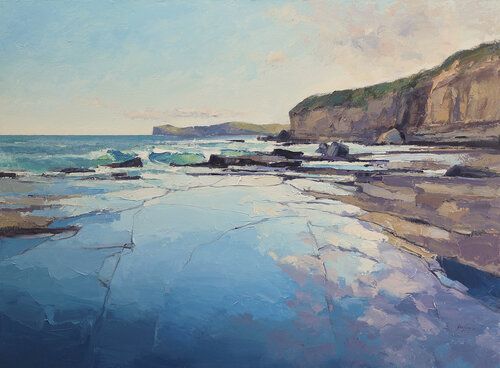 If you study one of John Lacey's paintings carefully you will see that the patterns are evolving out of the natural forms and dominant features of the landsacpe - some more dramatically than others.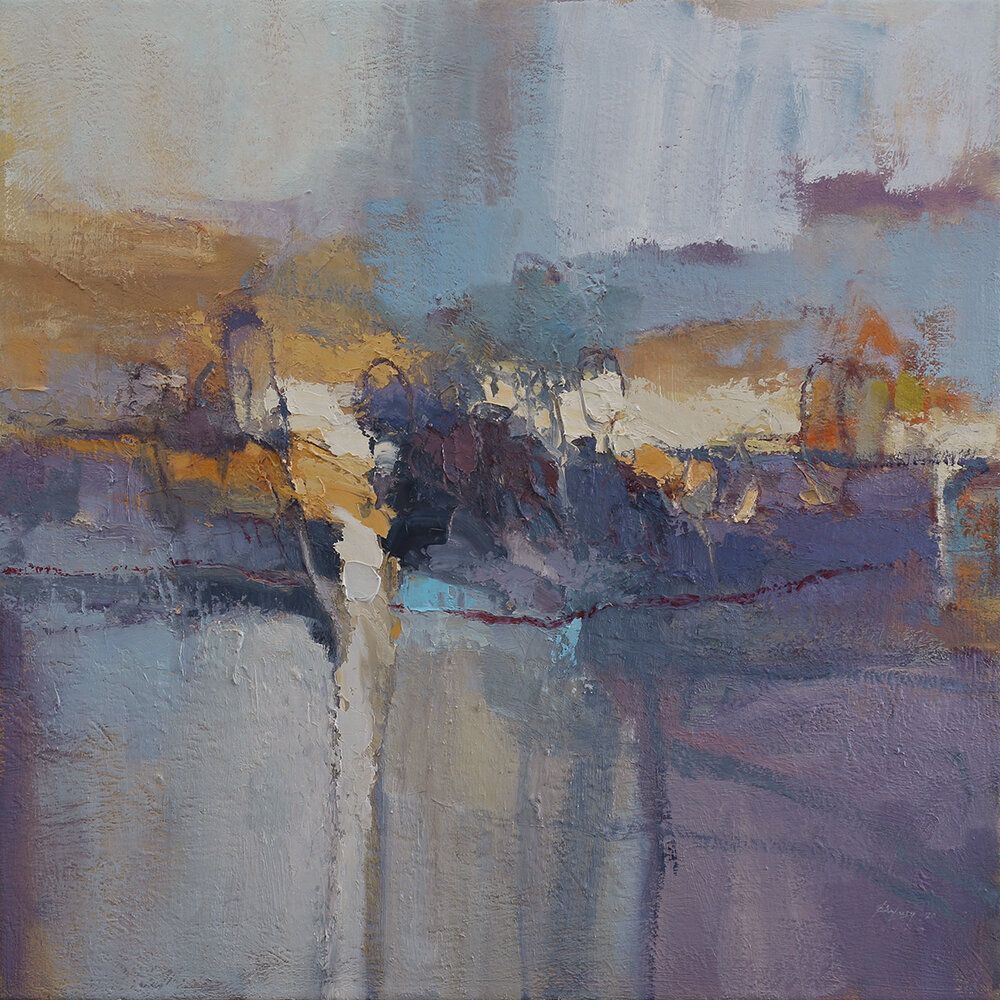 Let us examine what John has to say about the Transition of Form
My work is not only inspired by the landscape, but by how I interpret it, and I feel this is the essence of why I want to paint. I often use obvious elements from the scene to build my expression around.
This is achieved from sketches and quick oil studies, which are totally disposable and have passages of inspiration that may be used in the final work.
A scene has to initially inspire and at times it may dominate although simplified into line and marks of various tone and colour. I love when I can let go, as the painting begins to develop and speaks to me. This is when inspiration and enjoyment of expression is at its strongest and that each abstract line and mark are relative to the other and the initial vista is only the vehicle for the beginning. – John Lacey 2
And now it is time to join us on a walk around a gallery where you can enjoy the John Lacey Transition of Form Exhibition.
And hear from the master painter himself where John Lacey explains his thinking when creating a painting, the techniques and the skills behind his stunning landscapes.
To learn more about John Lacey and to check out more of his paintings Click Here.
If you would like to know more about how to paint using cold wax follow the Bookmark link below.
Credits
johnlacey.com.au
art2muse.com.au
---
ALERT: Don't forget to check out the FOOTER at the bottom of the page to read the post from this day last year.