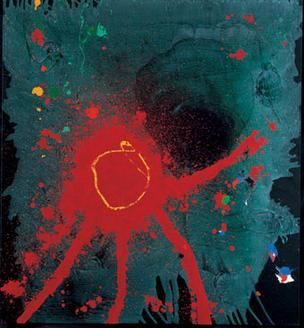 The subscriber I in London has introduced me to a new artist- John Hoyland (1934-2011). Hoyland was a London based British artist and is considered to be one of the UK's leading abstract painters.

John Hoyland was born on 12 October 1934, in Sheffield, Yorkshire, to a working-class family, and educated at Sheffield School of Art and Crafts within the junior art department (1946–51) before progressing to Sheffield College of Art (1951–56),and the Royal Academy Schools, London (1956–60), where Sir Charles Wheeler, the then President of the Royal Academy famously ordered that Hoyland's paintings – all abstracts – be removed from the walls of the Diploma Galleries.
It was only the intervention of Peter Greenham, Acting Keeper of the Schools, that saved the day when he reminded Sir Charles Wheeler that Hoyland had painted admired landscapes and figurative paintings– evidence that he could 'paint properly'.
And here are some examples of the so called "proper style of painting" all painted in the 1950s.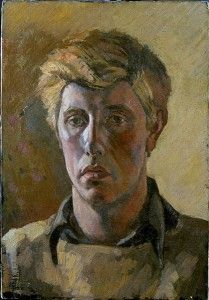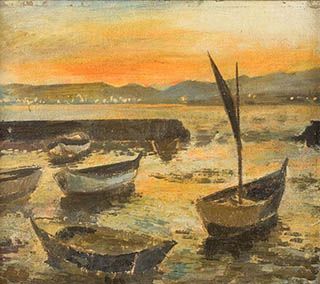 In 1953 Hoyland went abroad for the first time, hitch-hiking with a friend to the South of France. After the bleakness of Sheffield it was a revelation: 'To me it was like landing in Tahiti. There was still rationing here. Down there were all these brown girls, swimming and diving, and all these grapes.' Hoyland visited again in 1957 with David Smith when he was at the Royal Academy and got what he referred to as The Gauguin syndrome, a lifelong romance with travel and the south. (en.wikipedia.org)
The 1960s were a crucial decade for Hoyland; it was in these years that he found his voice as an artist. It was also the time when he made his first trip to America, to New York in 1964, travelling on a Peter Stuyvesant Foundation bursary. There he met Robert Motherwell, with whom he was to become great
friends, also Mark Rothko and Barnett Newman, and visited their studios. Hoyland's first solo exhibition was held at the Marlborough New London Gallery in 1964 and his first solo museum show at the Whitechapel Art Gallery in 1967, curated by Bryan Robertson. In the 1960s, Hoyland's work was characterised by simple shapes, high-key colour and a flat picture surface.(en.wikipedia.org)
Hoyland recorded the paintings from this period with a date, no titles.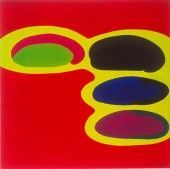 In the 1970s Hoyland's paintings became more textured. He exhibited at the Waddington Galleries, London throughout the 1970s and 1980s. Some of these paintings had titles, others just a date.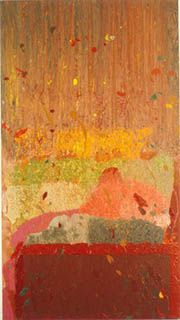 Hoyland's paintings are closely aligned with Post-Painterly Abstraction, Color Field painting and Lyrical Abstraction. Hoyland disliked the 'abstract' painter label, describing himself simply as 'a painter'. When asked why he disliked the term 'abstraction', he answered: 'It's just too abstract a word. It smacks always of geometry to me, of rational thought. There's no geometry, there's no rectangles in nature, no real straight lines. There's only the circle, the one really powerful form in nature I keep getting drawn back to.' (en.wikipedia.org)
We can see this illustrated below in the paintings produced in the 1980s.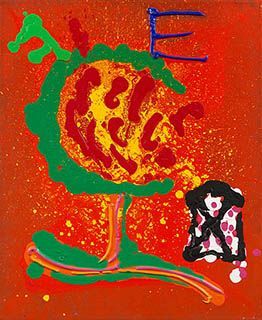 And then in the 1990s Hoyland's shapes changed considerably though though his perception of colour remains constant.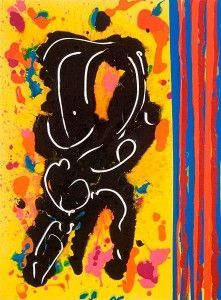 These paintings were produced from 2000 to 2011, in the last years of his life.In these paintings we see far more variation in Hoyland's colour choices. Interestingly, Hoyland said that an artist's choice of colour is not an intellectual decision but rather an emotional one.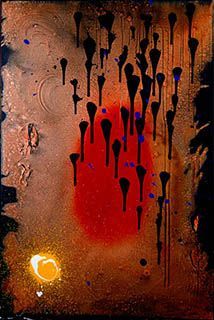 You can visit the site dedicated to this remarkable artist at John Hoyland.com and take your time to explore and learn more about his creative works which include paintings, ceramic and glass works, sketches, prints and other works on paper.
Below is a video of the works of John Hoyland. It is about 30 minutes long so maybe is suitable for those amongst you interested in Abstract Art.