John Broom - The Accountant who wanted to be an Artist: Part One
It is a very special day when the AnArt4Life blog team gets the opportunity to undertake a project that has extra special significance because we have been trusted to present art works from a very personal perspective. This is one such occasion.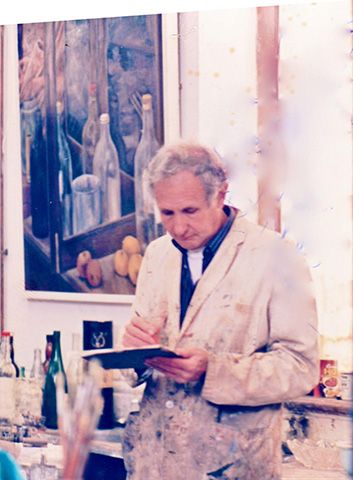 I would like to introduce you to John Broom (1923-2015), an accountant who yearned to be an artist. His story and description of his paintings have been entrusted to us by Monica Broom, his second wife.1 It is a remarkable story and his paintings endorse the prodigious talent possessed by this man.
John's oeuvre focuses on outdoor scenes though you will see some amazing figure studies in the later posts in this series. Reviewing his works reveals an artist who loved the features and atmosphere of the landscape of his country: his works indicate a man with a keen desire to look out and into the heart of South Africa.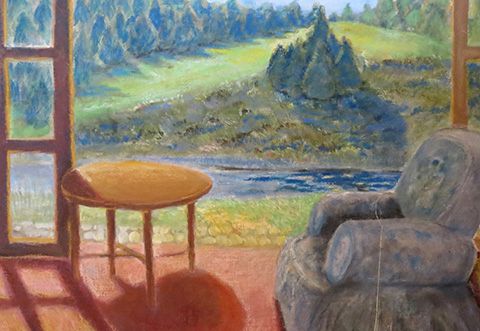 A similar perspective of looking out from within a building is illustrated below in the sketch - the frame from the building bringing the distant landscape into closer focus. As Monica has commented: the appeal of this sketch is in the depth that John has created.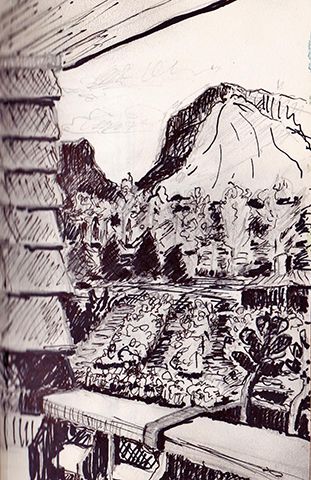 Monica tells us a little about John's background:
John Broom was born in Springs, South Africa, which was a small mining town, on March 26th, 1923. He spent his entire education in boarding schools, and when he had Matriculated (Year 12), he enlisted for The Royal South African Navy, as it was called then. He was demobilised in 1946, and proceeded to study Articles for the Accounting profession. He worked for various firms, and was sent by one Company to Northern Rhodesia, as it was called then. There he met and married his first wife, and in the course of time they had four children.
So a regular and substantial salary at that time was an absolute requirement.
Later, he was transferred to Salisbury, the capital of South Rhodesia (Zimbabwe), and became a Partner of Deloitte's Touche, and was put in charge of financially advising the farming community, which he loved.
Meanwhile his urge to fulfill his artistic talent was becoming more urgent though sadly this interest wasn't shared or recognised at home. Even though John did, in fact, produce a fair number of paintings while he worked, they were never displayed in their home.
But his passion to record his view of his world burned deep within John and it would appear he wasn't all that concerned that his paintings were not being shown - he was a humble and spiritual man and, like most artists, the act of creating the work of art was, at this stage in his life, all that mattered.
John was looking out to the broader picture and ahead lay his journey - with his sketchbook as his partner.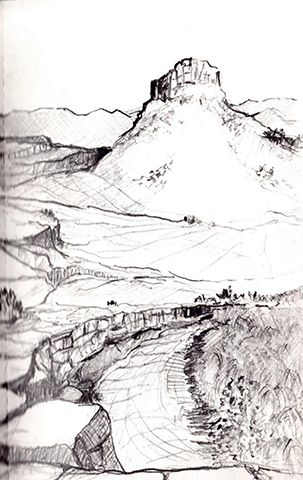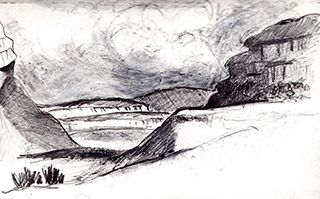 It would have also been a difficult time for John, as it is for all people who are compelled to earn a living to care for a family, when deep inside the fire burns to create.
Monica tells us that he was always stopping to capture in pencil, crayon or pen and ink what often was a fleeting scene but for him a significant locale and worth recording: later to be produced in oils in his studio.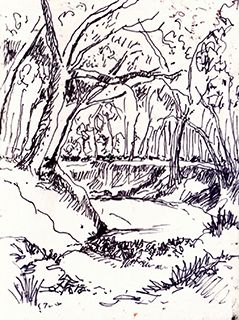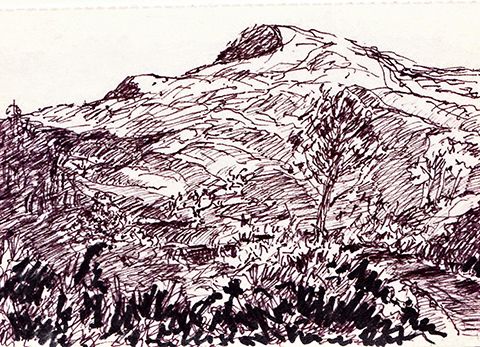 Monica tells us how 'John was driving through The Orange Free State, where the wheat farmers were burning their chaff. The pattern that the smoke made in the sky fascinated John, so he sketched and painted that. It was one of my favourite creations.' 1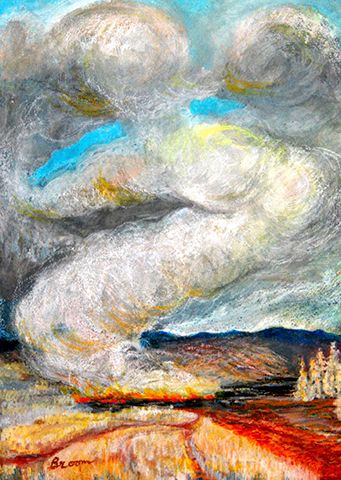 And below we see John experimenting with atmospheric effects and cloudscapes. His bold, confident brush strokes very much his signature style.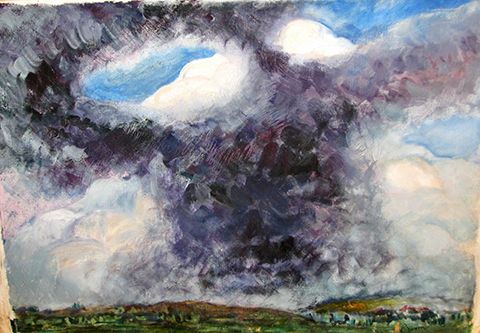 Monica continues John's story by telling us: On another occasion, he was counselling farmers, and a view of a copse of trees caught his eye. He committed that to oils. 1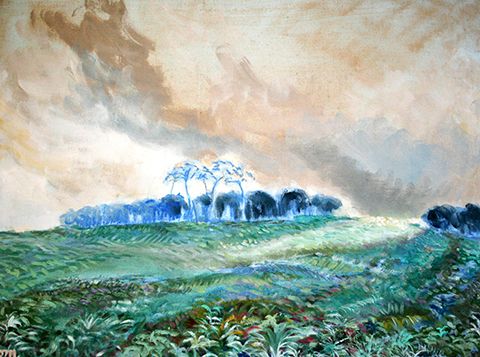 I absolutely love this painting (above) which Monica has titled A copse of trees for its boldness in composition and palette. I could study this painting for hours to discover the hidden gems. The rhythm of the tempestuous clouds is incredible especially with the twists and turns made by the paintbrush, balanced by the lush ground with its own rhythm of growth: layer upon layer. The touch of light on the right hand side is exquisite as is the detail of foliage in the foreground.
John Broom was an artist with great courage: fearlessly placing the copse of tree centre, middle ground, painting them a striking ultramarine blue and almost cheekily adding the three tall trees which reach to the stormy clouds in defiance.
We want to stay outside with John, in the vast landscape and expanse of sky in Africa enjoying all that John could see. Monica tells us that: the picture of the ploughed field below with cabbages, was sketched and then painted, after John had counselled one of his farming clients. 1
This detailed ploughed field where John has used a semi-naive style to emphasise the intricate texture of the turned earth with the blue-green cabbages is fascinating. I find my eye traversing the landscape taking in the kaleidoscope of colours and the features which in some ways remind me of the style of the Australian artist Hugh Schulz we have showcased in earlier posts.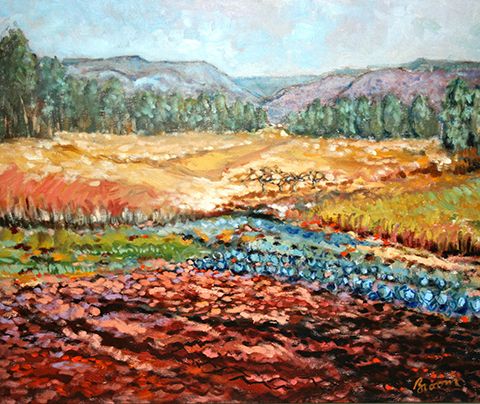 A versatile artist, John appears to have chosen different styles to suit his chosen scene or subject. Above the attention to detail, below a more impressionistic approach where the attention to detail has given way to colour. John's bold colours remain in Reflections below but are contrasted particularly with whites and creams.
Looking back over John's landscape paintings they each have a layered approach where the composition is made up of juxtaposed shapes, multi-layered - almost tiered.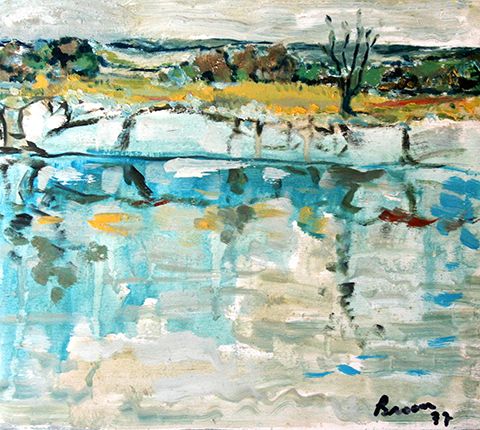 This tiered, angled composition framework leads us to the eye level take by John Broom. If we go back and study the paintings in this post we see the John has painted most as if he is viewing the composition preparing to walk into the scene.
Below is a painting of the road to St. Michael's on Sea (between the coastal towns of Margate and Port Shepstone South Africa) where John's mother lived. I love this painting and the viewpoint he has taken as you feel as if you are travelling this road with John and travelling with him into a scene he loved. Once more we are engaged by the boldness of the shock of the orange/red drawing us deeper into finding out what might be over the rise of the road.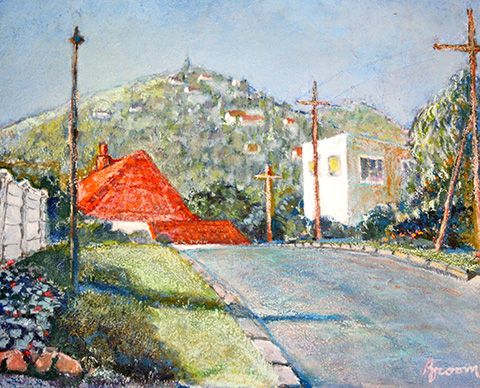 There is no doubt that John Broom was not only a very talented artist but a wonderful human. Tomorrow we are going to see a series of paintings he created which Monica has titled The Vanishing Church.
We will also learn how the artist within John began to take over from the accountant and how this eventually leads him to totally change the direction of his life.
Thank you to Monica Broom who provided all the images and biographical notes on John Broom used in this post.
A special thank you also to Monica's son in law, Bob Wilkins (Assistant Director, in the film industry) who took the photographs of John's paintings.
Late Mail
Today we warmly welcome M.Q. in Ireland - who has just joined our AnArt4Life on-line community.
---
If you would like to leave a comment about John Broom's paintings please use our Comments box below. We welcome your participation in John's artistic journey and ours.