Jane is seeing rhinos in London!!

I'm getting a little worried about my friend and fellow blogger Jane who is assuring me she has seen rhinos in London. The good news is she has sent photos and some notes to prove the fact. This is real not imagined!
Some words from Jane: It seems statues of animal sculptures are the latest craze to raise funds for various charities. In previous posts we covered the Bears of Berlin that now travel the world and Owls in Bath.
Jane goes on to say:
Now I am in London and spotted rhinos! -  The Tusk Rhino Trail.  From their website www.tusk.org I learned it is a London wide art installation that celebrates the magnificence of the rhino, and draws attention to the severe threat of poaching to their survival. Each rhino has been specially designed, decorated and embellished by internationally renowned artists.
Here we can see the attention this project is getting as Prince William talks to some of the artists.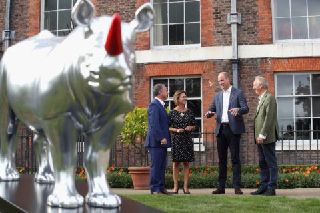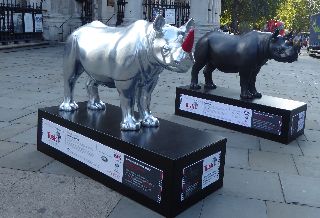 Also in Trafalgar Square (outside the British National gallery) is Hate's Outta Date! painted by Harland Miller.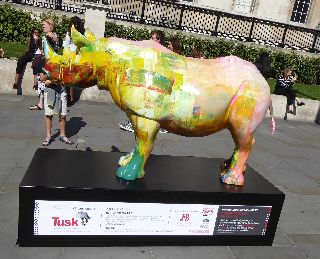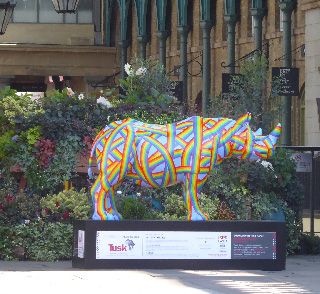 In Carnaby Street we can find Spike, by Ronnie Wood. The inscription reads:
This beautiful prehistoric creature should be around for future generations of our children to see. I tried to include motifs from the African flags of the main rhino populated regions. As the rhino wanders the plains, it makes me think – it is Spike in another form! (tusk.org).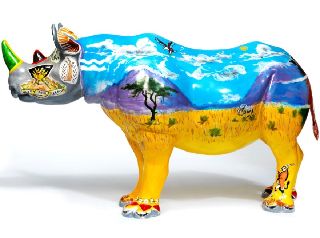 Now the great news is that the rhinos will be auctioned by the leading London auction house, Christie's on 9th October 2018.  The funds raised will provide vital support for conservation projects protecting rhino and other iconic African species. I hope Jane brings one home as a present for me!
And if Jane pops into Madrid on her way home she might see a giant sperm whale which was was spotted beached on the riverbank of Madrid's Manzanares River. Fact or fiction? Fact mostly as the whale is definitely there in front of the bridge but it's not a real whale but a life sized installation sculpture!
These glorious creatures are also endangered. The "hyperreal" life-size statue was made by Belgian artists from the Captain Boomer Collective who said the art piece is a "metaphor for the disruption of our ecological system … The game between fiction and reality reinforces this feeling of disturbance". (Euronews)