Imp Hung's Enchanting and Challenging Ceramic Tiles
Imp Tsiu yun Hung, an artist from Taiwan, has stated that:- "ceramics is my key to the secret garden, my way to record living and feeling, a wonderland where I can release my imagination".
Imp Hung Photo by Andrew from the Hunter Valley Region ©
Our subscriber and art collector Andrew from the Hunter Valley Region introduced me to Imp's work and the pieces shown here are from Andrew and his sister Catherine's collections.
Imp gives recognition to Australia where she began her works in ceramics. She also emphasises that Collectors share their passion for art work and give me the enthusiasm for creation.
You will immediately recognise many of the works as Imp usually bases her creations on famous paintings. Apart from enjoying and appreciating Imp Hung's enchanting works, a fun challenge for us might be to try to recognise the artist and title of the original painting.
As we showcase some of Imp's ceramic tiles, you might like to test your memory. To check if you are correct the answer can be found by clicking on the number of the image in the caption. You can then use the back arrow at the top left to return to the post.
You might be able to do the first image without help!! I am quite sure you will recognise the original artist but do you remember the title of the work?
No 1~ Ceramic tile painting by Imp Hung ©
Imp explains her creative process thus:

I choose stoneware clay and paper clay for sculpture and tile works. The topic for my creations from my illustrations and poems. The story leading role is a black rabbit "Abe" that is without facial expression. Sometimes I think people don't show their real self because of manners or other reasons. Therefore I created a model without any facial expression. The mood of viewers decides his facial expression, when you feel happy it looks like it is wearing a smile, if you feel sad, it will also accompany you to drop tears. And it also represents the viewpoint and emotions of me.1
No 2~ Ceramic tile painting by Imp Hung ©
As you check out the painting on which the work was based you will notice that Imp hasn't tried to make an exact copy of the painting but rather an adaptation which follows the original style.

Here is another very famous image.
No 3~ Ceramic tile painting by Imp Hung ©
Let us learn a little more about the significance of Abe the black rabbit in Imp's work before we return to testing your knowledge of artists and famous paintings.
Imp explains more about the process of her thinking:

When I began a piece "Abe carry a heart", I think every heart has a different story. I start by a making slip cast heart, then carve poems I wrote on it and try many different oxides and techniques to complete the texture. Those hearts became a series of "There is a poem in every lover's heart". The concrete, repetitive nature of this work frees my imagination and provides many opportunities for happy accident and grace to influence the finished product.1
Here is an example of digital work where Abe the Black Rabbit and Imp exchange thoughts.
Image and text by Imp Hung ©
Imp continues:

Later I put rabbit "Abe" into Munch's famous painting "The Scream" and Abe tried to tell that screaming man "Come on, take it easy". And in another I changed the original role to the screaming rabbit that is doing wheel throwing, and in fact that is exactly my mess, "Wheel Throwing Nightmare". This is a series of black humour which lets me consider my learning process in the past. Again I considered many works of many great artists, how did they influence me so far, and what is the effect on my creations and processes? 1
No 4~ Ceramic tile painting by Imp Hung ©
You don't have to guess the origins of the work above but if you click on the number in the caption you will be taken to a site that explains The Scream by Edvard Munch.
Imp continues:

I wondered whether I could bring my rabbit Abe, to make review of their works. I try to pass on these beautiful works and to express my respect and another viewpoint to others. I use parody to imitate original work, plus humour and travesty, to change it into my own work.1
Imp is issuing us with a further challenge through Abe who is sitting within the context of the original painting: What would you be thinking if you were situated within the painting? What would be some of the emotions you would be experiencing? What might you say to the original artist about the painting?
Test your knowledge again. Do you recognise this painting and do you know the artist?
No 5~ Ceramic tile painting by Imp Hung ©
Imp concludes:

Ceramics fills me with a sense of accomplishment and integrity, and has proven a most amenable vehicle for translating inner vision to outer reality.1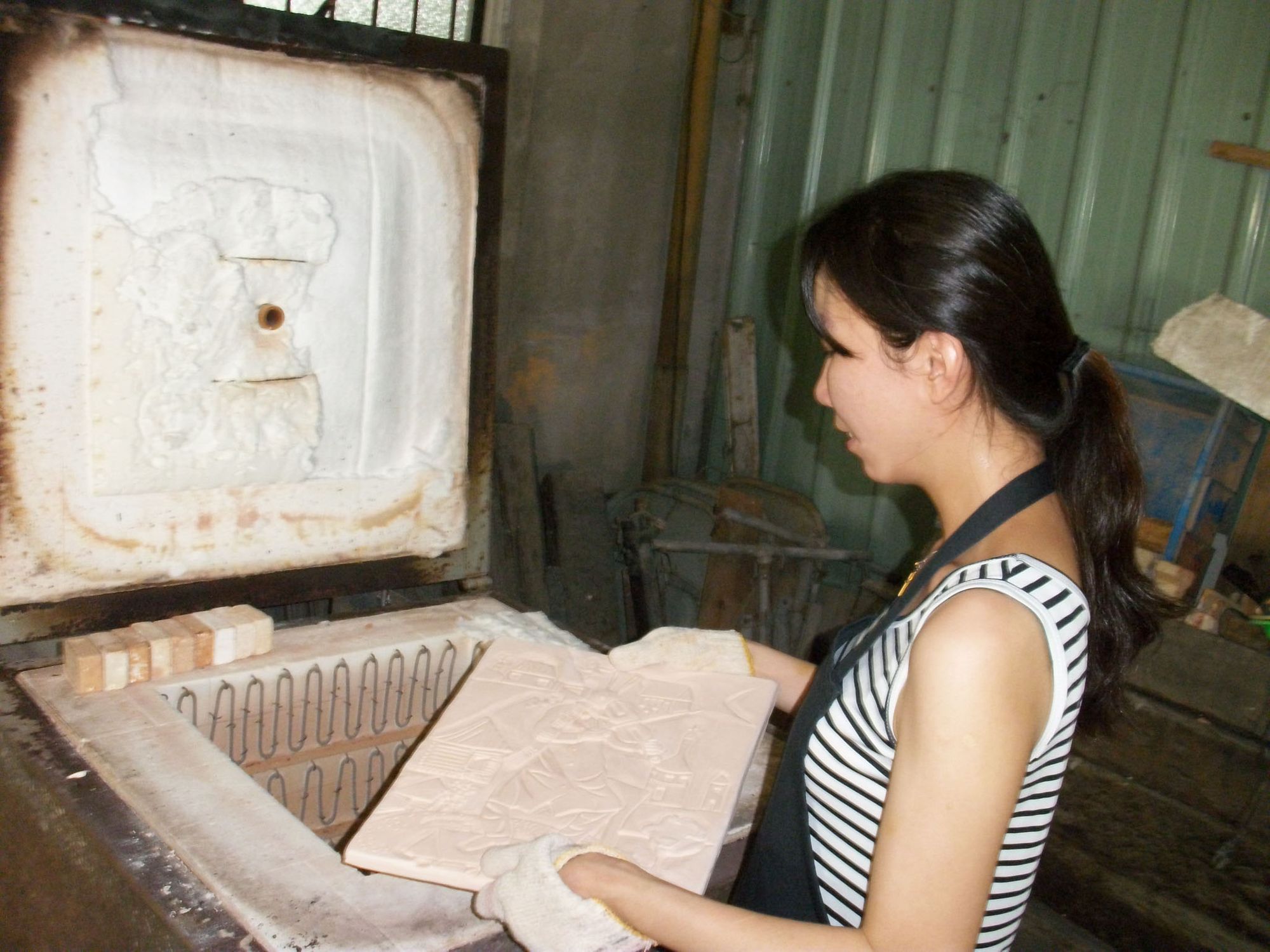 Three more of Imp's delightful and provocative ceramic tiles. Enjoy and test your knowledge of artist and original painting.
No 6~ Ceramic tile painting by Imp Hung ©
No 7~ Ceramic tile painting by Imp Hung ©
I am sure you will all guess the artist for the image below. But did you know that this artist painted about 250 paintings of waterlilies? Check out more about the artist and paintings by clicking on the number in the caption.

And what would you and Abe say to the artist?
No 8~ Ceramic tile painting by Imp Hung ©
Did you spot the Australian artist amongst Imp's works? The Nolan tile is just one of two that Imp did using an Australian artist - a suggestion made to Imp by Catherine. Andrew and I are discussing should it be: Abe as Ned Kelly or Abe has Ned Kelly?
I love the idea to put Abe in Ned Kelly's shoes - works really well for me! That is the appeal of these tiles - the interpretation is very personal and a great deal of fun.
Tomorrow we will look at some more works by Imp Hung and more images against which you can test your knowledge. But they might be much, much harder so be prepared to be challenged!!
And a very warm welcome to M.L. who is joining the AnArt4Life blog.
A very special thank you to Andrew from the Hunter Valley Region and his sister Catherine who made this post possible by generously having the images photographed and agreeing for them to be shown on the AnArt4Life blog.

Thank you also to Imp Hung who gave her permission for the images of her work to be shown on the post.
Credit
1. Artist statement by Imp Hung