Hougomont – Running the Easting Down by Robert Carter
We continue our series on the marvellous paintings by Robert Carter OAM, FASMA, FISMP of the sailing ship era and recently published in The Marine Paintings of Robert Carter1.
Robert is one of Australia's leading marine artists and is also joint founder of the Australian Society of Marine Artists with Dean Claflin.2 You can read more about Bob's biographical information by clicking here.
In this publication Bob has presented his paintings in five parts and we will follow this same format. Today we are going to start looking at Part Two: British Sail and we will showcase Robert's wonderful painting of the four-mastered barque Hougomont.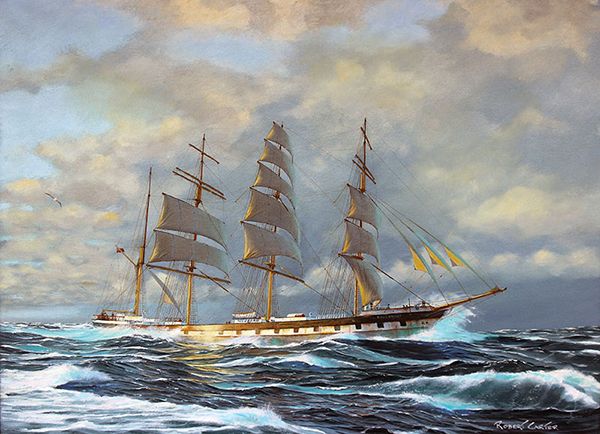 'Running The Easting Down' was a term used by sailors to describe the long haul from the Atlantic Ocean around the Cape of Good Hope before the Roaring Forties, towards Australia and onwards to Cape Horn. These strong westerly winds allowed the sailing ship to travel these long distances in fast time.
This painting of the 4-masted barque Hougomont was inspired by stories told to me by Captain Eben Anderson, an apprentice in this ship during the years 1912 – 1914. He described the way her master, Captain McDonald chose to run before a gale. 'All sails set upon the main except the mainsail' is not prescribed in Tait's Seamanship' as the correct procedure; nor would a candidate for second mate's certificate have been wise to explain to the examiner that it kept the ship balanced but as Eben explained, 'old Mac was an excellent seaman and had many ideas of his own how to get the best out of his ship'.
Hougomont, built in 1897, spent most of her life under the ownership of J. Hardie & Co. of Glasgow, until Finnish shipowner Gustaf Erikson, bought her in 1924. In 1932 she was dismasted in the Great Australian Bight on the way to load grain in Spencer Gulf.
Superb seamanship allowed her to make Port Adelaide under Jury Rig. It was considered too costly to re-rig her so her sails, and any fitting that was re-usable was stripped and taken back to her home port, Mariehamn, in the Erikson 4-masted barque Herzogin Cecilie. Her figurehead and poop skylight now reside in the Alands Maritime Museum.
Her hull was towed to Stenhouse Bay at the tip of Yorke Peninsular and sunk as a breakwater adjacent to the Gypsum loading jetty.3
© Thank you to Robert Carter who kindly gave permission for the image of his work to be shared on AnArt4Life.
Please check out the Robert Carter Website.
And also the site for the Marine Artisits Australia.
The next glorious vessel in our Robert Carter Marine Series will appear in about a week.
Credits
1. The Marine Paintings of Robert Carter , Published in Australia by Robert Carter Maritime, Gosforth NSW, 2320, Australia, 2022
2. Correspondence with Robert Carter
3. robertcarter.com.au