HOTA – Home Of The Arts – on the Gold Coast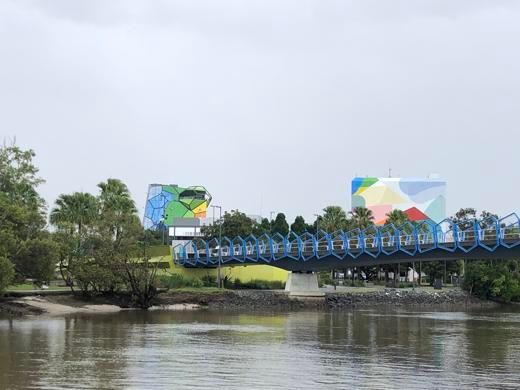 The Gold Coast, located about a 1 hour drive south of Brisbane is a popular holiday destination for overseas travelers and Australians. Dominated by a skyline of skyscraper apartment buildings and hotels, the seashore is lined with golden beaches, from tranquil inlets making safe swimming places for youngsters to rolling waves which attract surf board riders from around the world.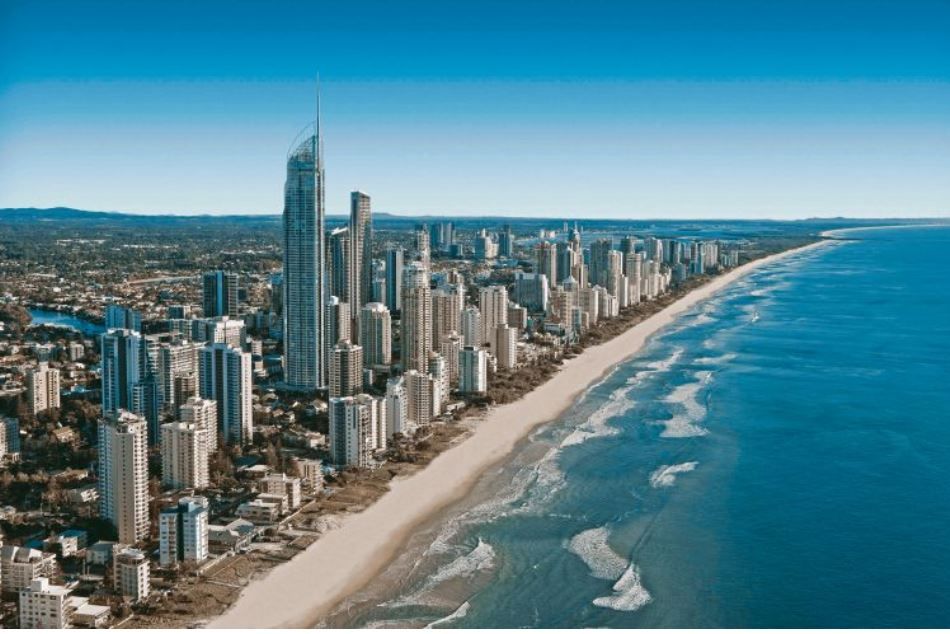 The Nerang River is flanked by beautiful riverside homes, many with a yacht or two moored on their private marinas - or even a helicopter! Yachties love the tranquil waters of the river and Broadwater and enjoy the wind in their faces sailing along the coast. Several theme parks attract families, while the relaxed lifestyle of outdoor cafés and pleasant walks attract retirees.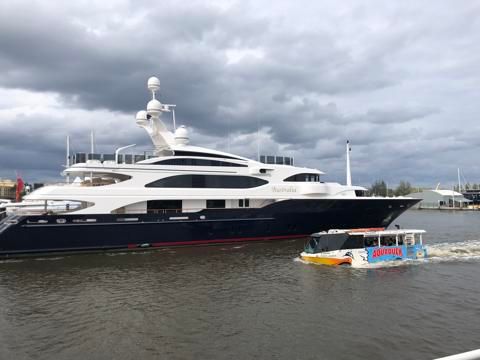 I recently spent a week or so with a girlfriend, enjoying all the Gold Coast has to offer. Usually, every day dawns with glorious sunshine, however this was a rare time when we had a patch of cloudy and showery days. It didn't matter we made our own sunshine.
Our apartment looked over the Broadwater to Marina Mirage and The Versace Hotel – there was no need to venture far from this view, however we enjoyed walks along the beach, lingered over coffee and crepes for morning tea or leisurely lunches.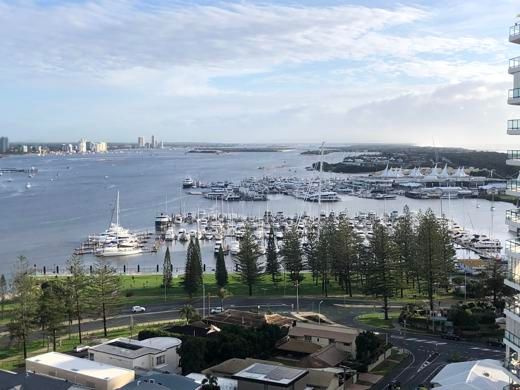 The Gold Coast has its fair share of art too and last year a new gallery opened – named HOTA – Home Of The Arts, its Rubik-cube shaped building providing a splash of colour along the river front. We had a chance to visit arriving on the cute Hopo ferry.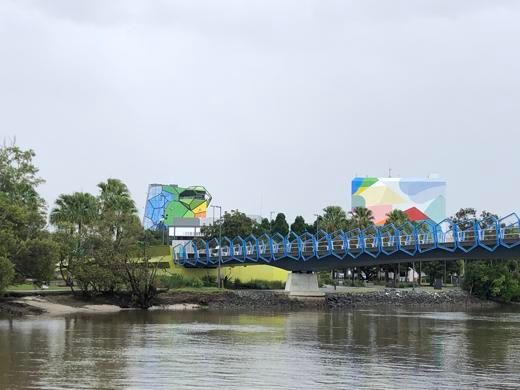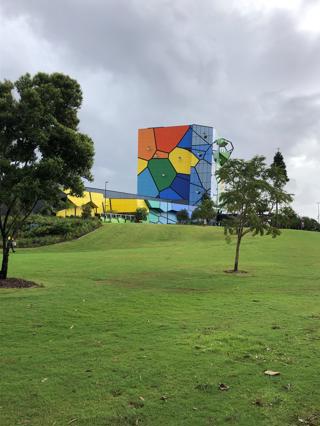 It's an attractive complex with beautiful internal features. In the foyer shards of light beam down from the glass ceiling and the majestic timber staircase made of black butt and oak, winds to the rooftop café with marvellous views over the Gold Coast.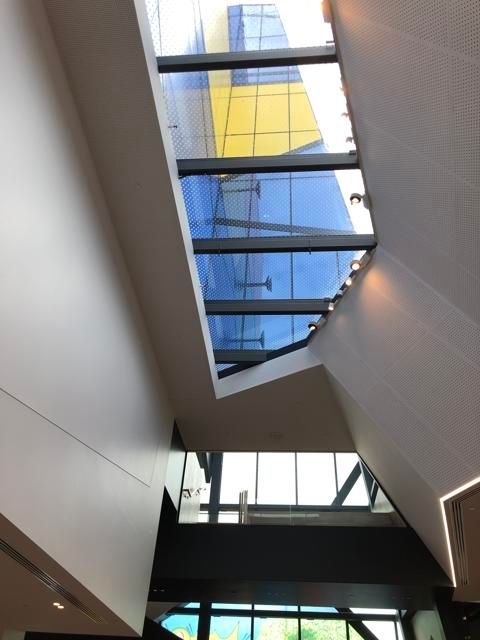 The galleries provided an eclectic mix of art works. From an old sign, photos of the Gold Coast in the 1950s and a ceramic bowl featuring people rollicking by the beach.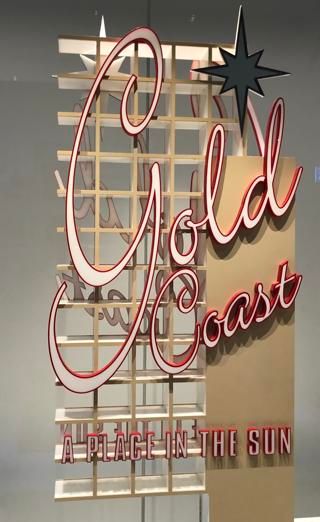 To luminous earthenware clay eggs which begged to be handled, indigenous handicrafts and a fun centipede made from old teapots.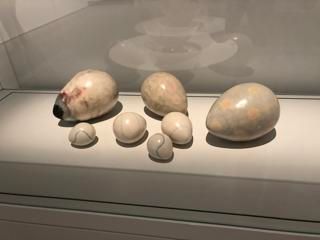 This beautiful oil painting titled Rainforest by William Robinson AO, inspired the form and ambition of the new HOTA Gallery.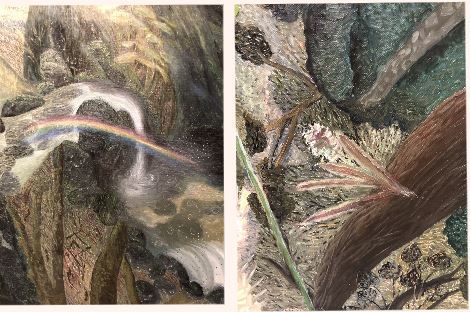 1n 1991 Fran Cummings, then Director of Gold Coast City Gallery, recognised the opportunity to acquire this painting which had just won the prestigious Wynne Prize at the Art Gallery of New South Wales. She embarked on a public campaign to secure the painting for the city, through funds from the art-loving community.4
We loved taking time to meander around the gallery and it's fun to wander around the Gold Coast – a splash of colour or interest around every corner.
Sunsets were magnificent most evenings and as we say farewell to the Gold Coast we hope to return very soon.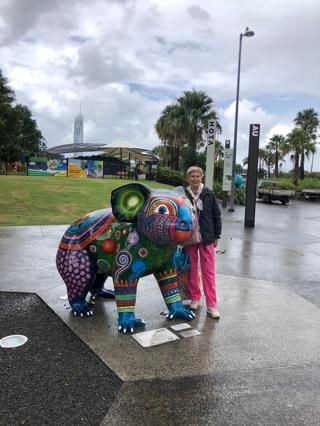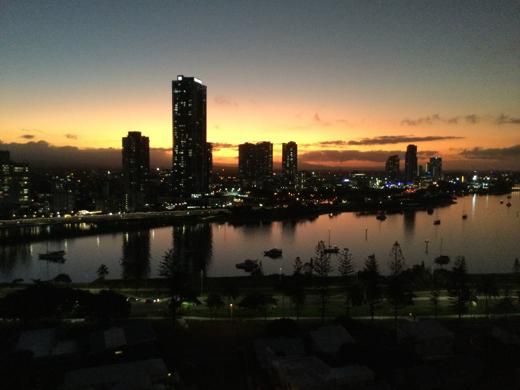 Credits
1 My own photos taken at and in the HOTA Gallery
2 therealestateconversation.com.au
3 Postcard purchased at HOTA
4 Details taken from the storyboard adjacent to the painting