February 2023 Mailbag No 1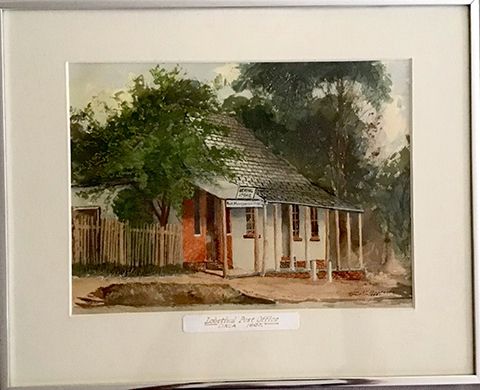 To open our February mailbag we have a delightful watercolour painting of the Lobethal Post Office by Les Schapel created in 1991. The painting is now in the collection of H Steve Cook as it was gifted by Les Schapel (who is no longer alive) to Steve. Importantly Steve was the Postal Manager at Lobethal - though as he points out - not in 1860!!
Lobethal is a town in the Adelaide Hills area of South Australia and about 40km from Adelaide. Thank you Steve for sharing this treasured painting with us.
And from Steve's own studio we have a tudor house from different angles.

Our next item comes from D our Roving Reporter in Central Victoria who spotted that Central Victorian artist Lorena Carrington is running some small cyanotype workshops for adults this year. As Lorena says: They'll be small groups, with lots of time for personalised demonstration, in a comfy environment, with tea and cake. 1
The Creative Play workshop focuses on creative experimentation, as an introduction to the process and a low pressure way of making something lovely.1
There is also a longer Storied Illustration workshop is for writers and other creative folk, and incorporates a writing element. It flips the illustration/writing process, and is a great workshop for unlocking ideas in your writing and working through writer's block.1
Both sessions include morning tea or lunch, and a take-home 'showbag'.
Register your interest by clicking here.
And I have been encouraging the children in my court to become graffiti artists!! I have given all of them the opportunity to paint my new fence in whatever design they can create.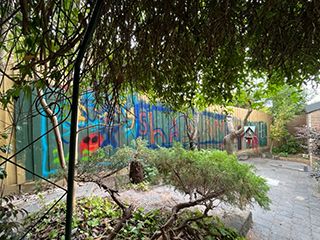 And did you read the post on Max Waters? Did you watch the video of Linda Klarfeld making the statue of Max? Maureen in Birchip did and was astounded saying:
I had no idea such painstaking work went into creating a sculpture such as this. At school in 1963 I had to make a head sculpture with plasticine, clay, gauze and plaster then paint it with some sort of blue and silver and I thought I knew the lot. I still have it as a door stopper, but it is in a box somewhere. Although I found out later that there was a bit more involved, my education in sculpture stopped about there. Such incredible work and such an awe inspiring artist. Thank you for a most revealing and interesting video.
And here is a link to the video if you missed out on seeing it.

To conclude today's mailbag let's get into the mood to enjoy The Year of the Rabbit by please opening the Bookmark link below to reveal a wonderland of rabbits thanks to the Australian outback artist Hugh Schulz.
And we will be back with a second mailbag for February in a couple of days.

And before I sign off a very warm welcome to Paula in Australia who has just joined up to the AnArt4Life blog.
Credits
1. https://lorenacarrington.com/workshops/