Celebrating The Feast of Saint Nicholas
Tomorrow on the 5 December, our Dutch friends and family in Western Christian countries will be celebrating The Feast of Saint Nicholas on the eve of Saint Nicholas Day on 6 December.In Eastern Christian countries using the old church Calendar Saint Nicholas Day is celebrated on 19 December.1
The occasion celebrates Nicholas of Myra with particular regard to his reputation as a bringer of gifts.
HAPPY SAINT NICHOLAS DAY TO JANE, CAROLINE AND ELISABETH AND ALL OUR DUTCH FRIENDS, SUBSCRIBERS AND FOLLOWERS
Tomorrow you will get a special art treat from Caroline who along with Jane has Dutch heritage.
Today in recognition of Saint Nicholas, I am going to share the most famous of the works surrounding this day and that is The Feast of Saint Nicholas painted in the mid 1660s by Dutch master Jan Steen between 1665 - 1668.1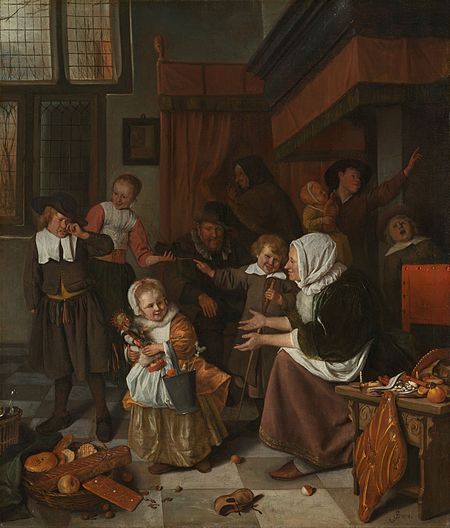 The Feast of Saint Nicholas by Jan Steen can now be found in the Rijksmuseum in Amsterdam. It measures 82 x 70.5 cm. The picture, painted in the chaotic Jan Steen style, depicts a family at home on December 5, the night celebrated in the Netherlands as the Feast of Saint Nicholas, or Sinterklaas. 1
Here is a detailed explanation of the painting and letting you know just what Caroline, Jane and their mother Elisabeth might have been up to yesterday.