There are many, many ways humans have had to face disasters in their lives ever since we first walked the lands of this planet: wars, genocide, natural disasters, tragically recur all too often throughout our world.
In Australia this week Queensland has faced the greatest flood crisis it has experienced in 100 years and this is the Australian state that frequently faces devastating damage from cyclones. The area affected is greater than the size of New South Wales- more than 1.3 million square kilometres. The city of Townsville, which is known as the driest coastal city in Northern Queensland has experienced to the west over 1.6 metres of rain in one week!!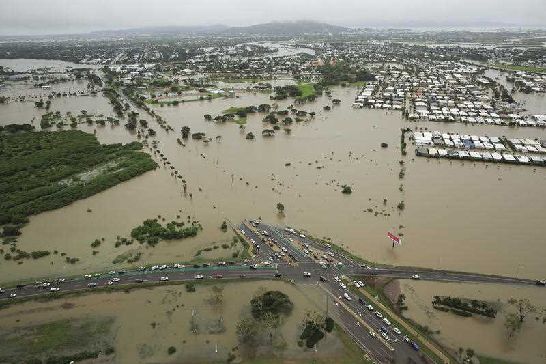 (Credit: SBS)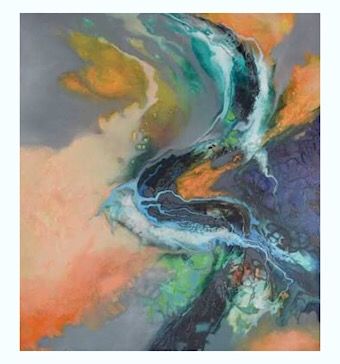 (Credit: Pinterest)
Across the Top End by Astrid Dahl.  
(Credit: Bluethumb)
Down here in the south our problem at this time of the year is bushfires. Tasmania has been ravaged by fires for several weeks with nearly 3% of Tasmania either burnt or burning. Many properties have been lost. There is also grave concern that the fire is now at the very edge of the largest remaining forest of thousand-year old King Billy pines in the world. (theguardian)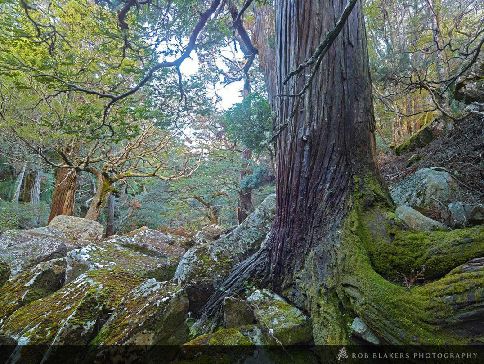 (Credit: Forest/Rob Blakers)
In Victoria where I live all our bushfires are at the moment under control. A special thought however to W of Toora whose childhood home town of Walhalla (Gippsland) is under siege.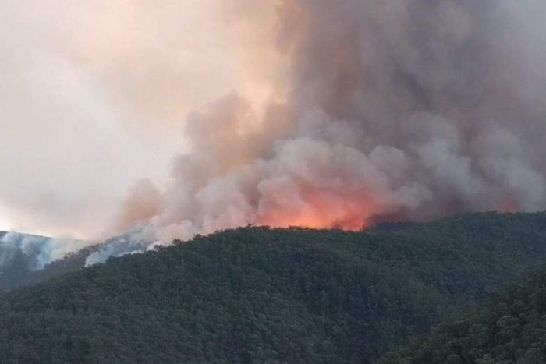 (Credit: ABC)
Australian artist Fred Williams (1927-1982) captured graphically the pending disaster in Approaching Bushfire (1968).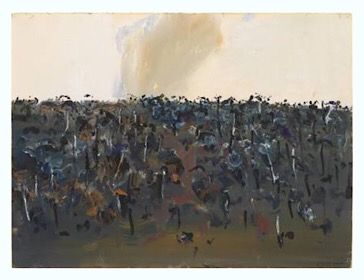 (Credit National Gallery Victoria)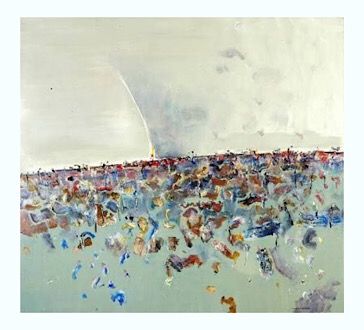 (Credit: Cooks Hill Galleries)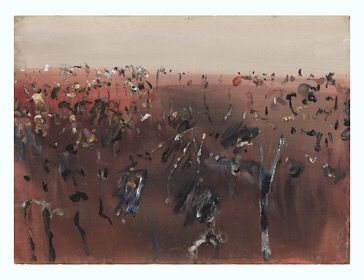 (Credit: National Gallery, Victoria)
The Hero Image today is a slice from one of Fred Williams bushfire paintings- this one untitled. It is in the collection of the National Gallery of Australia, Canberra.
This week is the Tenth Anniversary of the 2009 Victorian Bushfires, one of the worst natural disasters in the state's history. As part of this state-wide commemoration the Victoria Police Museum is holding an exhibition opening on Thursday, February 7 at 637 Flinders Street, Melbourne.
The exhibition pays tribute to the personal journeys and reflections of community members and police officers who experienced the 2009 Victorian Bushfires. Through portraits by acclaimed photographer Lilli Waters and written personal reflections this exhibition celebrates the courage and resilience of these people 10 years after the event of 2009. (policemuseum.vic.gov.au)
I will be viewing the exhibition at some stage and will report back to you. We salute the courage of the people who help in times of disasters (many of whom are volunteers) and acknowledge the strength of those who rebuild their lives.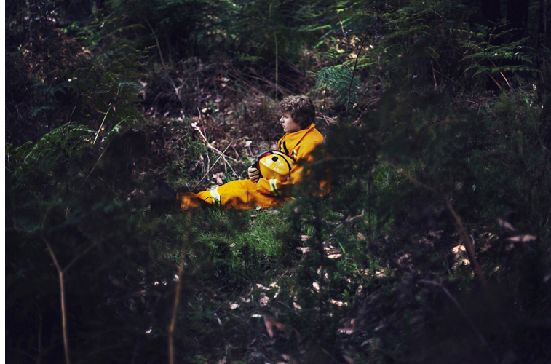 (Credit: Lilliwaters.com)
Our thoughts and prayers are with all people facing the renewal of their lives but especially today the Queenslanders and Tasmanians who tragically know only too well the world Dorothea Mackeller described in her famous poem:
My Country
The love of field and coppice
Of green and shaded lanes,
Of ordered woods and gardens
Is running in your veins.
Strong love of grey-blue distance,
Brown streams and soft, dim skies
I know, but cannot share it,
My love is otherwise.  
I love a sunburnt country,
A land of sweeping plains,
Of ragged mountain ranges,
Of droughts and flooding rains.
I love her far horizons,
I love her jewel-sea,
Her beauty and her terror
The wide brown land for me!  
The stark white ring-barked forests,
All tragic to the moon,
The sapphire-misted mountains,
The hot gold hush of noon,
Green tangle of the brushes
Where lithe lianas coil,
And orchids deck the tree-tops,
And ferns the warm dark soil.
Core of my heart, my country!
Her pitiless blue sky,
When, sick at heart, around us
We see the cattle die
But then the grey clouds gather,
And we can bless again
The drumming of an army,
The steady soaking rain.
Core of my heart, my country!
Land of the rainbow gold,
For flood and fire and famine
She pays us back threefold.
Over the thirsty paddocks,
Watch, after many days,
The filmy veil of greenness
That thickens as we gaze ...
An opal-hearted country,
A wilful, lavish land
All you who have not loved her,
You will not understand
though Earth holds many splendours,
Wherever I may die,
I know to what brown country
My homing thoughts will fly.
.........................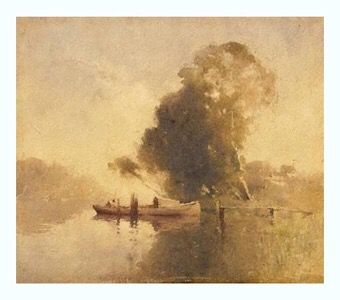 (Credit: Art Gallery New South Wales)