Dale Chihuly at Kew Gardens: Reflections on Nature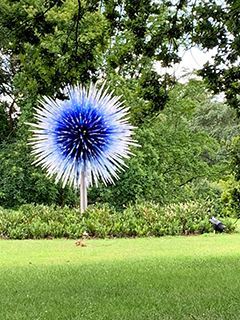 To see The Dale Chihuly Glass Sculptures is up there with all my other Bolt of Lightning Art Experiences. Yes I can find some words to express the beauty, the grandeur but they fail to capture the impact these works had on me. The are spectacular, illuminating, awe-inspiring, yet harmoniously compatible with the environment. The first sculpture you see as you enter the gardens is Sapphire Star as shown above.
And then you come ot the Neodymium Reeds and Turquoise Marlins.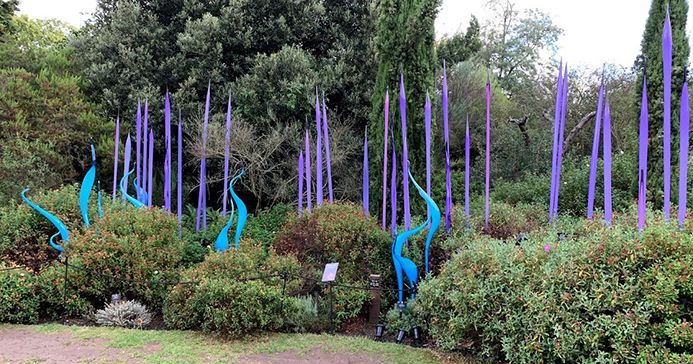 One can only wonder what kind of genius thought of blowing human breath down a metal tube, forming a bubble inside a molten blob of glass. And to think that this molten blob of glass is made only of silica or sand, the most common material in the world, that can be transformed from a solid to a liquid to a solid just from fire. For me it's the most mysterious and magical of all the inventions or materials that mankind has invented or discovered. Since I was a little boy I always loved glass. And 34 years ago I put a pipe into some stained glass that melted in my basement, and blew a bubble. Since that moment I have spent my life as an explorer searching for new ways to use glass and glassblowing to make forms and colors and installations that no one has ever created before— that's what I love to do. Dale Chihuly, 2000 (chihuly.com)
The pathway to the Temperate House was lined with Cattails and Copper Birch Reeds.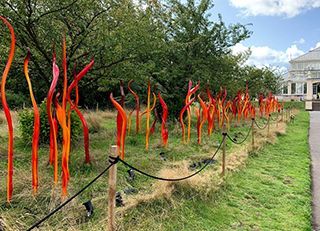 Dale Chihuly has always pushed the boundaries of glass, experimenting with improbable forms and electric colours, blowing glass until it's impossibly thin, making works composed of hundreds of individual pieces and in sizes that require immense physical power as well as skill. But, as a major exhibition opened in London's Kew Gardens demonstrates, his organic work is also beautifully at home in landscapes of lush greenery and vegetation.
With 32 artworks displayed in 13 different locations, both indoors and out, Reflections on Nature is a seductive invitation into a world of dazzling glass and a way of bringing art lovers to gardens and garden lovers to art according to the artist's wife, Leslie Chihuly, who joined her husband at the press view. The showstopper is undoubtedly the 9m long pendant of intricate blue- green Temperate House Persians (2019) suspended from the ceiling of the recently restored glasshouse and created especially for the Kew exhibition. (wallpaper.com)
Inside the Temperate House are many of the sculptures nestled in amongst the vast and amazing display of plants from all around the globe. Each of the sculptures has been carefully placed to live amicably within the vegetation except perhaps for the spectacular central piece that cascades majestically from the glass domed ceiling.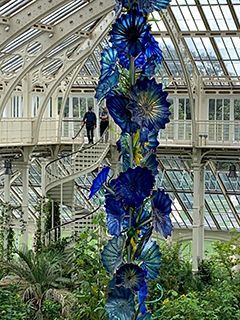 And here are some of the Dale Chihuly glass plants - not imitating nature but rather recreating it.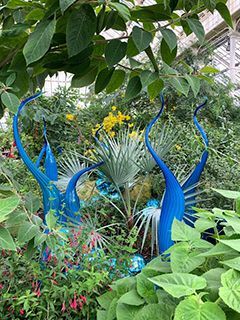 Some Chihuly plants are in contrast to the surrounding growth, others are in tonal company- just like in nature.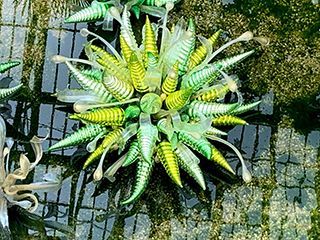 Outside in the endless gardens can be found several more glass sculptures.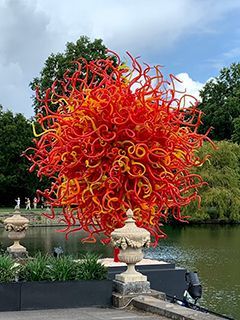 Interestingly, one of my friends commented that the The Crochet Coral Reef created by Christine and Margaret Wertheim has similarities to the Chihuly works.
The whole time I was appreciating these remarkable works of art all I could think of is that they are like a score of music. Not the instruments so much though I can understand the sculptures being seen in this way. But to me the sculptures play a symphony, a chord, an arpeggio. A long way back in our blog history I talked you a little about the American artist James Abbott McNeill Whistler and how he saw a parallel between painting and music and titled many of his paintings arrangements, harmonies, and nocturnes, emphasizing the primacy of tonal harmony.(Wikipedia)
Whistler's famous signature for his paintings was in the shape of a stylized butterfly possessing a long stinger for a tail and somehow this is a perfect ending to today's Dale Chihuly exhibition.
If you are a fan of glass sculpture you might like to watch this video of Chihuly in the Atlanta Botanical Garden. You might also enjoy learning more about this remarkable artist on the Dale Chihuly website.