Colours of the Outback Opal Fields with Rowdy Wylie
I would like to acknowledge and be respectful of the Ramindjeri and Ngarrindjeri Clans of the Coorong and the Southern Fleurieu Peninsula regions as Traditional Custodians of the land and oceans where I live and create works of art. John "Rowdy" Wylie
Hi everyone - did you see
Rowdy Wylie's
paintings on the
Colours of the Australian Outback
? If not, please
click here
.
Rowdy is also creating a series of paintings on Colours of the Outback Opal Fields with the first of these Diggers Paradise shown below in The Shed...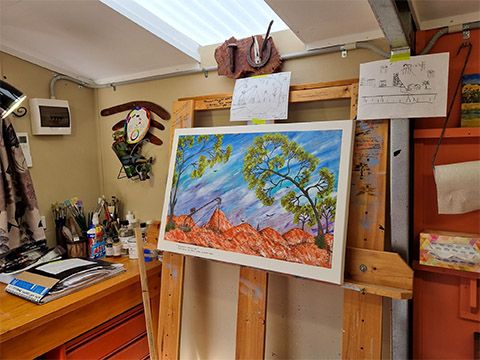 Composition Details:
TITLE: Diggers Paradise
The Leaning Tree Opal Claim – Lightning Ridge NSW
(Series: Colours of the Outback Opal Fields)
ARTIST: John Rowdy Wylie
MEDIUM: Oil on Stretched Canvas (unframed)
SIZE: H60cms x W90cms
DATE:2023
First, let us look at the composition which features a simple digger as used in the opal fields. The small mounds of red earth are the only real evidence of the enormous workload employed to mine for opals. Above the industry are three of Rowdy's iconic gum trees keep watch over the landscape - knowing that this is a stunningly beautiful country but harsh and cruel for those who choose to seek their fortunes under ground.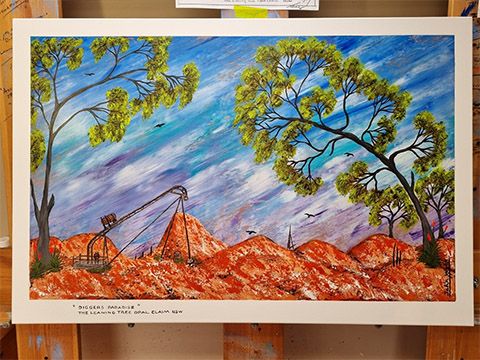 In terms of Rowdy's palette - he had used, with tonal variations, the two primary colours of red and blue accompanied by the secondary colour green - for dramatic contrasting effect.
Let's zoom in closer to examine the features...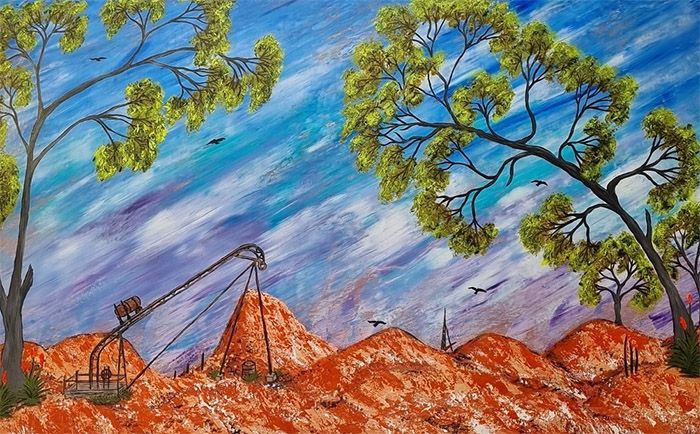 The sky always dominates an Australian landscape as it really is huge DownUnder! Rowdy sees the colours of the opals in the sky and creates the effect in a kaleidoscopic expanse of brilliance. I believe you will be seeing a series in the future on opal fields in the sky.
Take a moment also the look carefully into the soil where Rowdy has used his paint palette and knife to create the texture of the gloriously rich landscape which always features in his paintings.

Rowdy Wylie is a member of the Victor Harbour Regional Gallery and very soon we will be bringing you a series of posts on the development of the art community in Victor Harbor, Southern Fleurieu Peninsula in South Australia.