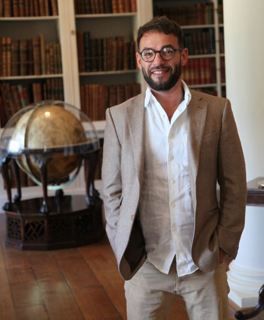 Sam, our on board Art Gallery Manager, captured our attention with a short lecture about Christian Hook, born 1971 in Gibraltar - yet another contemporary artist.
Christian studied illustration at Middlesex University, London before establishing a career as an illustrator for Disney and later lecturing in illustration at the Royal College of Art. Winner of the inaugural Clarendon Fine Art award, his interest lies in depicting motion, time and the moments that occur between events: We are always on the move, if not physically, mentally. This interest in the in-between is combined with an intense study of Cezanne's use of multiple view points to depict a single subject.
Although known for his portrait paintings, Christian covers a wide range of subjects. For the World Polo Event in London June 2015 his horses particularly display this sense of movement – this one displayed in the gallery seems to leap from the canvas.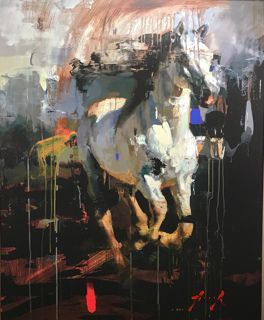 Christian Hook spent time in Japan and captures the mystery of Geisha girls also on display in the gallery - only showing the nape of their necks - somehow they still evoke a sense of movement.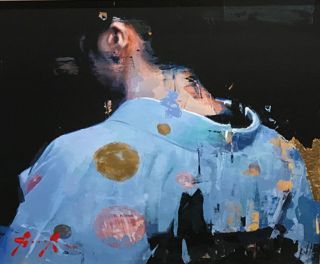 Christian was named as Sky Arts Portrait Artist of the Year 2014. The tense final, broadcast on Sky Arts at Christmas, was held at the National Portrait Gallery in London and was the culmination of a 10 month search for the most talented portrait artist in the UK and Ireland.
Christian won with a portfolio of work completed throughout the series including his final two pieces, a commission portrait of former two time world champion boxer Amir Khan and a portrait painted live in the gallery of acclaimed actor Sir Ian McKellen. His prize was £10,000 commission to paint a portrait of award-winning actor Alan Cumming for The Scottish National Portrait Gallery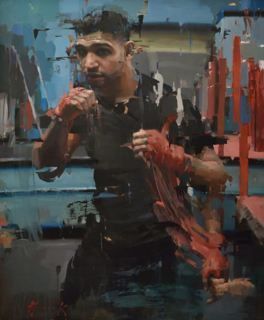 Christian cites Antonio Lopez, Lucien Freud, Frank Auerbach, Richard Diebenkorn, Francis Bacon and Gerhardt Richter as important influences. His work is included in numerous collections including His Royal Highness Prince Edward and Althorpe, home to the Spencer family.
Working in Gibraltar at the southern tip of Europe between the Atlantic and Mediterranean Oceans, there is within each painting sense of the interweaving of Hispanic folklore iconography and the remnants of British colonialism.
He was awarded the Freedom of the City of Gibraltar in 2017. To gain a better appreciation of Christian's achievements and innovative art works, enjoy this clip - 7 sweet minutes.
I hope you have enjoyed looking at some of today's contemporary artists over the last 3 days - perhaps they will become the Van Goghs or Monets of the future.
Credits: text taken from ClarendonFireArtGallery.com and from the lecture given by Sam, Art Gallery Manager, representing Clarendon Fine Art, on board Cunard's Queen Elizabeth.
Photos: My own unless otherwise stated.