Champions lift Melbourne Spirit
As everyone knows Australia is a great sporting nation and Melbourne annually hosts three of the world's premier events: the Melbourne Cup Horse Race, the Grand Prix Car Race and the Australian Open Tennis Championship.
As everyone also knows Melbourne has been locked in as a result of Covid more than any other city in the world - so we were rather keen to learn that the Australian Open Tennis Championship would be going ahead and open to public.
And we had a raft of home grown players we hoped would go deep into the competition. Top of our list was Ipswich (Queensland) local girl Ash Barty, a proud Ngarigo woman and beloved Aussie and not only for her sporting prowess: her humility, dignity and commitment to a sense of self and place. Likewise, our hopes were high for multiple tennis awards champion Dylan Alcott who had just been made Australian of the Year - a remarkable Aussie and role model to so many.
Ash Barty did reach her tennis goal to be crowned Australian Open Tennis Women's Champion 2022 to add to her collection of winning the French Open at Roland Garros and British Open, Wimbledom in 2021.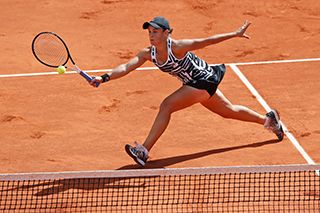 But, hang on a moment - what is Ash doing in an artist's studio? Below we see her with acclaimed Brisbane artist Ashvin Harrison. Is Ash about to swap a tennis career for life as a painter?
To find out please follow this link to What are Ash and Ashvin up to.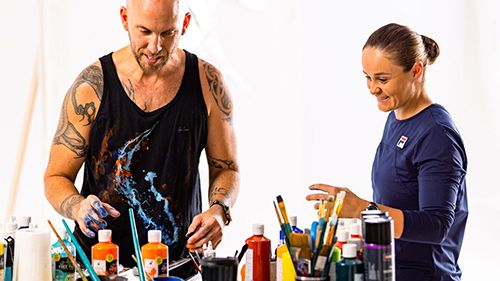 The remarkable Dylan Alcott did not win the Australian Open this year to add to his many international sporting achievements - he was runner-up to Sam Schroder, the brilliant rising sports star from the Netherlands.
But like Ash Barty, Dylan plays tennis as a passionate job but not as a way to define who they are.
Dylan will now spend the year working as Australian of the Year to bring about a change in the way people with a disability are perceived. In his acceptance speech he said:
To be named Australian of the Year and to get it for not just being good at tennis, but for the work off the court … my purpose 10 years ago, yesterday, today and as Australian of the Year, it's never changed," he said.
"It's not to win tennis tournaments, it's to change perceptions so people with disability live the lives that they deserve to live.
"To be given that honour, to hold that platform to be able to do that, it's huge, and I'm just so grateful and thankful … it's unbelievable."2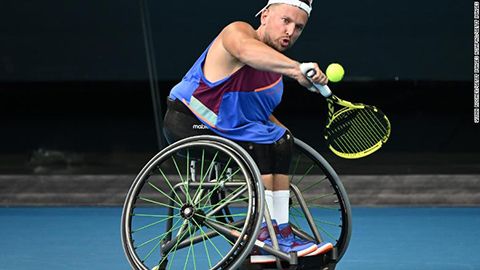 And we have another beloved sporting star in Australia - not an Aussie - a Spaniard called Raphael Nadal - also loved and respected for much more than his sporting prowess.
His epic win against rising star Daniil Medvedev from Russia was his 21st singles grand slam title - an achievement never reach by any other tennis player.
Rafael and his mother, Ana María Parera, created the Rafa Nadal Foundation in 2008 which is based upon the belief that every child and youth should have access to equal opportunities now and in the future. Through our projects in Spain and India, we work alongside with them to make the most of their abilities, empowering them and fostering values such as self-improvement, respect and effort. (6)
From the beginning, sport and education are our best allies, which all our projects are based on. (6)
English painter Philip Johnson posted his portrait of the Awesome Rafael Nadal on Twitter this morning.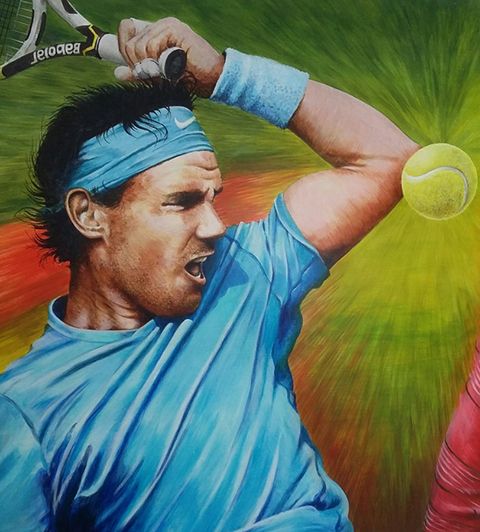 Credits
1. nytimes
2. abc.net.au
3. cnbc.com
4. ashvinharrison.com
5. cnn.com
6. fundacionrafanadal.org
7. realistportraits.com