Celebrating the Life and Remarkable Achievements of Desmond Mpilo Tutu (7 Oct 1931-26 Dec 2021)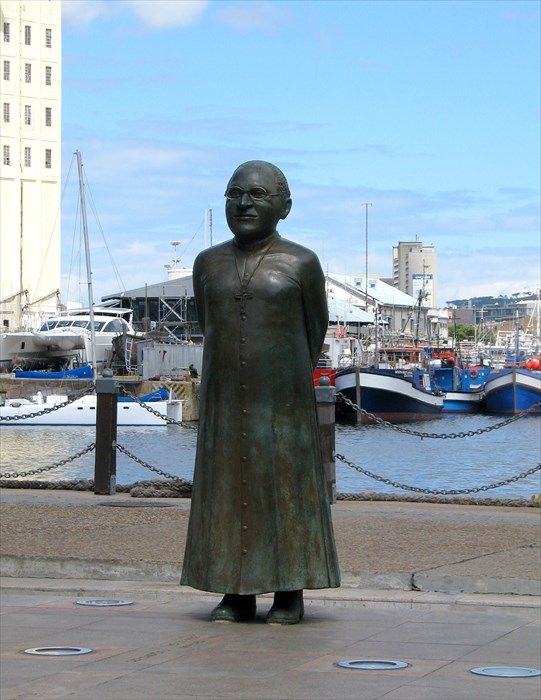 Archbishop Desmond Tutu, the Nobel Peace Prize-winning Anglican cleric whose good humor, inspiring message and conscientious work for civil and human rights made him a revered leader during the struggle to end apartheid in his native South Africa, has died. He was 90.2
In a statement confirming his death on Sunday, South African President Cyril Ramaphosa expressed his condolences to Tutu's family and friends, calling him "a patriot without equal."2
"A man of extraordinary intellect, integrity and invincibility against the forces of apartheid, he was also tender and vulnerable in his compassion for those who had suffered oppression, injustice and violence under apartheid, and oppressed and downtrodden people around the world," Ramaphosa said. 2
Desmond Mpilo Tutu OMSG CH GCStJ (7 October 1931 – 26 December 2021) was a South African Anglican bishop and theologian, known for his work as an anti-apartheid and human rights activist. He was the bishop of Johannesburg from 1985 to 1986 and then the archbishop of Cape Town from 1986 to 1996, in both cases being the first black African to hold the position. Theologically, he sought to fuse ideas from black theology with African theology.3
Desmond Mpilo Tutu was born of mixed Xhosa and Motswana heritage to a poor family in Klerksdorp, South Africa. Entering adulthood, he trained as a teacher and married Nomalizo Leah Shenxane in 1955, with whom he had four children. In 1960, he was ordained as an Anglican priest and in 1962 moved to the United Kingdom to study theology at King's College London. In 1966 he returned to Africa, teaching at the Federal Theological Seminary, South Africa, and then the University of Botswana, Lesotho and Swaziland. In 1972, he became the Theological Education Fund's director for Africa, a position based in London but necessitating regular tours of the African continent. Back in southern Africa in 1975, he served first as dean of St Mary's Cathedral in Johannesburg and then as Bishop of Lesotho; from 1978 to 1985 he was general-secretary of the South African Council of Churches. He emerged as one of the most prominent opponents of South Africa's apartheid system of racial segregation and white minority rule. Although warning the National Party government that anger at apartheid would lead to racial violence, as an activist he stressed non-violent protest and foreign economic pressure to bring about universal suffrage.3
Below is the unveiling of a portrait of Archbishop Desmond Tutu which was commissioned to raise much needed funds for orphaned and abandoned HIV positive children in Africa.4
The artist is Richard Stone.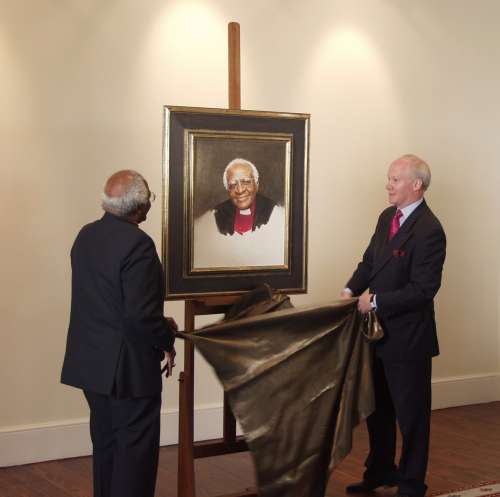 To read more about this remarkable man please click here.
And you might also like to watch this short BBC clip acknowledging the extraordinary life lived by Desmond Tutu. Presented by Sophie Raworth BBC News at Ten with reporting by Andrew Harding and Nomsa Maseko.
"Do your little bit of good where you are; it's those little bits of good put together that overwhelm the world."
― Desmond Tutu
Credits
1. waymarking.com
2. edition.cnn.co
3. en.wikipedia.org
4. richardstoneuk.com