Catching up with Rowdy Wylie in his Shed and Beyond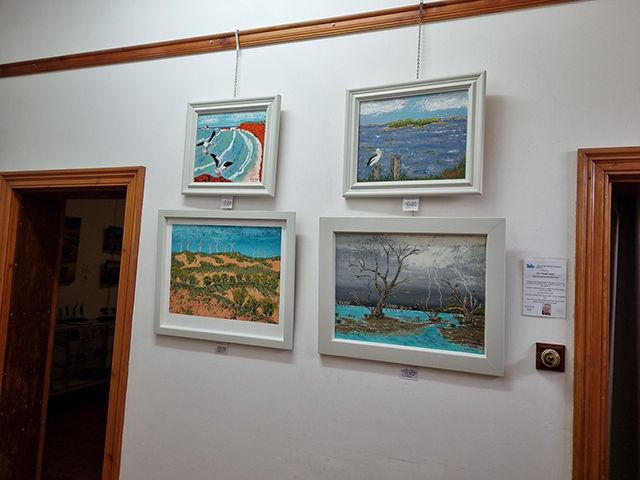 Rowdy Wylie loves Country whether it be the burnt arid landscape of Outback Australia where the spirit and strength of the [First Nations People] (https://aiatsis.gov.au/explore/australias-first-peoples) can be deeply felt.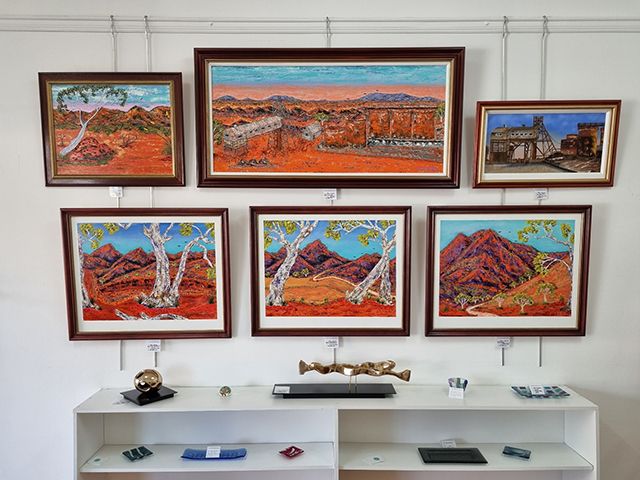 But like most of us Rowdy is descended from the early European settlers who mostly came with hope in their hearts of a second chance at creating a new life - exploring the outback and building their homes in what was then and still is, a very harsh land for white people.
Apart from creating his own wonderful paintings and making all his own frames, Rowdy likes to go in search of interesting prints which he reframes and rehomes from usually the Op Shop where they have been hanging unloved! Recently he discovered an interesting print of the Explorer Edward John Eyre and his Aboriginal companion Wylie. Of course both Rowdy and I are immensely amused by the Aboriginal carrying the same name as Rowdy, no doubt bestowed on Eyre's companion by Eyre himself or some other European settler. Wylie is a Scottish name with the clan coming from around the border with England a long way from this Wylie's Country in Western Australia.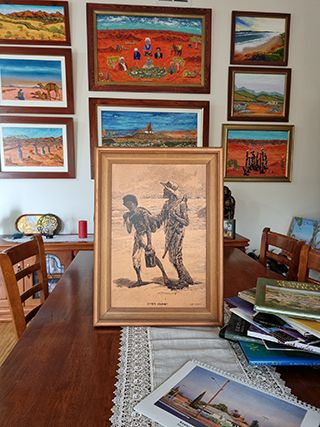 Rowdy has always been fascinated from his days as a young school student with the pioneers… Eyre & Wylie and their expedition together in the mid 1800s. Eyre, together with his Aboriginal companion Wylie, was the first European to traverse the coastline of the Great Australian Bight and the Nullarbor Plain by land in 1840 and 1841, on an almost 3218 kilometre trip to Albany, Western Australia.1
There is a momument to Eyre and Wylie on Tola Road, Whites Nob Scenic Lookout, Kimba, on the Eyre Highway at the top of Eyre Peninsula, South Australia.
Rowdy remembers that: what I got out of learning about the Eyre and Wylie Expedition was about the importance of relationship and how Eyre and Wylie, from all accounts, appeared to be respectful of each other and with this they survived the harsh Australian outback environment while on the expedition of the South Australian Eyre Peninsula and also southern Western Australia…
Rowdy goes on to say that: I have thought about painting this expedition scene… ( a similar initiative was painted by Jack Absalom about Captain Charles Sturt expedition up the Cooper… apparently Captain Sturt developed good relationships with the local clans…. They would provide advice about water holes & Captain Sturt would give them food they had shot etc…. Australian history is so interesting!!
We look forward to seeing an Eyre and Wylie painting by Rowdy Wylie in the future!
The Europeans discovered the great wealth that the Australian land holds in terms of precious minerals. And so the mining towns began to open up and Rowdy has brought us many paintings especially from the South Western New South Wales city of Broken Hill. Below is my favourite Wylie mining painting of the Junction Mine, Broken Hill.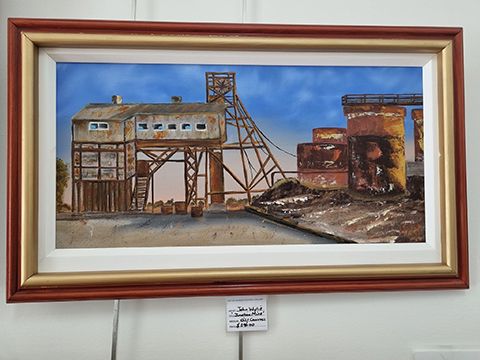 Rowdy created this painting back in 2019 and I personally love it as it embodies so much I love about the structure of a mine particularly the head frames and rusty metal. I must add that I come from a mining background in Central Victoria and so it is natural for me to find an affinity in these structures and the history they bring to our blog.
Rowdy tells us that: I am planning to paint another large B/H head frame on canvas… have started the "block in"… the view will be looking from the base of the structure to the sky…. a different perspective!!
And I must add at this point that Rowdy is preparing a new painting for our recognition of ANZAC DAY on 25 April - I believe commemorating those that served in the Gallipoli campaign of WWI.
And now to conclude with a last look at some more of Rowdy's painting which are being displayed at the moment in the Victor Harbor Regional Gallery - just in case you have to be passing by!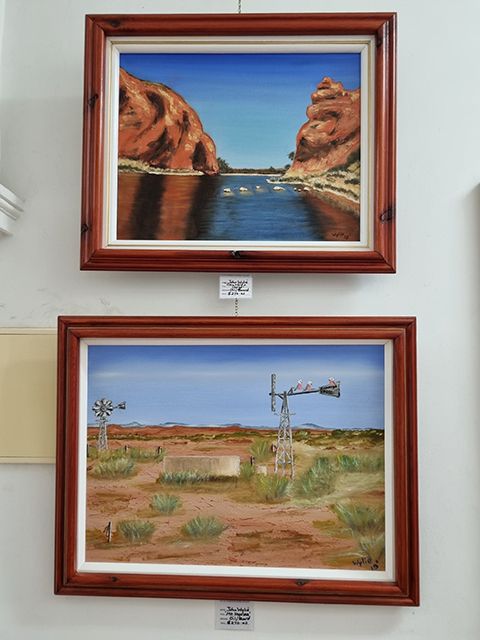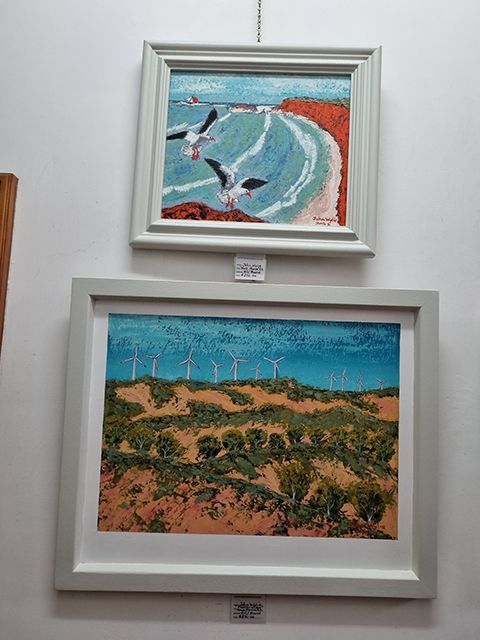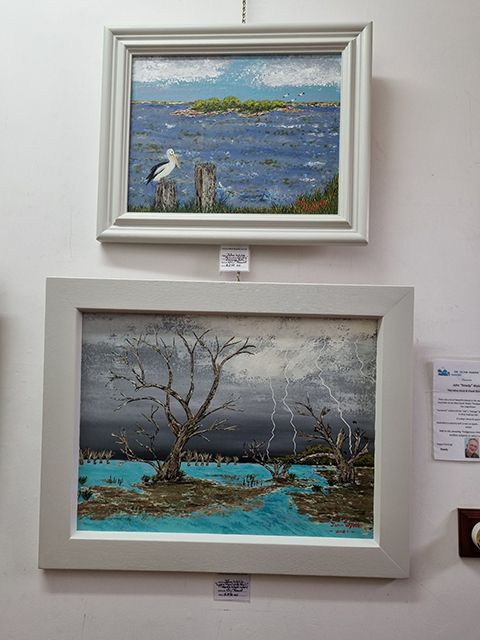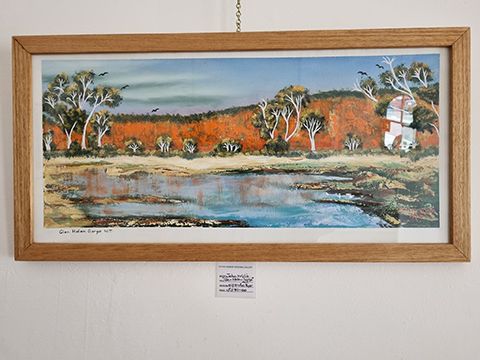 A huge thank you to Rowdy Wylie for his wonderful contribution to the AnArt4Life blog as a team member and contributor. Your generosity in sharing your artistic journey and thoughts with us makes our art blog so very personal and very special.
We are very honoured that so many artists are so willing to share their journeys and works with us and we thank you all. Coming up soon we will be catching up with Tendai Makufa in South Africa as I believe he has a new painting to show us.