Canaletto's British Period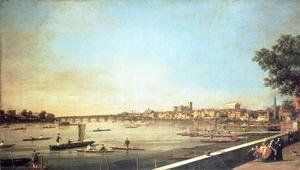 Canaletto arrived in London in 1746 and stayed for 10 years. What was London like at this time? I wonder if Canaletto was aware that the Industrial Revolution was about to start?
He would have known there was a war going on, (in fact there were several wars in different parts of Europe), which, in one way or another, seem to have been related to the Austrian Succession.
Possibly Canaletto left Venice because of this, but more likely it was because the British aristocrats were not inclined to take holidays away from home anymore. This meant that the market for Canaletto's paintings had started to dry up, a market that had been managed back in Venice by Joseph Smith.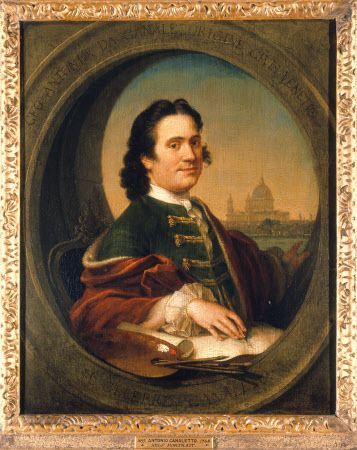 Canaletto was highly successful in England, thanks to the British merchant and connoisseur Joseph "Consul" Smith, who had patronised Canaletto back in Italy and introduced him to the British aristocracy who wanted beautiful paintings to decorate their majestic stately homes.
In the period from 1746 to 1756, Canaletto painted many views of London and other sites, especially castles, grand homes, and gardens, but most of all the River Thames and Westminster Bridge. Coming from Venice, no doubt Canaletto felt at home in the bustling life that occurred along, and on, the mighty river that dominates London City.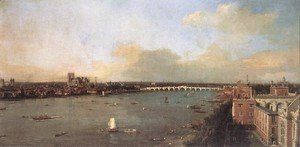 Canaletto is famous for his panoramic views across the waterways of Venice and London. One of his most spectacular scenes is The River Thames with St Paul's Cathedral on Lord Mayors Day, as shown below.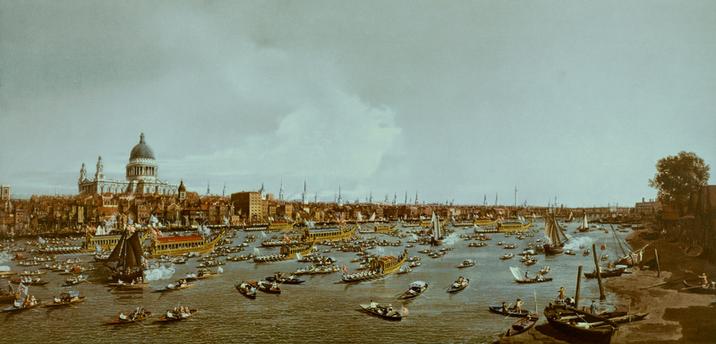 The detail in this painting is amazing.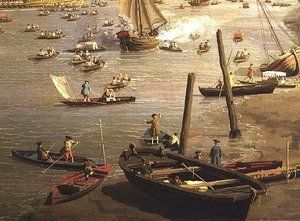 Canaletto also painted castles...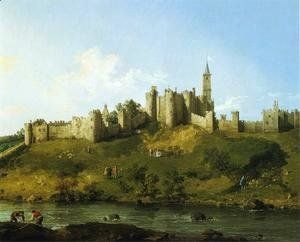 Stately homes and colleges...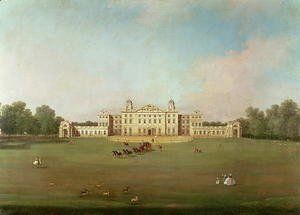 Ceremonies and significant churches...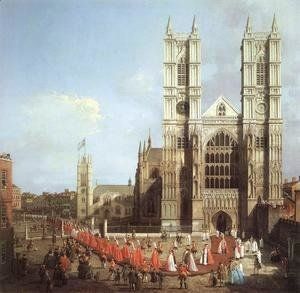 And Canaletto was obviously captivated by the glorious parks and gardens of London.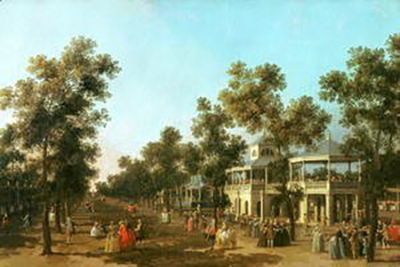 Canaletto was not only popular with the English aristocracy but also its artists.
Joseph Mallord William Turner revered the works of Canaletto so much that it is thought his trip to Italy to paint Venice was inspired by Canaletto, not the poet Byron, as argued by others.5
I love Canaletto's paintings but I do feel compelled to expose one little foible he had which became one of his strengths. He liked to move architectural features from their established positions and paint them into a new landscape! If you are using a Canaletto painting of Venice to find your way round you might find yourself slightly confused when some of the buildings just aren't there. Did they fall down? No, they were never there in the first place!
More on this in the next post on Canaletto.
Credits
canalettogallery.org
nationaltrustcollections.org.uk
artmarketstudies.org
heartheboatsing.com
Plant, Margaret, Venice: Fragile City, Yale University Press, New Haven, 2002