Canaletto: The Painter of Views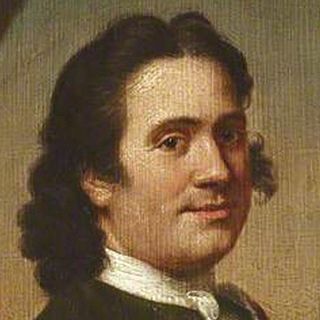 Giovanni Antonio Canal (1697-1768), better known as Canaletto, was a Venetian artist famous for his landscapes, or vedute, of Venice. He was also an important printmaker in etching.
He was a son of the painter Bernardo Canal, hence his mononym Canaletto ("little Canal"). His nephew and pupil, Bernardo Bellotto, was also an accomplished landscape painter, with a similar painting style. Sometimes he used the name "Canaletto" to advance his own career, particularly in countries — Germany and Poland — where his uncle was not active.
Canaletto was born in Venice on October 28, 1697, to Bernardo Canal and Artemisia Barbieri, and served his apprenticeship with his father and his brother. He began in his father's occupation, that of a theatrical scene painter. Canaletto was inspired by the Roman vedutista Giovanni Paolo Pannini, and started painting the daily life of the city and its people.2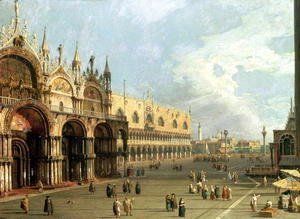 Canaletto not only recorded in paint and ink the daily life of Venice but also painted wonderful images of Rome, and even journeyed to London, which we will look at in another post.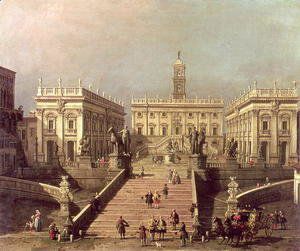 Whilst recreating remarkable images of the daily life that he could see, Canaletto also loved to create imaginary views (referred to as capriccio), which blurs the lines between the real and the imaginary. We will also return in a later post to examine the imaginary works of Canaletto.
Today I want to introduce you to some of the works of one of the world's greatest painters but I also want you to meet the man who most definitely helped make Canaletto famous. And this man's name was Joseph Smith.
Joseph Smith, often known as Consul Smith, (c.1682–1770), was the British consul at Venice from 1744–1760. He was a patron of artists, (most notably Canaletto), and a collector and connoisseur, banker to the British community at Venice and a major drawcard on the British Grand Tour. His collection of drawings and paintings were bought for George III of Great Britain and form a nucleus of the Royal Collection of drawings in the Print Room at Windsor Castle. 3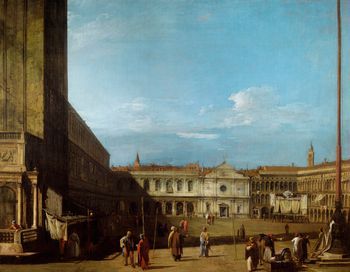 We can learn a little more about Joseph from the site of The Royal Collection Trust.
The merchant and banker Joseph Smith moved to Venice in the early 1700s. He began to collect and deal in paintings and books. In the early 1720s, he first met Canaletto, who had recently begun to paint Venetian views. Realising the artist's potential, Smith gave him an important commission to make a set of six paintings for his palazzo on the Grand Canal. The paintings depict the area around San Marco, the civic and religious heart of Venice.4
Let us take a little look at some Canaletto paintings of Venice. The canals feature greatly as you would expect, because, if you have ever been to Venice, you will know that they offer any artist amongst the greatest scenes on Earth to paint.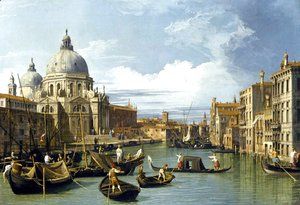 It is wonderful to look at these images close up and marvel at the detail. Canaletto was a master of his craft.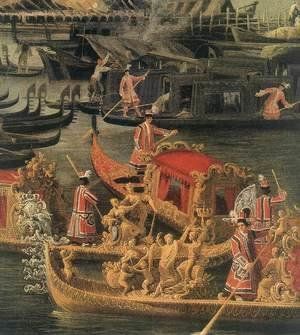 Canaletto also painted scenes of Rome and other cities in Italy.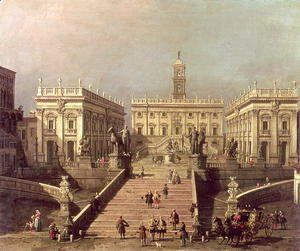 In fact, Canaletto travelled considerably during his life-time, and below are paintings of Dresden and Warsaw.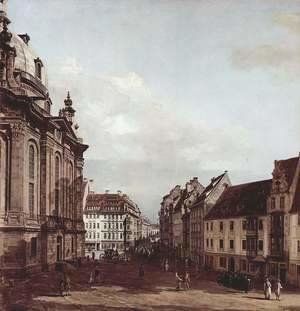 Joseph Smith did eventually run into financial difficulties and sold his collection to George III of Britain, and this is how the British Royal Collection came to include so many Canalettos.
But Smith not only collected art works for himself, he ran a roaring trade in selling Canalettos to British aristocrats on the Grand Tour. And from what I have read, it was probably Smith who encouraged Canaletto to move to England. Of course, Canaletto knew there were many British aristocrats waiting there for him to decorate their homes with his creative pieces.
So tomorrow we're off to London to look at some of the images Canaletto produced while living in England.
Credits
sothebys.com
canalettogallery.org
en.wikipedia.org
rct.uk