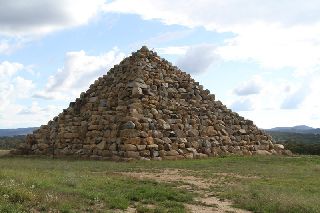 (Credit: Wikipedia)
The pyramid was built after a local resident, Peter Watters (Watters Vine Management Service), asked the land owner Stewart Morland what was to be done with the surplus amount of granite rocks that were excavated for land tillage, humorously suggesting that a pyramid could be constructed. Four hours later Morland decided to build the pyramid and contracted the work to Ken Stubberfield at a cost of $1000. It took 8 months to build. (Wikipedia)
In architecture, a folly is a building constructed primarily for decoration, but suggesting through its appearance some other purpose, or of such extravagant appearance that it transcends the range of garden ornaments usually associated with the class of buildings to which it belongs. (Wikipedia)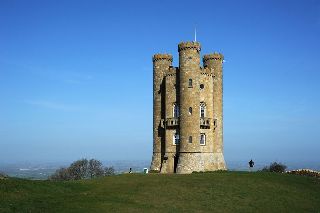 (Credit: Saffron Blaze)
Whilst the Saxon tower started life as a folly it has risen (forgive the pun!) to become significant for a couple of reasons. It was the brainchild of the C18th landscape architect Capability Brown (real name Lancelot Brown) and designed by the famous James Wyatt in 1794 in the form of a castle. The tower was built for Lady Coventry in 1798–99 on a beacon hill, where beacons were lit on special occasions. Lady Coventry wondered whether a beacon on this hill could be seen from her house in Worcester — about 22 miles (35 km) away — and sponsored the construction of the folly to find out. Indeed, the beacon could be seen clearly! (Wikipedia)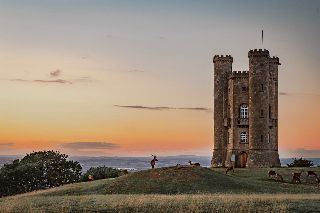 (Credit: @BroadwayTowerUK)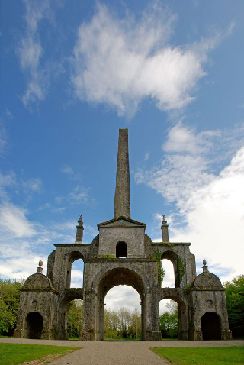 (Credit: Ilja Klutman)
The folly was built within Castletown Estate (containing Castletown House), which contains two follies, both commissioned by Katherine Conolly, the philanthropic widow of Speaker William Conolly, to provide employment for hundreds of the poor of Celbridge when the famine of 1740–41 was at its worst. The Obelisk was built in 1740 after a particularly severe winter. As a folly, it could be seen from the back of Castletown some 4 kilometres (2.5 miles) away and it is built exactly perpendicular to the house. It was intended to mark the rear entrance gateway to Castletown house in conjunction with an avenue leading to the house.
   The folly was built on land that was near to, but not on, the Conolly estate. It therefore belonged to neighbouring Carton, the home of the FitzGerald family, Dukes of Leinster.   Designed by Richard Castle, it is 42 metres (140 feet) high and is composed of several arches, adorned by stone pineapples and eagles, topped by a massive obelisk pillar. It was restored in 1965 by the Irish Georgian Society...thanks to the generosity of Rose Saul Zalles. Its restoration was the Society's first major project. (Wikipedeia)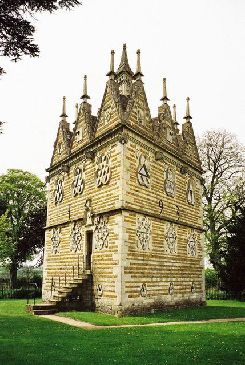 (Credit: Chris Downer)
Tresham was a Roman Catholic and was imprisoned for a total of fifteen years in the late 16th century for refusing to become a Protestant. On his release in 1593, he designed the Lodge as a protestation of his faith. His belief in the Holy Trinity is represented everywhere in the Lodge by the number three: it has three walls 33 feet long, each with three triangular windows and surmounted by three gargoyles. The building has three floors, upon a basement, and a triangular chimney. Three Latin texts, each 33 letters long, run around the building on each facade. (Wikipedia)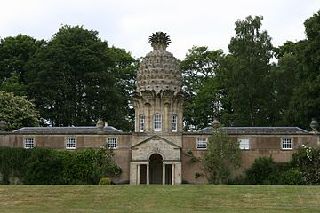 (Credit: Wikipedia)
Dunmore Park is the ancestral home of the Earls of Dunmore and within the grounds are two large walled gardens used to shelter the plants from the harsh climate and allowing for the cultivation of more tropical plants such as pineapples.  
The building at Dunmore, used originally as a garden hothouse and summerhouse, had its iconic giant pineapple added as something of an afterthought. The original Palladian-style lower story was built around 1761, and did not acquire the enormous fruit hat – which housed a modest pavilion inside – until 1777 after Lord Dunmore's return from the Colony of Virginia. Returning sailors of the time often placed a pineapple, the exotic proof of distant travels, on a gatepost to announce their return from abroad. This, then, is Dunmore's announcement. The architect is unknown. (atlasobscura.com)
The Hero Image is of Clavell Tower also known as Clavell Folly or the Kimmeridge Tower. It is a Tuscan style tower built in 1830 by the Reverend John Richards Clavell of Smedmore House as an observatory and folly. It is located on the Jurassic Coast, on the top of Hen Cliff just east of Kimmeridge Bay in the Isle of Purbeck in Dorset, England.  The tower is about 35 feet (11 m) high and rises over what is known as Hen Cliff which rises about 330 feet (100 m) above the sea. The main tower is constructed of mortared selected stone and the windows are formed from brick. In total the tower has four floors; a stone ground floor, a wooden first, a wooden second and a wooden third floor. The tower is surmounted upon a shallow stone basement. Access to the first and second floors would have been accessible solely via a ladder. (Wikipedia)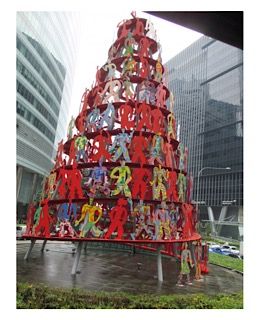 It would function perfectly as a gazebo offering protection against those tropical downpours.