Breakfast of the Birds by Gabriele Münter
E in London sent this image which reminds all of us to look out our windows and take in the beauty of nature.
Sending special wishes to all our subscribers and followers around the world as you sit down to your Sunday breakfast.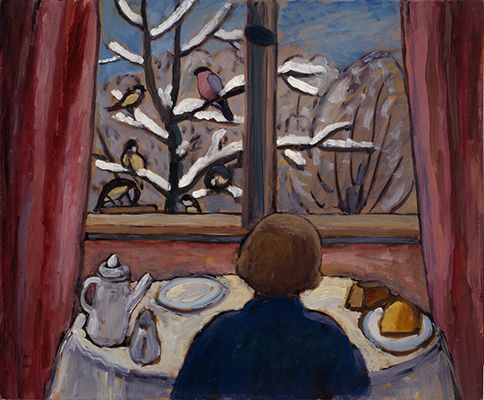 Breakfast of the Birds by Gabriele Münter (1877-1962) exemplifies Gabriele Münter's expressionist style: thick, rapid brushstrokes, heavy, dark outlines, simplified forms, and compressed space. In the painting, a woman, sits indoors at a table arrayed with a meal. We share her view of snowcapped trees and a host of birds through the window. The heavy looking draperies that frame the window add an element of cosiness or claustrophobia, depending on one's perspective. This interior has been interpreted alternately as indicative of solitude and quiet reflection or entrapment and emotional isolation. With her back to the viewer, the woman portrayed here has been identified by some scholars as the artist herself.
In 1911, Münter and other artists, including Franz Marc, Alexei Jawlensky, and Münter's then-partner Vassily Kandinsky, founded Der Blaue Reiter (The Blue Rider), a progressive group based in Munich. Münter's work is often associated with the expressionist style practiced by members of this group, but she demonstrated a sense of self-awareness and individuality that she applied passionately to her vivid canvases. In the midst of the Nazi era, Münter ignored the limitations imposed on her as a radical artist and continued to produce still lifes, portraits, landscapes, and interior scenes, such as Breakfast of the Birds.1
Credits
National Museum of Women in the Arts, Gift of Wallace and Wilhelmina Holladay; © 2012 Artists Rights Society (ARS)/VG Bild-Kunst, Bonn/nmwa.org