Ben Quilty's Rorschach Works
The Rorschach test is commonly known as the Ink Blot test- a psychological test used to assess a person's personality characteristics and emotional functioning. I'm sure we have all had a go at making our own ink blots.
Ben Quilty has turned Ink Blots into an art form using the correct nomenclature Rorschach after the Swiss psychologist Hermann Rorschach who created the test.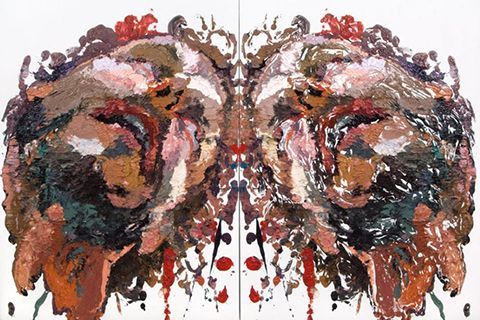 Quilty's most famous Rorschach image is a self portrait titled Smashed Rorschach (above) created in 2009.
This portrait epitomises much of what Quilty's works have been about: the destructive nature of youth masculinity.2
Note his use of quick brush strokes creating dashes and smudges of paint. From my reading I believe he uses a cake icing knife to apply the paint! Note the mirroring effect on the twin canvas - hence the Rorschach art technique which gives rise to reflection and interpretation.
If we turn the calendar back a year we see Quilty experimenting with this mirror image technique in the creation of a pair of skulls.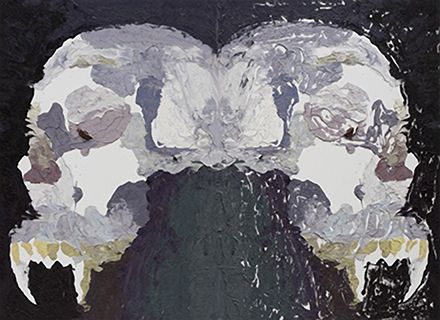 Rorschach 2 was created using oil and aerosol on linen. To my knowledge most of Quilty's Rorschach works have been created on linen.
With his signature thick, unabashed application of oils, Quilty has painted the left hand skull directly onto the linen, and then - still wet and piled high with paint - pressed the two panels together to create its inverse imprint. Through this unique strategy of doubling, Quilty creates a second image which he has not touched directly, complicating the idea of the "artist's hand" in the creation of a masterpiece. While the back-to-back skulls produce a powerful sense of symmetry, there is an acutely compelling tension in the subtle variations across the two sides of the picture plane. 3
Quilty has also applied his Rorschach technique to landscapes, one of the most well known examples being his reaction of a painting by early Australian artist Eugene von Guérard's painting of the North-east view from the northern top of Mount Kosciuszko.
Below is Eugene von Guérard's original painting which is one of my favourite paintings by the Austrian born artist, considered by the mid 1800s to be the foremost landscape artist in the colonies, especially in the southeast and New Zealand. I am assuming Ben Quilty chose this painting to react to because of von Guérard's reputation but also because Mt Kosciuszko is Australia's highest mountain and provides some of the most glorious scenery in our country.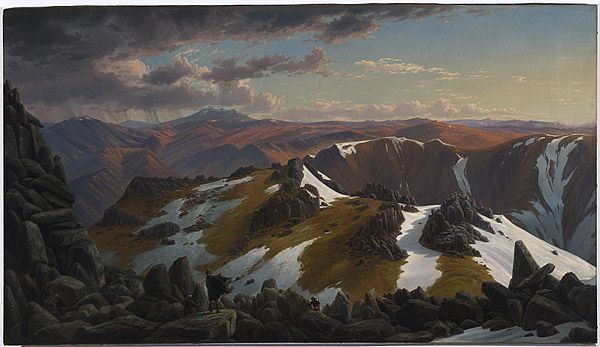 And here is Quilty's Rorschach style interpretation of the painting by von Guérard.

As I edit this Post from 2018, I learn that in 2019, Ben Quilty's painting graced the entrance to the Art Gallery of South Australia as part of an exhibition of his works. I don't know if the painting is still on exhibition. I quote from the gallery's Facebook page:
Although it is appreciated today as an exemplar of the Australian variant of the sublime tradition of European painting, the original work remained unsold (curiously, it was rediscovered in Mexico in 1973 by artist and critic James Gleeson, who championed its acquisition by the National Gallery of Australia). Using his signature lashings of oil paint, Quilty has copied the composition of von Guérard's painting and then pressed the still-wet panels into six unpainted panels to create a mirror of the original. Using this method, inspired by Hermann Rorschach's eponymous ink blots, introduced in the early twentieth century as a tool for psychological testing, Quilty attempts 'to force the viewer to "see" or recognise themselves in history in order to reassess our colonial past'.5
There is one more Quilty Rorschach landscape I would like to show you but the message Ben Quilty is conveying is confronting.
This painting is titled: Fairy Bower Rorschach.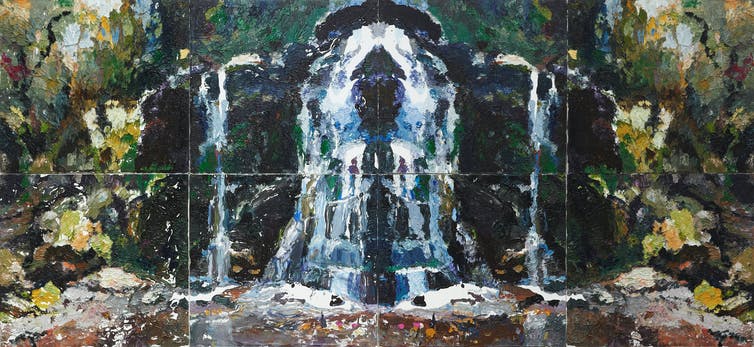 For an explanation and interpretation of this incredible painting I will quote from the Art Gallery of NSW, which states:
Fairy Bower Rorschach continues Ben Quilty's practice of oil painted Rorschach works where an original painted image is both damaged and duplicated by pressing one panel at a time onto another similar sized panel while the paint is still wet. The damaged and mirrored image is of a waterfall at Bundanoon in the Southern Highlands of New South Wales near where Quilty lives and works. Fairy Bower Falls is an idyllic and spectacular destination for tourists and locals. Photographs from the mid 19th century depict the full colonial splendour of women with parasols and men in top hats at the foot of the falls. Fairy Bower Falls is also reputedly the site of a massacre of scores of aboriginal people in the early 19th century.
By Rorschaching this image of such a precarious site Quilty asks the viewer to reconsider their conception of this landscape as a place of idyllic beauty. The duplication and damage of the image echoes the disturbing and violent history this site may have witnessed. This work continues Quilty's exploration of Australian identity and history.6
You have seen some of Ben Quilty's portraits but I have saved the best to last - his Archibald Prize winning portrait of our beloved Australian iconic painter Margaret Olley. Coming up soon.
Credits
Image courtesy of Tolarno Galleries, Melbourne, and Jan Murphy Gallery, Brisbane/theconversation.com
theconversation.com
annettelarkin.com
artsearch.nga.gov.au
agsa.sa.gov.au
artgallery.nsw.gov.au