Barbara Hepworth – A sculptor melding art and life
In the September mailbag, Anne mentioned that nature itself is the greatest art form in the world. I am sure we all agree with her. Today we will learn a little bit about a sculptor who used nature and landscape as her inspiration, sketching and carving many works, large and small, in wood, marble and bronze.
Barbara Hepworth (1903–1975) is held to be one of the most influential British artists of the 20th century in developing an international reputation in modern art, being deeply spiritual, and passionately engaged with the environment and change.
Whilst she also sketched and painted, she is most well known for her sculptures. They range from small to large outdoor monoliths, which she carved herself. Her works are a melding together of her perspectives on art and life, a spiritual integration of abstract forms with the many unique aspects of human life, as influenced by her own personal experiences and life events.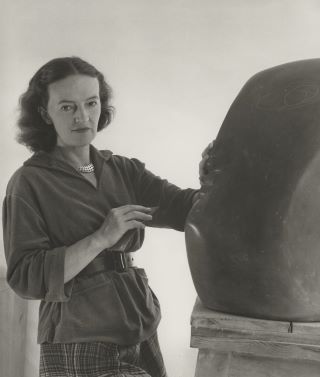 Barbara was born in Wakefield, Yorkshire on 10th January 1903. She had a fascination with shape and form and nature from an early age and knew that she wanted to be a sculptor even then. She remembered driving through the countryside with her family as a child, and noticing the shapes, bumps and ridges of the roads, hills and fields. She wanted to capture how it felt to be in both the ancient landscape and in the modern world. 1
She studied at the Leeds School of Art. Instead of making art that looked like people or things, Hepworth began to make sculptures and drawings using abstract shapes. In 1921, she won a scholarship to attend the Royal College of Art (RCA) in London and studied there and was awarded the diploma of the Royal College of Art in 1924.
She married a sculptor John Skeaping in 1925 and they had one son, Paul. However, in 1931 she fell in love with the abstract painter Ben Nicholson, and in 1933, she divorced Skeaping for him. In 1934 Barbara gave birth to triplets - Rachel, Sarah, and Simon. I am sure that must have been quite a life experience in itself! Ben and Barbara married in 1938 after his divorce came through. Barbara somehow managed to combine family life with art, and is quoted as saying " one is in fact nourished by this rich life, provided one always does some work each day; even a single half hour, so that the images grow in one's mind."
The family moved to Cornwall in 1939, and she lived the rest of her life there. In 1949 she set up a studio overlooking St Ives bay, called Trewyn Studios. Describing the Cornish land and sea, she wrote about how "the quality of light and colour" excited and inspired her. 2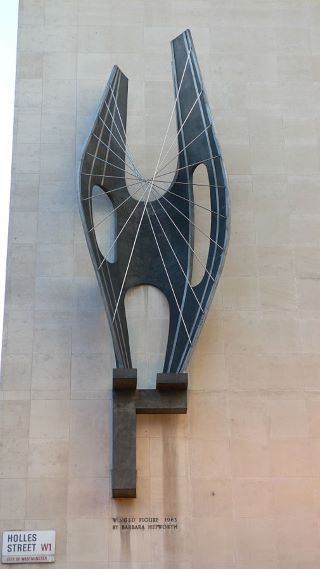 Sadly, Hepworth and Nicholson divorced in 1951, and Hepworth spread her wings. She moved away from working only in stone or wood and began to work with bronze and clay. Hepworth often used her garden in St Ives, which she designed with her friend the composer Priaulx Rainier, to hold her large-scale bronzes. The garden has a careful selection of plants with interesting textural and sculptural qualities, specifically chosen by Barbara to provide a setting for her expanding collection of sculptures. The garden continues to this day, still in its original form and containing large stone carvings and a group of bronze sculptures.
Her eldest son Paul was killed on 13 February 1953 in a plane crash while serving with the Royal Air Force in Thailand. She sculpted a memorial to him, called Madonna and Child, which is in the parish church of St Ives in Cornwall to this day. 3 Isn't it beautiful, with its simple but loving lines.....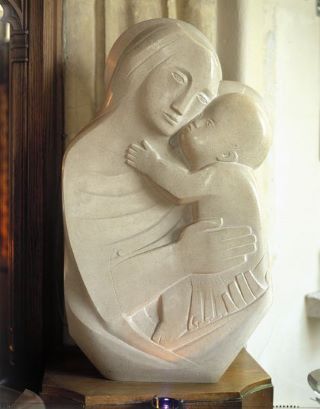 Barbara travelled extensively in Europe, particularly Greece and Italy, and collected stones and postcards along the way. She was inspired by ancient architecture and monuments, from Greek amphitheatres to the bronze-age standing stones of Men-An-Tol in West Cornwall.1
Though concerned with abstraction, she created work that was predominantly about relationships: between the human figure and the landscape; between forms presented side-by-side; between colour and texture; and between individuals and groups of people.4
The question has been asked why there are almost always circles of space in her sculptures. Hepworth gave the following reply: She said it was " a way to show the insides of the sculpture as well as the outside. It also let light through heavy blocks of stone, wood and metal. You can look through these pierced holes and spaces to frame the view behind."
Hepworth said "I think every person looking at a sculpture should use [their] own body. You can't look at a sculpture if you're going to stand stiff as a ramrod and stare at it. With a sculpture you must walk around it [or] bend towards it..."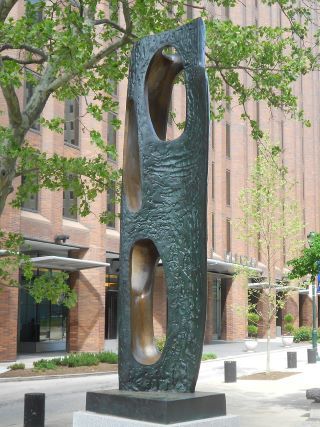 You might like to watch this short video of 3.53 minutes where she talks about her work and how she wants people to interact with it.
Barbara won widespread public recognition in the last years of her life, one of the few women artists to achieve international prominence. She was appointed Commander of the Order of the British Empire, CBE, in 1958 and Dame Commander of the Order of the British Empire, DBE, in 1965.
(As an aside, I was also interested to discover that Barbara's daughter, Sarah, married Alan Bowness, CBE, in 1957. He was a renowned art critic, historian and former director of the Tate Gallery from 1980 – 88 and only died in 2021, aged 93. Most of the photos of Barbara are copyrighted to him and his estate. Two of Barbara's children were also artists, so art certainly featured prominently in that family!)
Tragically, Barbara died in an accidental fire in her home and workplace, Trewyn Studio, on 20th May 1975, aged 72. What a terrible loss, far too soon.
Trewyn has since been restored and is now the Barbara Hepworth Museum and Sculpture Garden in St. Ives, Cornwall. Hepworth's works – from drawings to monuments – are shown there and at the Hepworth Wakefield Museum in Yorkshire. There have been numerous exhibitions around the world, and her work is treasured in public and private collections and civic spaces worldwide.1
More information:
There is a wonderful timeline and many photographs of Barbara's life at barbarahepworth.org.uk if you are interested to read more. Click here.
There is also a wonderful 3.23 minute video in which Dr. Chris Stephens discusses Hepworth's work:
Footnotes
Tate, Gallery, St. Ives
ysp.org.uk – Yorkshire Sculpture Park
Wikipedia
Heide Gallery, Melbourne