Australian Cubism - Grace Crowley
Grace Crowley (1890 – 1979) like Dorrit Black was a key Australian modernist who went to study art in Europe, travelling with her friend Anne Dangar who wanted to learn from Cezanne. Even though Grace was intending to study more conservative art styles she became caught up in modernism and returned to Australia a convert and went on to become one of Australia's first pure abstract artists. Here is one of her later works.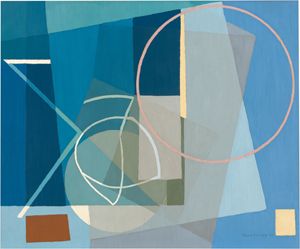 The abstract painting above is far cry from where Grace Crowley started, in the 1920s, with paintings such as the "Cow in a Field", 1924 below.......
And following that is Ena and the Turkeys, another early Grace Crowley done in 1924 which also illustrates her initial Impressionistic style which at first she clung to as others around her evolved into modernists.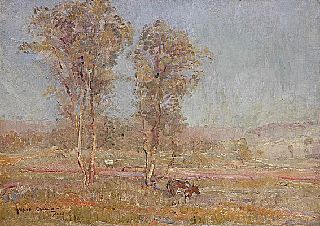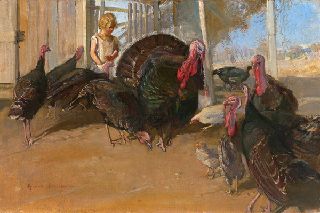 This softly spoken, well mannered woman eventually produced paintings, the likes of which no one in Australia has ever seen. In art, Grace broke all the conventional rules of the time.
Grace Crowley studied with André Lhote (as did Dorrit Black, as discussed in a previous post) and Grace became particularly interested in the theoretical principles of Cubism especially geometric abstraction, mastering the mathematics and becoming a teacher of the style back in Australia. The theory behind Cubism is difficult to understand so we will see what we can learn from the pictures!
All artists change their style as they develop new ideas, new learnings and new perceptions of the world. It is important to look retrospectively at the works of the great painters and try to imagine the struggles they endured to achieve the height of creativity.
It's important when we are painting (or photographing etc) to analyse our own strengths and weaknesses and then to decide on a couple of aspects to improve. At the moment Anne is working on her palette which, according to her, is too diverse saying *I'm trying to limit the number of colours I use and to be more aware of the relationship between colours... and I'm trying to "tone down" everything just a little bit!
Grace mastered everything about being a great painter judging by the portrait painting below: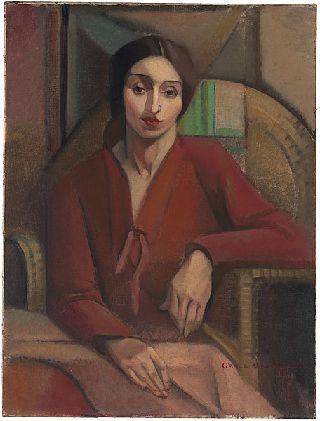 Grace Crowley called Anne Dangar "my staunch friend." They travelled, studied and supported each other on their respective journeys in art, even though Grace lived in Australia and Anne lived in France during the later years of her life.
Anne recalls one of Grace's responses about their art journeys: "A little Australian friend who has bravely tried to withstand the allurements of that unpopular, so called 'modern art' came and stood beside me. "When I first saw that picture," she said "I thought, "this is not art – the artist is mad," each time I see it I am more and more convinced this IS art – it is I who am mad''.
"Sailors and Models" below, is one of Grace's most famous paintings: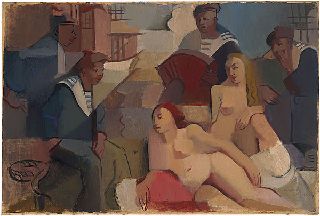 Grace Crowley said of her own learnings: "The first time I heard about dynamic symmetry and 'the section d'or' I knew that it was necessary to make a plan for a painting of many figures as an architect does for a building and then construct your personages upon it."
Look back to the "portrait study" above and you can see Grace's growing understanding of geometry emerging into simplified straight and curved lines, each triangle, rectangle in perfect harmony.
Grace had a great love of sketching the human body in her early years, and in her art journey this later translated into many portraits, albeit with a geometric focus. Here are a couple more examples, both of which were Archibald Prize finalists: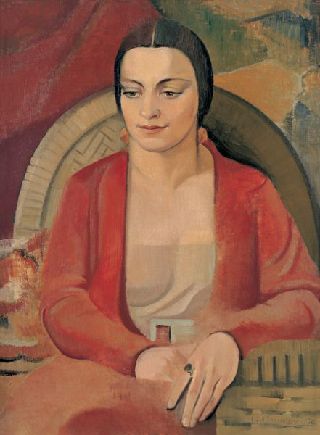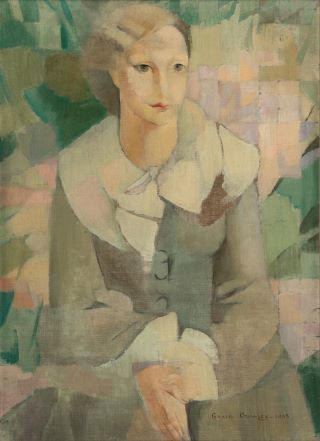 In 1929 Crowley managed to have a few lessons with Albert Gleizes (we met him in the Cubism Overview post (click here if you missed it) and this contact established a three way transference of information between, Crowley, Gleizes and Anne Dangar who eventually joined Gleize's art colony in France. (We will look more closely at Anne Dangar in the next post in a couple of days). It was Gleize's influence that opened up the world of abstraction to Grace Crowley.
From then on, Grace's journey into abstract continued unabated, painting prolifically and teaching. She always said that this was the happiest time of her life because she was so productive. Here are some more examples of her later works: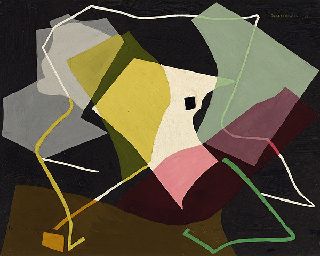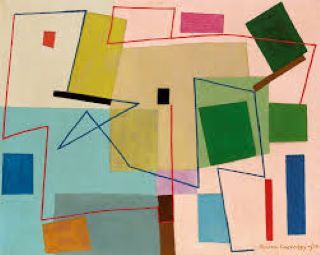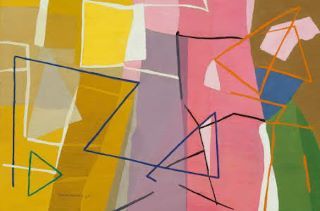 Whatever your opinion, the artistic journey of Grace Crowley was remarkable. She died at her home in Manly, New South Wales on 21 April 1979, aged 89.
An exhibition of her work was held at the National Gallery of Australia, Canberra, in 2006 - 2007. There is a fabulous amount of information about Grace Cowley's life and work in a series of essays on the NGA website, if you'd like to read more: